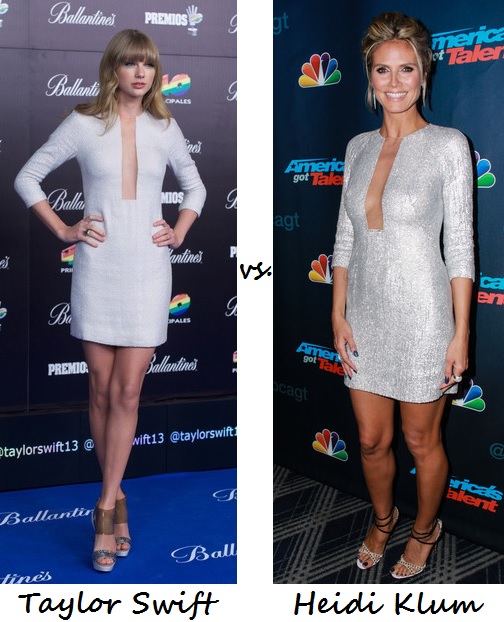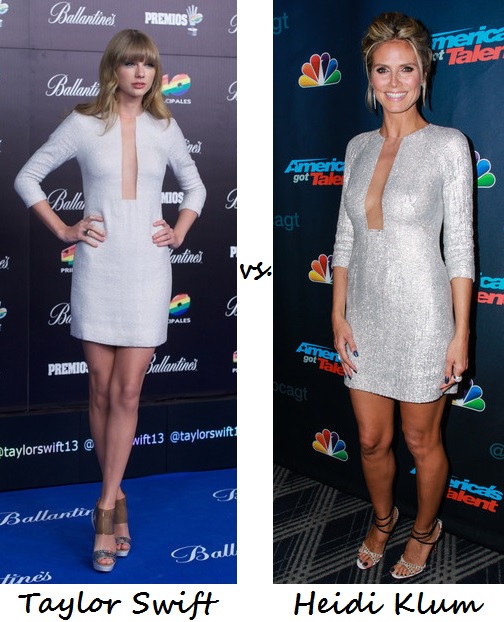 One dress, two women and a hoo-haa about who sauntered around in it more tastefully; welcome to our latest fash-off instalment, featuring a 'bitter' ex-girlfriend and a leggy model.
OK, for fear of being too cryptic, we'll reveal the deets: we spotted Taylor Swift and Heidi Klum in the same Kaufmanfranco spring 2013 dress, and we couldn't help but level up the two beauties when it came to fashion cred.
Kicking off 2013 at the 40 Principales Music Awards in Madrid, Taylor Swift took to the blue red carpet in said dress. Pairing it with Christian Louboutin Dufoura heels, a cocktail ring and her statement bangs, Swifty looked gorgeous in the thigh grazing number, sexed up with a deep illusion neckline.
But going in for the kill was stunner Heidi Klum, who made a printed red carpet appearance for America's Got Talent in the same dress. Opting for a swept back updo with face-framing tendrils; hoop earrings and Louboutin ankle-tie sandals finished off the look nicely.
But whose look is a winner, we hear you say? Sizing up the style potential, we're going with the never ending pins on this one – Heidi takes the crown! Although Taylor looks polished as ever, Heidi's look is a little more 'red carpet relaxed' (yeah, that does exist), and those heels, winning.
Agree with our dress-off verdict?
[Images: Zimbio]