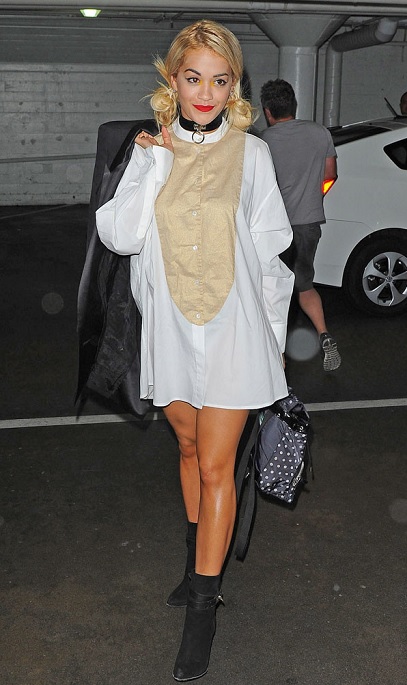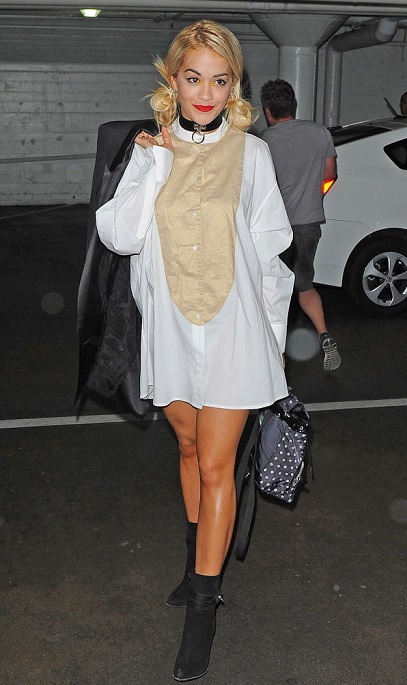 Sometimes, we wonder if celebrities live in a state of permanent blackout. Are they getting dressed in the dark, like, everyday? If so, why?!
A name often associated with a funky frock; Rita Ora's recent outing in Calvin Harris's shirt-cum-dress-cum-crumpled nightie left us feeling a little, well, short-changed on the fashion front.
With her boss perfecting the art of making the humble white shirt look hip in an art gallery, Jay Z's protégée made for some seriously painful viewing when she was papped heading to a 24-hour spa in LA.
Wearing an oversized shirt featuring an elongated gold bib front, Rita accessorised her odd wardrobe choice with a bondage choker, a hairdo that harked back to the Nineties (maybe a tamed version of a Gwen Stefani do?) and her signature red lip. Whilst a polka dot backpack looked a little out of place with the loopy look, we loved the Givenchy Shark Lock wedge ankle boots.
Next time, dearest Rita, maybe opt for a slightly toned down look when heading for downtime at a spa?
[Image]