Last Updated on 3rd October 2013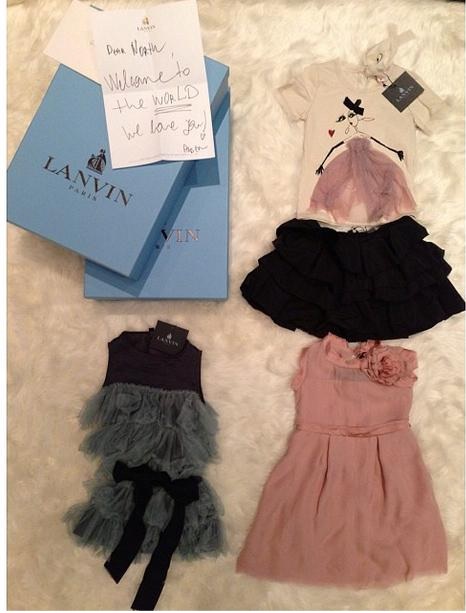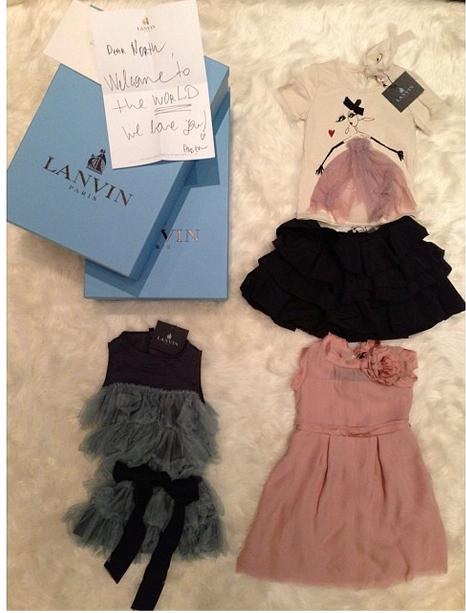 When Kim Kardashian, world's hottest-mama-right-now, decided to embark on an Instagram binge to introduce the world to her daughter's teensy, top tier designer wardrobe, we looked at our sorry Zara hoard and felt the pangs of an under accomplished sartorial life.
Whereas North West, or Nori, as she is affectionately referred to by her parents, will be running riot in her new, $11 million home in Céline sneakers and stripes, we'll be sticking to the affordable permutations gracing the window displays of Zara and Cos. But we all know, the Noris and Blue Ivies of the world aren't born with a silver spoon in their mouths, but rather a sterling silver Elsa Peretti Padova spoon, so Mummy K showing off North's designer-packed wardrobe shouldn't come as a shock, right?
Well, anything Kimye do sends Richter scale shattering tremors trough celebville (even if its just casually arriving at Gare du Nord in coats du jour), so it was natural for us to wrack our brains thinking of the real reason behind every personalised caption Insta-pic Kim diligently took to uploading for the universe to ogle in a fit of motherly envy. And here's what we concluded: A snapshot into Nori's privileged wardrobe is Kim's way of declaring her induction into the upper echelons of untouchable fashion.
That's right. Her constant mingling with 'Ricky' Tisci in custom-made-the-night-before outfits; befriending the lady, and then gracing the cover of Carine Roitdfeld's CR Fashion Book, and sitting front row at Paris Fashion Week – not forgetting her infamous, floral-clad appearance on the Met Gala red carpet sealing the deal with regards to a Wintour-Dashian friendship- was Kim's way of not only screaming "I'm back!," but of creating a watertight, almost Victoria Beckham-esque fashion body image – and, fast becoming the poster girl for the old age 'patience is a virtue' adage.
And not just her professional pursuits, but Kim's drastic wardrobe change, lighter hair and a newfound camera shyness (we do miss the bodycon clad, purposefully-grinning-at-the-camera Kim) to echo beau Kanye's serious demeanour all add fuel to the fashion fire, further cementing her status as the latest recruit into the fashion royalty ranks.
But keeping the Kimye brand on board spells financial success for a lot of high-end fashion names – given the couples penchant for luxury goods, they've earned their style stripes. And, to top it all off, when your three month-old is referred to as 'Buba' by Phoebe Philo, and wouldn't look out of place as a gurgling, Lanvin-clad toddler sat front row (that's a figurative middle finger to Harper Beckham), you know, as parents, you've done good. This calls for a #cantsitwithNori social media situ, non?
Welcome to the real club, Kim.
[Image: Kim Kardashian's Instagram]