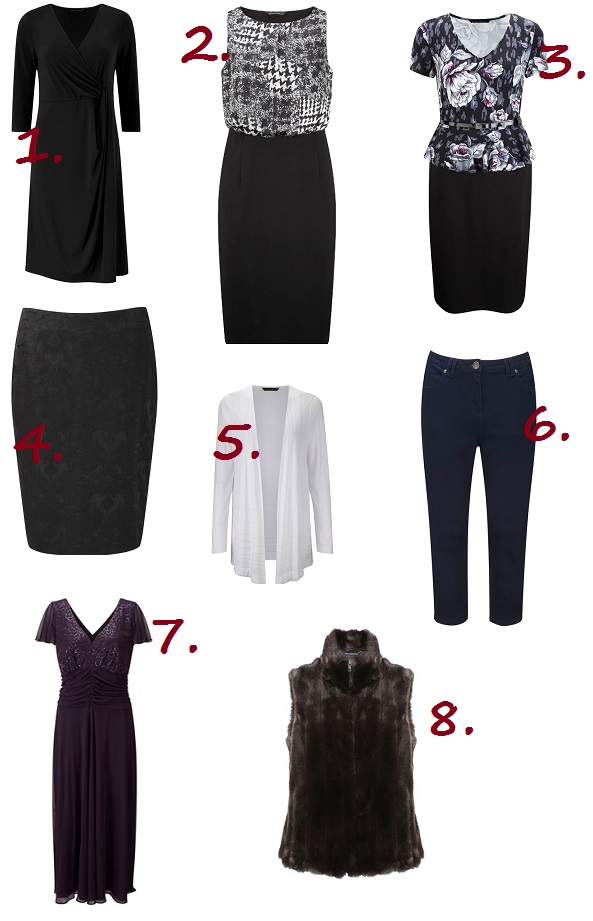 We love autumn. We love the new trends that come with a new season and most of all we love updating our wardrobes. Any excuse! Here's our top fashion fix pieces to pick up before winter rears its ugly head!
THE WRAP AROUND DRESS
Made famous by DVF, over at Bonmarche in-house designer David Emmanuel gives us his take on the inspirational classic and it's a beauty. A simple golden rule of dressing well is to know your own shape and work with it, not against it. As the wonderful Gok Wan has proved to millions of ladies, there are lots of tricks to maximize your "good bits" and play down the less-so-pleasing. When it comes to looking good, it is not your actual size or shape that matters at all, it's the cut and fit of the clothes you choose to complement your body proportions and colouring! In jewel block colours and various prints the erap around dress is flattering to just about any shape, which is why it's a MUST in our wardrobe. The drape and softness of jersey is both snug as well as gently sculpting. With this dress falling around mid-calf, petite ladies might like to team with heels for work or a special occasion.
THE PRINT DRESS
Checks were much talked about in the upcoming autumn/winter collections and Bonmarche, as ever, are right on trend, with the David Emanuel Dogtooth print dress, another office or drinks party pleaser. This dress is sleeveless, so not ideal for anyone self-conscious about her arms. If you like to keep upper arms covered up, then the range of feminine lacy half sleeve tops is perfect for you. Team with metallic-stitch stretch style jeans for a casual smart combination. This will skim over the tummy area and create a fluid line.
PEPLUM DRESS
Taking over where the Paris catwalks left off, David has captured the mood of the year with his zany abstract, animal and reptile prints. Florals, particularly roses, are still big news. Look out for the clever 2-in-1 mock peplum dress, with its waist-cinching belt.
CLASSIC BLACK SKIRT
The black skirt is slimming for those with classic-pear-shaped and the pretty peplum draws the eye up and away to the upper body.
WHITE CARDIGAN
Roses cascade daintily from the shoulders of his chic white cardigan and are complemented by a daisy border in the print tunic. This would look great with black leggings. There are lots of feminine floaty blouses in chiffon to pair with. A vest top under a lighter weight blouse looks great and allows you to stay warm enough without having to wrap up too much.
CAPRI JEANS
Capri jeans are still around for those sunnier days and pleasant nights, but remember these do cut leg length and are best suited to leggy ladies. "Apple shaped" girls with are often are blessed with lovely slim arms and legs, so for goodness sake, make the most of them and show them off, pair your jeans with a sleeveless top for a fab look.
EVENING DRESS
Everybody loves to dress up once in a while and Bonmarche have a bobby-dazzler of an evening dress, in aubergine, with loads of sparkling sequins on the bodice and a softly ruched waist and little capped sleeves.
GILET
When it comes to more practical day to day items, such as something to pull on to walk the dog, or pop to the shops, every wardrobe needs a gilet. They are the ideal in-between garment when it's still not cold enough for a coat. Likewise, waterfall cardigans are still hugely popular for the ease of wearing and the attractive effect of the draping points, Team with tummy control trousers and a plain jumper for a tailored, trim and well turned-out triumph.