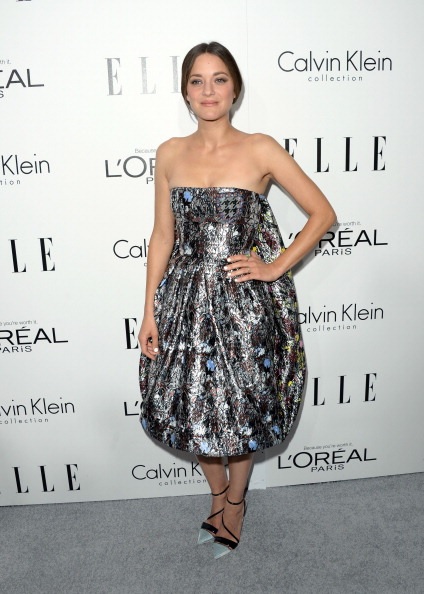 We're not fans of dismissing a to-die-for Dior look, but Marion Cotillard gave us good reason to temporarily detour from our devout appreciation of the luxury fashion house.
Slipping into a cocoon back dazzler of a dress – fresh off the spring/summer 2014 runway – Marion appeared at ELLE's 20th Annual Women in Hollywood bash, held in Los Angeles earlier this week, and on all counts of styling, we just weren't impressed by this grey red carpet effort!
Not only did the silhouette appear frumpy, but the look screamed "effortless styling" for all the wrong reasons. A sharp Dior dress, the kind we're used to seeing Marion sporting, would've been just fine!
And not only that, but we're pretty convinced those Dior ankle-tie sandals are a camouflage tactic, because they do a great job of blending into the grey carpet beneath! Emulating much of the runway look, Marion went accessory free, and opted to wear her hair in a low, centre-parted bun – a hairdo that seemed more suited to a saintly Valentino look, than a standout dress like this one.
Although you never sartorially disappoint, Mademoiselle Cotillard, this one's definitely for the 'ditch' pile.
What do you think of Marion's look?
[Image]