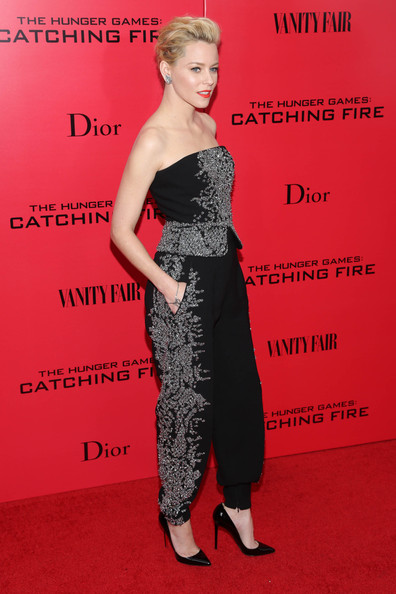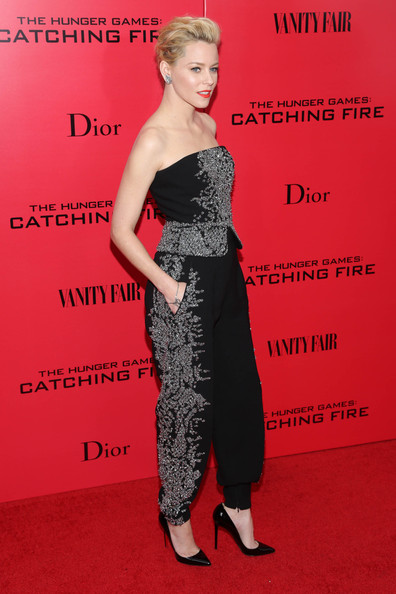 Once in a while, a red carpet look can throw us a little, and not always in a good way. One particular look that's stirred up such sartorial conversation at HQ this week, is Elizabeth Banks' Jenny Packham jumpsuit that she wore to the The Hunger Games: Catching Fire premiere in New York.
After winning us over in bright orange Atelier Versace at the Los Angeles premiere for the film, this Jenny Packham look just isn't working the same magic. Props for the gorgeously wispy updo, the colourful lip, and subtle-yet-striking Lorraine Schwartz earrings to compliment the smattering of embellishment on the jumpsuit; but we can't help think this jumpsuit should've been a floor-length gown.
The cuffed pants look odd in proportion to the rest of the look, almost giving Elizabeth's outfit an incomplete edge. The intricate embellishment and cut-out detail of the top is beautiful, as are the matching black accessories, but something just seems a little off-kilter here, and we can't quite pin it down.
A dramatic, all-black look is always a winner for us, but, sadly, this week's noir effort from this Hunger Games' beauty just hasn't bowled us over.
Do you agree with our WDOTW verdict?
[Image]