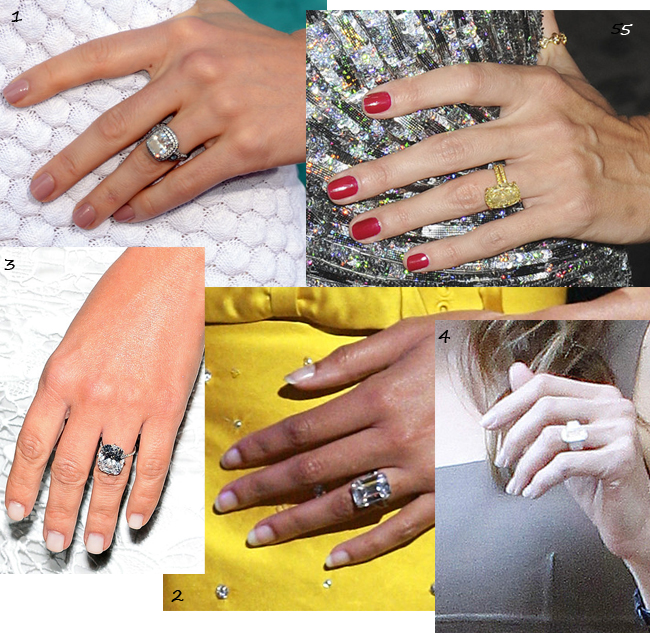 Following on from Kim Kardashian's engagement to Kanye West, we have diamond rings on the brain! Can you blame us?
The most magical time of the year is almost upon us, but there's another special day in a woman's life too – and that's the day her man gets down on one knee, opens up a box full of something ultra-sparkly, and pops the question.
If you think he might be ready to pop the question, why don't you "accidentally" leave this page open for him to find so he can get some inspiration from the celebs and their partners? Every little helps!
Can you guess which of the above sparklers belongs to which A-lister? Answers right at the bottom!
Did you guess right?
If you (or more accurately, your boyfriend) need further guidance or full-on assistance, take a look at our selection of darling, dazzling diamond rings below. Whether you want something conventional or totally unique, we guarantee there'll be something in there for everyone. Yellow diamond engagement rings a' la Heidi Klum? Check! Pink diamond engagement rings to satisfy the little girl inside you? Check check!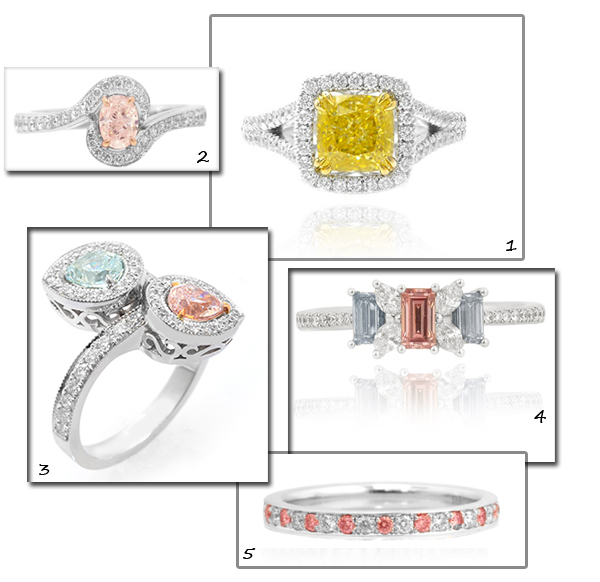 1. Remember the gorgeous Harry Winston sparkler Chuck proposed to Blair with in Gossip Girl? Well we think this is even better! Fancy Intense Yellow Cushion Diamond Halo Ring, $1080
2. A classic pink diamond with a modern, funky twist – literally. Fancy Light Orangy Pink Oval Diamond Cross-Over Engagement Ring, $8475

3. Cant't decide what colour diamond to get? No problem – get two! Because in this case, two is always better than one! Fancy Pink and Fancy Light Bluish Green Pear Shape Diamond Halo Ring, $44930
4. A little bit of colour goes a long, long way, so why not mix it up and have more than one? Colour Diamond Ring with Fancy Blue and Intense Pink Baguettes in 18K White Gold, $30000
5. Want something no other girl will have? Or just want a diamond ring you can justify wearing yourself? Single ladies, rejoice – this is the diamond ring for you! Fancy Intense Pink and White diamond band, $2975
Ps –  the answers from above are, as follows: 1. Jessica Biel. 2. Beyonce. 3. Kim Kardashian. 4. Angelina Jolie. 5. Heidi Klum.