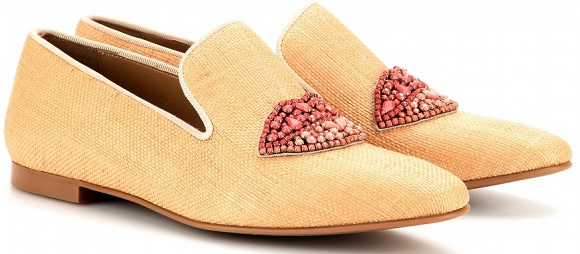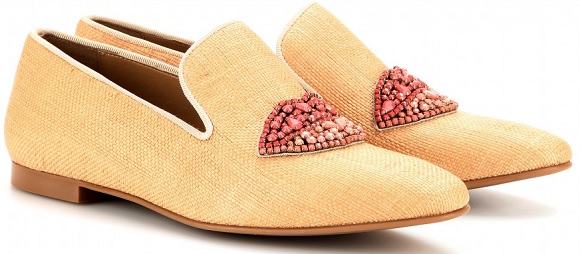 Although its way too early to be thinking about hazy summer days, you can still relish the best part of the warmer months with the hottest drop of cruise collections right now. If you're lucky enough to be soaking up some winter sun this holiday season, then a quick shop to update your wardrobe is sure to be on the cards.
Enticing us on this grey, wet and windy Monday morning are these rather perky embellished slippers from Stella McCartney (£315). The raffia-effect outer in a sunny malt hue is complemented by a smattering of pink crystals shaped in a lip motif, making these flats with serious punch. What's not to love?
We're dreaming about wearing these with the flippiest of skirts and a tee, but before you (we really mean we) skip off into the sun soaked horizon wearing these Stella beauties, we're going to weigh up the pros and cons of investing in them. Need an excuse to splash out, (or not)? Read on:
Yay
Summer shoe: These slippers will make a perfect transitional buy, taking you from your winter holidays straight through to spring, and then onto summer. A worthy investment, if you don't like spending the majority of your fashion fund on shoes.
Price: Given the level of detail adorning these slippers, we're actually quite impressed by the £315 price tag. Although not the cheapest on the market, the price is justified for a piece of Stella McCartney goodness!
Classic shoe style: Slippers have slowly acquired wardrobe staple status, and the more fun they look, the better they are! The perfect primer for a super- casual outfit; the comfort of a flat shoe will make you smile every time.
 Nay
Colour: We're all for bright colours and bejewelled feet, but if garish or standout colours and detail aren't your thing, then avoid these slippers. The cost-per-wear equation just won't work out here!
Trend-centric: Following on from Markus Lupfer's and Kenzo's obsession with bold symbols and logos, this seems to have transplanted itself onto the humble slipper. If you avoided those pieces due to their trend-led nature, then these Stella slip-ons won't fare too well in your wardrobe.

One-wear-then-despair piece: Yes, sadly, these beauties do qualify for this dreaded category.  Knowing our obsession with look-at-me pieces, we'd repeat wear the hell outta these slippers, but if you tire of fun-loving fashion pieces quickly, then avoid forking out the £315 fee.
Stella McCartney embellished slippers, £315, available at My Theresa.