Last Updated on 16th January 2014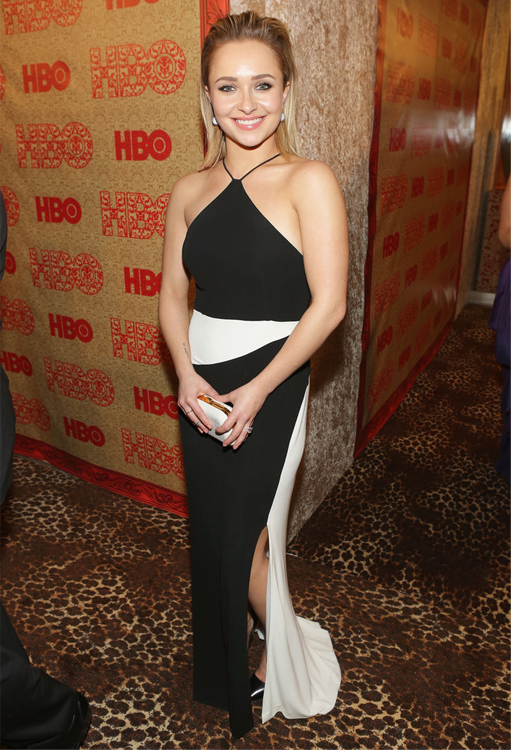 Nashville's leading lady Hayden Panettiere has gone where no actress (ok, very few actresses) has gone before, and actually bought the dress she wore down the red carpet for Sunday night's Golden Globe Awards.
It's a truth universally acknowledged that the celebs borrow the frocks from the designers for the big red carpets, but Tom Ford reportedly didn't want to lend Hayden Panettiere an outfit as he was already dressing Naomi Watts. And Naomi Watts only.
Hayden's decision to purchase her dress was outed by fashion journo Jim Shi, who tweeted:
#GoldenGlobes: Tom Ford confirms to me he ONLY dressed #NaomiWatts tonight. Hayden Panettiere BOUGHT her Tom Ford dress at RETAIL. Tsk tsk.
Ouch! Hayden didn't seem phased by the apparent snub though, as she still gushed about her stunning black and white halter neck dress on the red carpet…
"It's the first time I've ever worn Tom Ford, because I've been begging ever since," she said. "I feel sexy in it, I feel comfortable in it, and I'm in Tom Ford. I would wear a plastic bag if it was designed by him."
Aww, what nice words! And it looks like the designer appreciated her kindness (and her $10,000 spend) as he sent her a bunch of white roses the next day with the following message:
You looked beautiful last night. Thank you for your kind words. Much love, Tom.
Looks like a fashion fight has well and truly been avoided. And who knows, maybe Hayden will make the cut next time and be dressed by Tom Ford himself… watch this space!