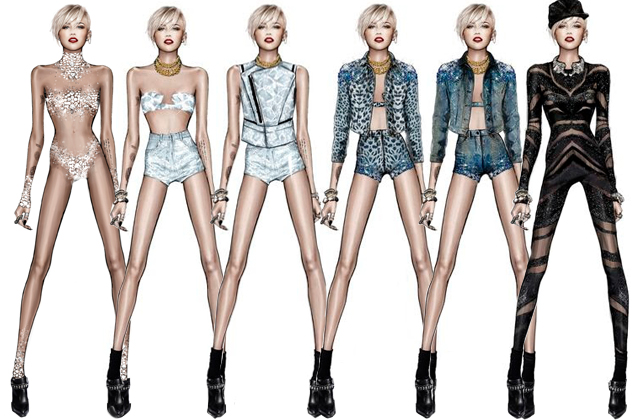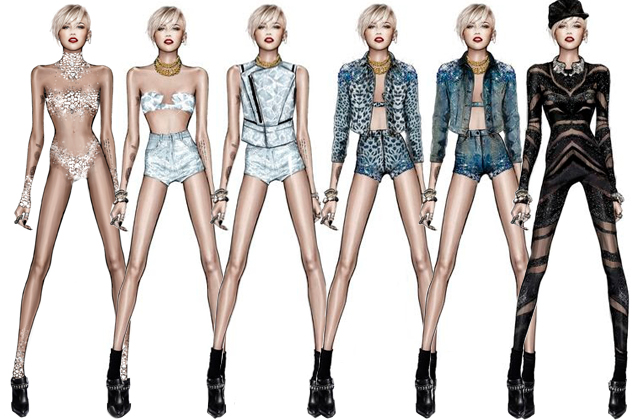 Miley Cyrus, she of the very little clothing, has enlisted the help of some of the hottest designers for her Bangerz tour wardrobe, including Jeremy Scott, The Blonds, her good pal Marc Jacobs, and Roberto Cavalli.
We know that Roberto Cavalli is somewhat of a stage costume expert having created tour outfits for Beyonce, Cheryl Cole and even the Spice Girls in the past, so we know that Miley is in good hands. Hands that will create some very daring outfits that will have fans and critics alike talking for days!
And judging from the teaser sketches that RC has just released (above), it doesn't look like Miley will be holding back as far as attention-grabbing, flesh-flashing outfits are concerned. No surprises there, really. We predict that the skin-coloured bodysuits (one with a sheer zebra pattern and the other crystal encrusted one reminiscent to Britney's Toxic video bodysuit back in the day) in particular are going to send the red blooded males wild.
Now, we wonder what Marc Jacobs and co have up their sleeves…