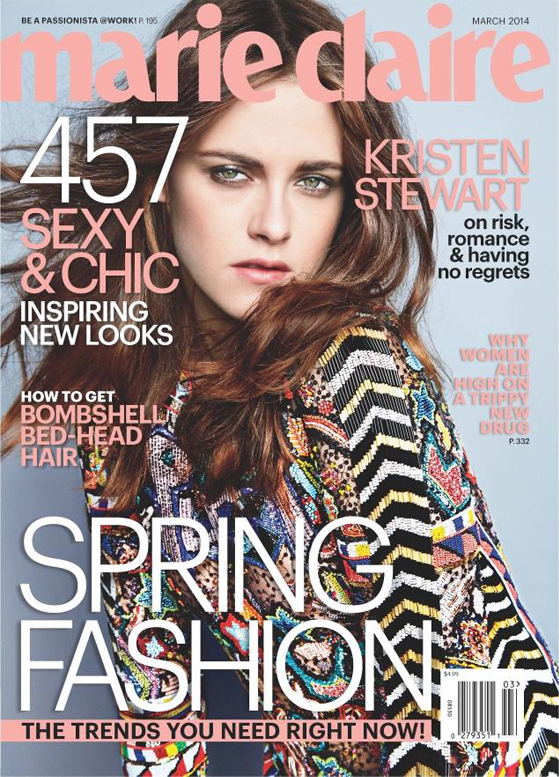 Marie Claire US has tapped the one and only Kristen Stewart for its all-important March issue – a wonderful decision given the drama surrounding her personal life these past couple of years. This issue will fly off the shelves!
K-Stew is rocking a colourful Emilio Pucci number for her front over shot, and really does open up to the mag for her accompanying interview, talking everything from not regretting cheating on Robert Pattinson (poor R-Pattz – we're here for you if you need a shoulder to cry on, RP), being an awkward person, and not caring what the haters think.
We particularly loved what she said about working with former Balenciaga creative director Nicolas Ghesquière though, especially what he thought when she first met him…
"I was blown away—fashion became less superficial in my eyes, though it wasn't my thing," she said. "A couple of years later, he called me up. He had stuck out to me as an artist. Fashion has the best and worst people. The gems stick out. He was a designer I wanted to be around. He was so creative.
"If I have to walk red carpets, if I have to be in fashion, then I want to be with him."
Aww! We wonder if we will see Kristen Stewart at a lot more Louis Vuitton events now that he has taken over Marc Jacobs' role there… only time will tell, we guess.
In the mean time, you can check out the rest of K-Stew's gripping interview and see her rocking some pretty fierce trends from Versace to Fendi and more in the Marie Claire US March issue.