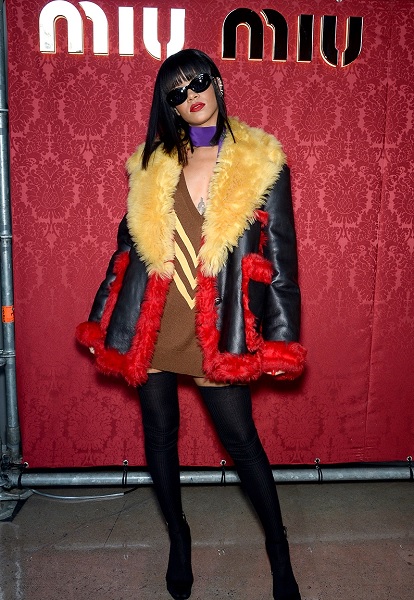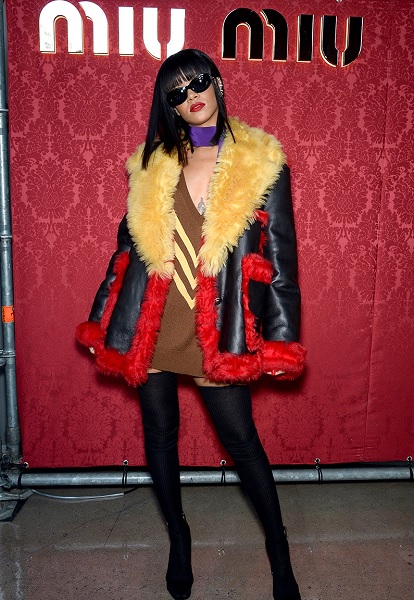 After fashion killin' it ('scuse the pun) on the Balmain and Chanel front row, Rihanna took a, well, turn for the worse at the Miu Miu autumn/winter 2014 show earlier this week.
Debuting a car crash of a look from the Prada autumn/winter 2014 collection, the far-from-bashful Barbadian paired this rather outré chill-blocker with a deep-cut, chevron-print sweater and thigh-high black stockings.
As always, RiRi wasn't short of an award-winning repertoire of accessories, pairing the look with black sunglasses, a statement ear cuff, purple neck scarf and a deep red lip. Black ankle-strap sandals and a healthy dose of the Take Care singer's famed air-of-don't-care rounded of yet another naturally eccentric front row look. But even a round-up of fitting accoutrements couldn't save this look; there's just too much going on here – even by Rihanna's standards!
So far this season, what have you made of Rihanna's frenzied show appearances? Given her star is far from small, and top designers dress her all the time, is her attendance, or rather, lack of punctuality, at shows too much of a distraction?
Has to be said, though: fashion month wouldn't be half as much fun without the Only Girl In The World who'd dare to flash an ample amount of boobage, strategically covered with a fur snood.
[Image: Vogue.com]