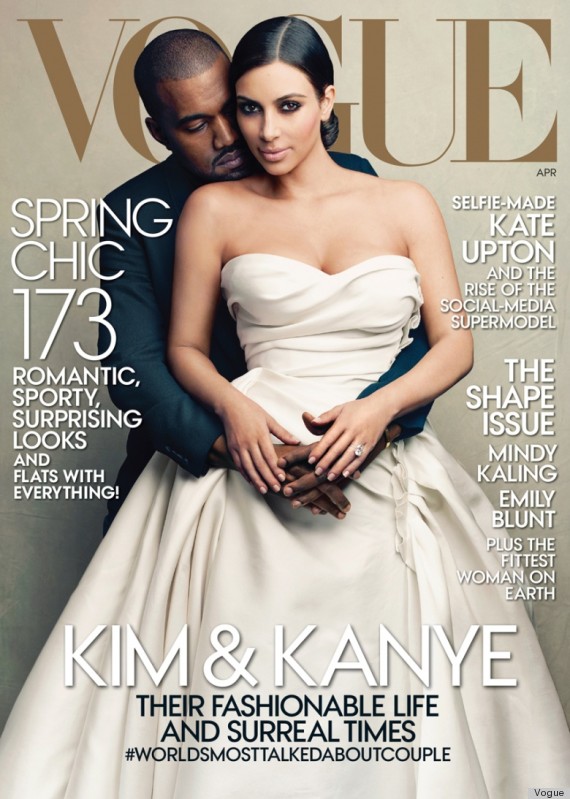 All the speculation can now be put to rest. Kim has finally fulfilled her dream of being a Vogue cover girl….although she's had to share the spotlight with husband to be Kanye West.
The #worldsmosttalkedaboutcouple (according to Vogue) appear on the cover of the April edition with Kim in a stunning wedding dress and Kanye in his favourite colour black. 
Photographed by Annie Leibovitz, Kimye look completely besotted with each other in a behind-the-scenes video of the cover shoot. Also starring in the vid which can be found over at Vogue.com is the adorable North West.
Kim hasn't been unable to contain her excitement, tweeting…
'This is such a dream come true!!! Thank you @VogueMagazine for this cover! O M GGGGGG!!! I can't even breath!' (sic) she tweeted.
Anticipating a possible backlash, Wintour justified her reasons for putting the couple on the cover in her editors letter and put to bed any rumours that Kanye pressured her to give his fiancée this once in a lifetime opportunity…
As for the cover, my opinion is that it is both charming and touching, and it was, I should add, entirely our idea to do it; you may have read that Kanye begged me to put his fiancée on Vogue's cover.
Are we convinced?…
Naturally the cover has come with a ton of mixed reviews with fans threatening to boycott the fashion bible and you can always count on Daily Mail readers to give you their brutal opinions…
So wait, they finally show pictures of North when they can make some money off of them? Shocking! This is disgusting. Either you want to shield your child from the media or you DONT. I still see ZERO connection between that baby and her parents. This is just sad.
But the fact of the matter is Kim does look stunning…and we applaud her lack of superstition on posing in a wedding dress ahead of her big day. 
The real verdict as to whether Wintour made the right decision will only be evident in sales figures for the mag.
What do you think? Good decision or worst decision Wintour has made to date?