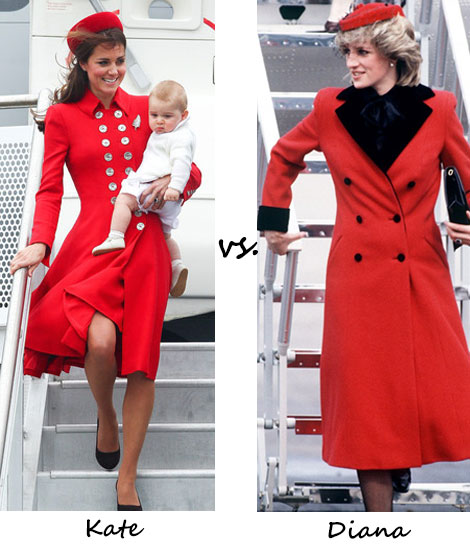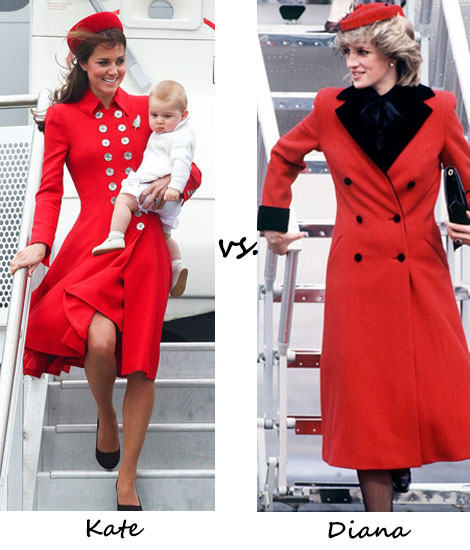 Wore what: Kicking off their royal tour of New Zealand, the Duke and Duchess of Cambridge landed at Wellington airport's military terminal yesterday – cutest babe-cessory in tow – looking every inch, well, regal.
For the official occasion, Kate chose a striking red Catherine Walker coatdress and matching pillbox hat, and the media was quick to remind everyone of the same occasion, over three decades ago, when the late Princess Diana chose a similar look for the same event. Although hers was a black and red look, complete with a contrasting black clutch, Kate wins for the most adorable royal accessory, hands down.
Narrowly avoiding puddles before the world's media, whilst effortlessly carrying an excited 9-month-old in your arms is no mean feat; and we think Kate did a beyond fantastic job! Unsurprisingly though, this makes the job of choosing a winning look near impossible!
Who wins: Famed for her gentle nature and beauty that shied away, Princess Diana's look for the official visit back in 1983 was a fashion triumph: making coats cool as the centrepiece of a look. And this is a tradition that Kate, too, has carried on.
From her M Missoni look as a wedding guest to the Maxmara number named after her; she's elevated the humble coat's status to party staple so effortlessly, we all want in. Given her respectful ode to Diana's legendary wardrobe at such an important event, and the fact that we're struggling to get over the explosive levels of Prince George's cuteness; we declare both looks as winners.
Do you have a favourite look, or are you, too, stuck on both?
[Images: Duchess of Cambridge; Princess Diana]