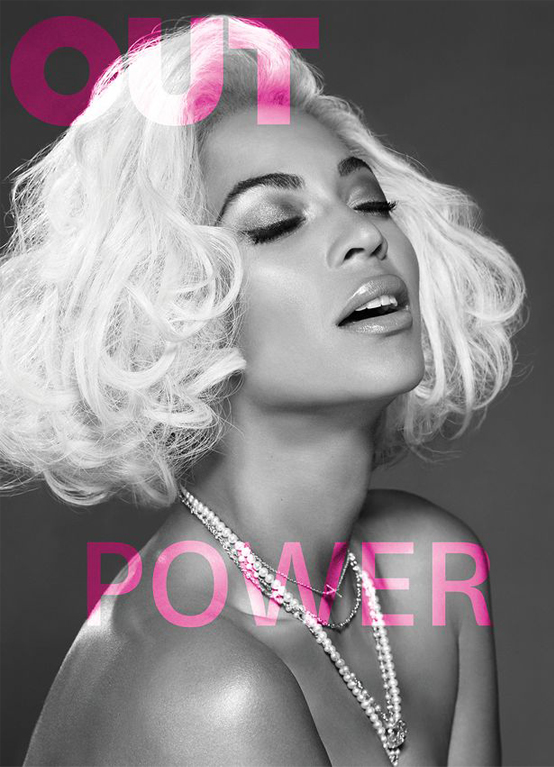 Want to know how it's possible to pose absolutely topless with the utmost class and sophistication? No problem – simply look at these pictures of the one and only Beyonce for inspiration.
Queen Bey donned a platinum blonde wig and posed topless and paid homage to one of the most iconic sexy screen sirens – Marilyn Monroe – on the cover of Out magazine's May issue, which just so happens to be the 'Power' issue.
Beyonce's aim of posing in this ultra sexy photoshoot was to promote female empowerment, a theme she ran with in the accompanying editorial.
"There is unbelievable power in ownership, and women should own their sexuality," she told the mag.
"There is a double standard when it comes to sexuality that still persists. Men are free and women are not. That is crazy.

"The old lessons of submissiveness and fragility made us victims. Women are so much more than that. You can be a businesswoman, a mother, an artist, and a feminist – whatever you want to be – and still be a sexual being. It's not mutually exclusive.

"Being that I am a woman in a male-dominated society, the feminist mentality rang true to me and became a way to personalize that struggle…But what I'm really referring to, and hoping for, is human rights and equality, not just that between a woman and a man.

"So I'm very happy if my words can ever inspire or empower someone who considers themselves an oppressed minority…We are all the same and we all want the same things: the right to be happy, to be just who we want to be and to love who we want to love."
We hope that men and women alike will stop staring at the stunning pictures long enough to read and digest what she had to say, because we think her words are absolute gold! Is there anything this woman can't do?
Click here to check out the rest of Beyonce's pics and read more of what she had to say.