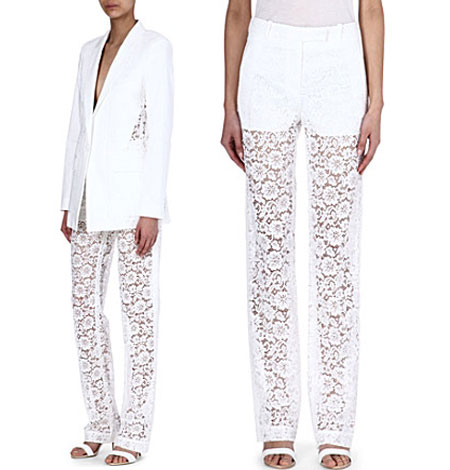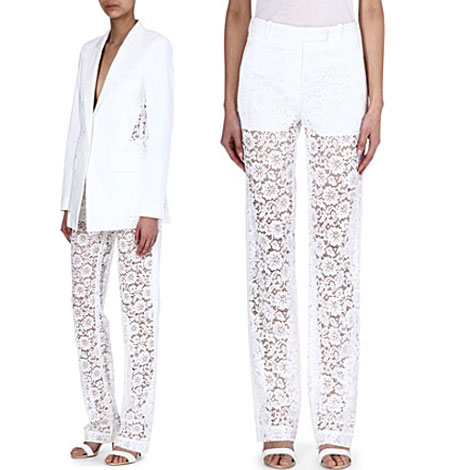 We're tempted because…
Well, is there anything that comes out of the Givenchy atelier we don't immediately fall in love with? And these standout lace trousers (£1,225) are no exception. Crafted to show off your pins in all their glory, the straight-leg cut in angelic white is quite the piece to score for the coming summer months.
So, if you're done with wearing pretty dresses and boring trouser suits, read on…
Reasons we're saying YAY to the lacy goodness…
Alternative to a dress: You've done lace dresses of all styles and hemlines, and now it's time to switch style gears. Take to wearing these trousers with a pretty twist, and you'll be the talk of the fashion set for all the right reasons.
Great for summer occasions: Ditch traditional summer wedding guest attire in favour of these well-cut trousers, and bring a little sporty-androgynous charm to your look.
Flattering cut: The straight-leg cut, when paired with heels, will work to elongate your legs. Now who doesn't want Gisele-esque pins without the effort?
And reasons we're saying NAY
Price: At £1,225 a pop, they're a steep investment to make. Are you willing to take the (financial) plunge for the sake of fashion?
Statement piece appeal: Do we sniff a one-wear-then-despair situation? If you can't imagine making repeat wears, then think long and hard about forking out the equivalent of 1.5 months' rent!
Hardly weather-proof: Given they're mainly unlined; you'll have to be a pro at braving the elements when opting to wear these trousers on a chilly day. No pain, no gain they say, right?
Givenchy lace trousers, £1,225, available at Selfridges.