Last Updated on 10th June 2016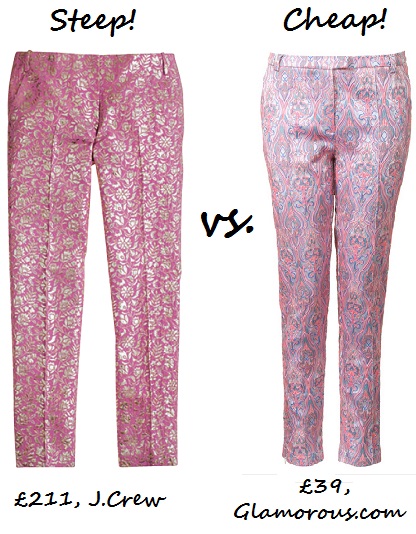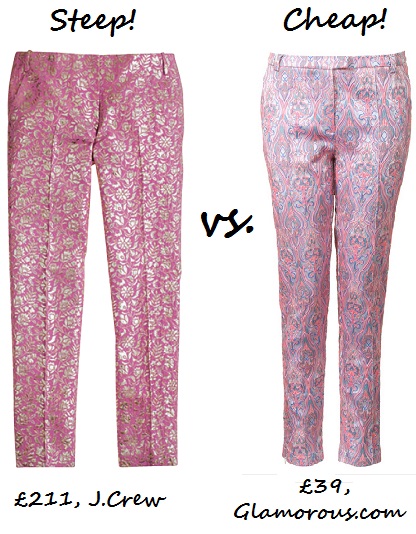 Thinking of ditching the done-too-many-times before dress for a night out, and slipping into something a little different? Let this week's steep vs. cheap guide tempt you into doing just that.
A tailored trouser is the ideal investment for office or play, and, depending on the style and fabric, its styling potential is big. This week, we've fallen just a little bit in love with the new season's most in demand colour: ice cream pink. And worked over with a lustrous jacquard finish – we're sold!
Coming in at the slightly pricey end this week is J.Crew's Collection capri trouser in gilded jacquard, at £211. Already suckers for Jenna Lyons' boy-meets-polished-girl style, this primly cut trouser has strengthened our obsession with the brand! Worn with a denim shirt and flats for downtime cool, or dressed up with a slinky black cami and heels, this trouser is guaranteed to become your most prized purchase of the year.
But if you're craving all that shimmery goodness and don't want to take out a loan with the 'rents, then look to Glamourous.com, where you can pick up an equally gorgeous pair of similar trews for a fraction of the price. Parting with £39 sounds a lot sweeter than £211, right?
So which one will it be? The pocket-breaking or penny-saving pant?