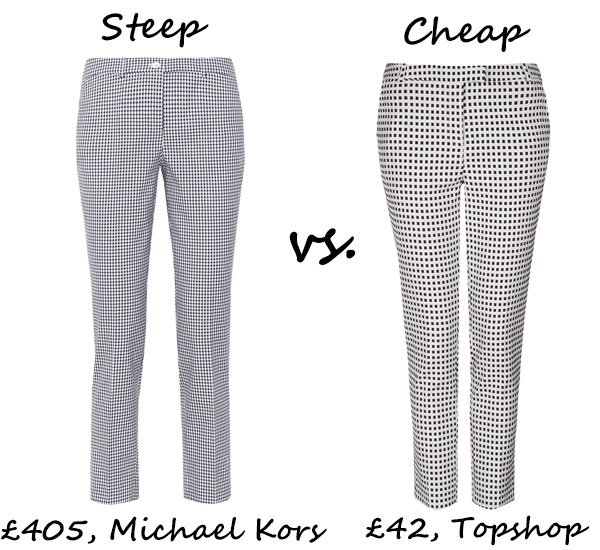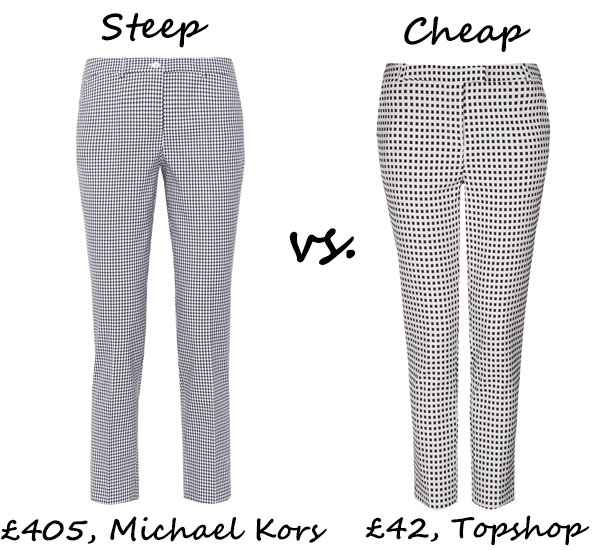 From Wizard of Oz-inspired looks at House of Holland, to intricately embellished, cut-out creations at Balmain; gingham rocked the runway this spring, and it's not about to take a back seat as the pretty, prairie print.
Forcing us to part with our hard earned cash this week is the perfectly tailored gingham trouser. From the tapered cut to the formal-yet-fun print, it's the perfect option for those looking to introduce a little print into their work wardrobes – especially if floral prints aren't your sartorial cup of tea. Searching for both ends of the budget spectrum, as we do, this week's steep vs. cheap options are guaranteed to up your smart pant game.
Making it in at the steep end this week is the Michael Kors cropped gingham stretch-cotton Samantha trouser. At £405 a pop, you've got to be in a spendy frame of mind when contemplating clicking these home; but paired with a crisp white shirt and killer heels for work, you'll be hard-pressed to refuse their prettifying effect!
In the mood to splurge? Shop our steep option now: Michael Kors Samantha cropped gingham stretch-cotton pant, £405, available at Net-a-Porter.
Not keen on splashing out half your rent on some trews? Fear not, because high street saviour Topshop has come to the rescue with an equally stylish pair, for a mere £42! The flattering cigarette cut makes this trouser ideal for pairing with a casual tee, blazer and slip-ons for polished off-duty style, or dressed up for work with a block colour blouse, statement necklace and heels.
Feeling frugal? Cheap option this way: Petite gingham cigarette trouser, £42, available at Topshop.