Last Updated on 6th June 2014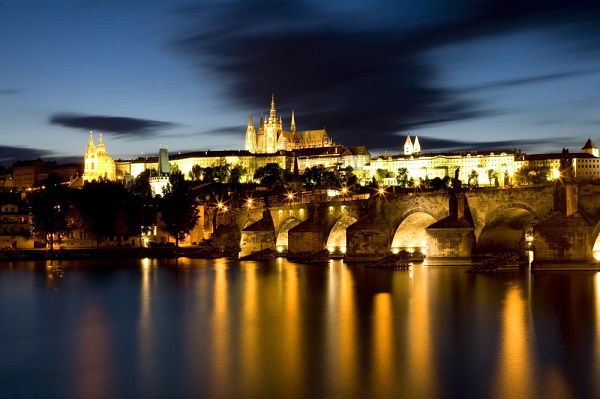 As soon as men discovered the process of producing glass they saw the beauty in it and used it for art. Early archeological finds discovered decorative pieces made of glass that were thousands of years old. The structure and looks of glass have inspired countless artists and a sheer endless variety of different processes to produce glass art: stained glass windows, leaded lights, moulded glass, glass blowing, sandblasted glass, copperfoil work and many more. Glass art undergoes a real renaissance right now. It was always popular, but in recent years more colleges are offering courses in glass related work. Many amateurs as well as professional artist create glass art, following the long heritage of artists that came before them.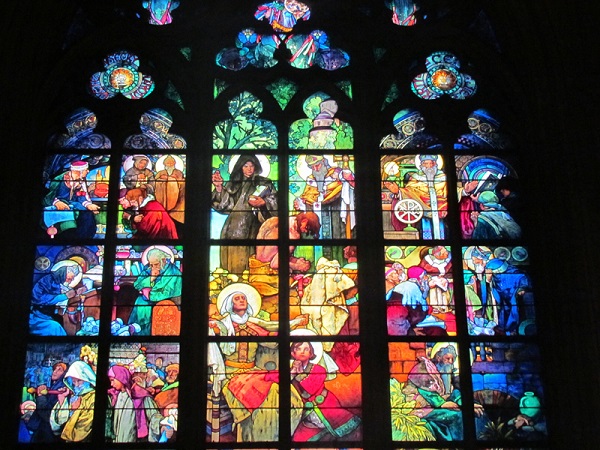 Classic Glass Art in Prague
Prague, as one of the most beautiful cities in the world, has its own very close relationship with glass art. Not only was it a hub for many famous and talented artists (and still is), there are also some of the most famous glass art pieces worked into the face of the city. Some very fine examples are the world-renowned stained glass windows of St. Vitus Cathedral. The Roman Catholic cathedral (which is called in full St. Vitus, St. Wenceslas and St. Adalbert Cathedral) located in the center of Prague is not only one of the most beautiful churches in the world, but also the seat of the Archbishop of Prague. Its architecture is an glorious example of of finest Gothic architecture and the building can look back at a very rich history. It contains, for example the tombs of many kings and emperors. It took over 600 years to finish this awesome piece of architecture. In 1929 it was officially completed, including the stained glass windows by the Czech artist and desinger Alfons Maria Mucha. The nowadays world-famous window shows St. Wenceslas and his grandmother St. Ludmila in the centre, surrounded by episodes from the lives of Saints Cyril and Methodius and a portrait of Jesus Christ himself. It is considered one of the most beautiful and complex works of glass art in the 20th century. In the light of such beauty, many other artists and galleries now create and sell contemporary art Prague, and only Prague has to offer.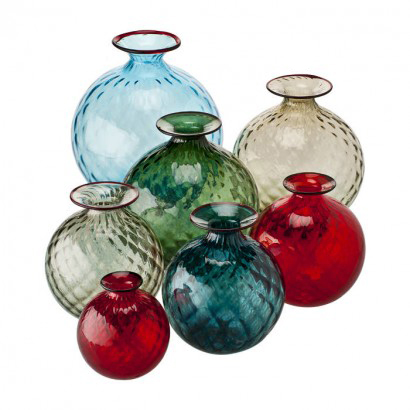 Prague's Glass Art today
Many galleries have followed the trend and offer a wide variety of glass art – original local work as well as some of the most precious pieces from all around the world. For example, the prestigious gallery called Praguekabinet offers a wide variety of original Venini glass pieces, which is quite unique since this famous manufactory is very choosy when it comes to its partners. Founded in 1921 it stems from the same period as the Mucha windows in St. Vitus. Its traditional craftsmanship is well known and appreciated all around the globe. The two founders are not exactly what you might expect when thinking of glass art: Paolo Venini was a lawyer from Milan and his partner Giacomo Cappelin was a Venetian antiques dealer. The two shared a vision of a place where many major artists collaborated to create the most intricate and beautiful designs of the time. Many well known sculptors, painters, designers and architects from past and present are associated with Venini: Alessandro Mendini, Gio Ponti, Ettore Sottsass, Carlo Scarpa, Tapio Wirkkala, Timo Sarpaneva, Pininfarina, Cartier, and most recently Fernando, Huberto Campano, BarberOsgerby and Studio Job.
Those distinguished artists could make use of the unique and secret technique the Venini glass workshops have to offer – over two hundred vibrant colors and countless manufacturing processes were combined to create the unique vases, bowls and decorative objects the company is most famous for until this very day. There still is no mass production – every piece is part of a limited and numbered edition – a truly unique piece of art.
Venini is a unique combination of classic and contemporary art. One the one hand, many pieces out of the Venini workshops are part of the collections in art museums all around the world; among those are the prestigious Metropolitan Museum of Art in New York, the Victoria & Albert Museum in London, and the Centre Georges Pompidou in Paris. One the other hand, Venini still produces high quality art until today and is sold through selected galleries and vendors. This way Venini builds a bridge from the past where great artists like Alfons Mucha helped to complete one of the most beautiful cathedrals in the world, to the present where collectors can acquire exclusive glass art at Praguekabinet in the heart of the city. All these pieces are made in the same workshop for almost a century – a tradition and energy obvious in the presence of every single piece.