Last Updated on 7th October 2015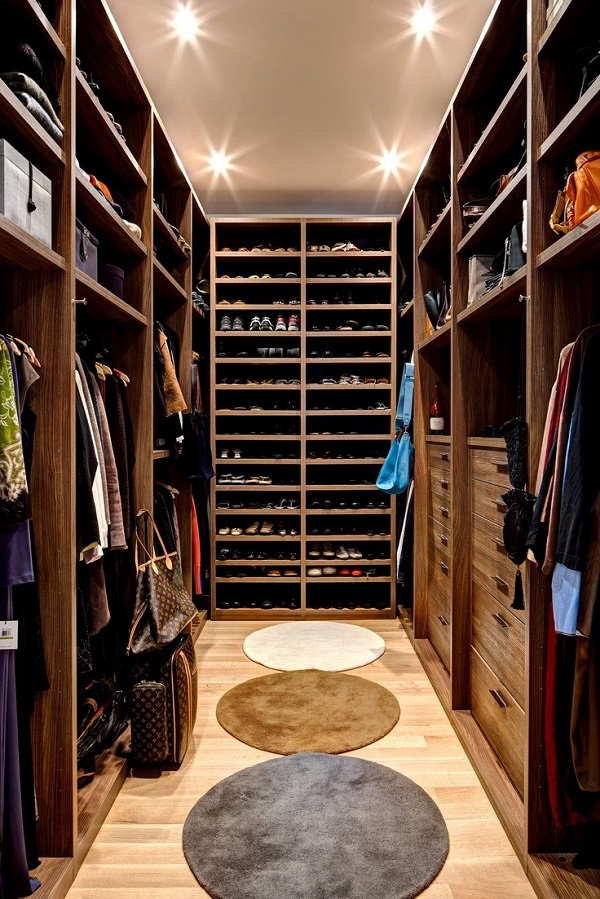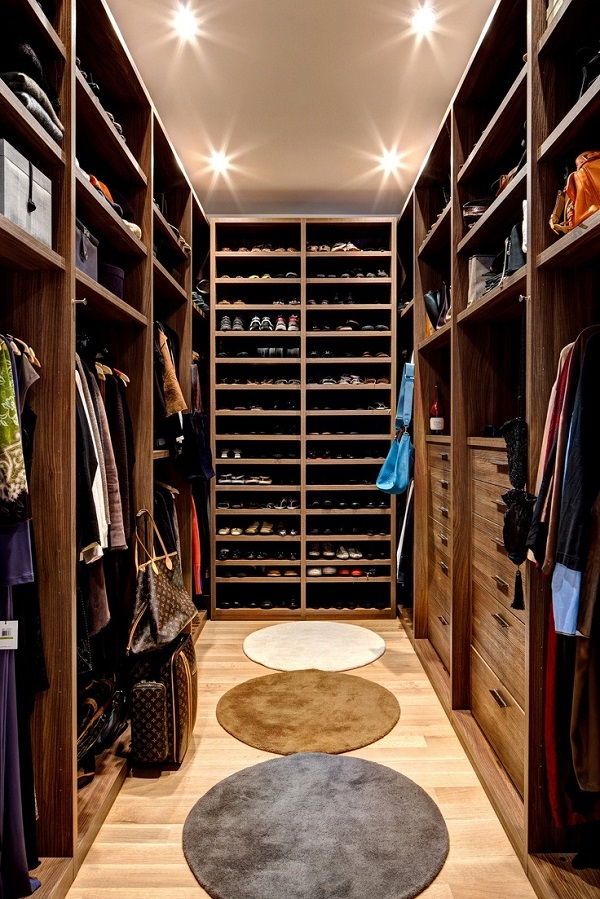 So you've always dreamt of living the high life just like your favorite movie stars? Would you believe me if I told you that you could recreate an aspect of their luxurious lifestyle in your own home? Yes, you can, even if you live in a small apartment and are on a budget.
I'm talking about having your very own walk-in wardrobe. I'm sure at one point or another, you've wondered what it would feel like to waltz into an opulent private space with a large mirror, replete with your clothes, shoes, bags, jewelry, cosmetics – all in one place. Just the idea of dressing up in a walk-in wardrobe reeks of luxury, doesn't it?
Well, don't just keep dreaming, turn it into reality. A walk-in wardrobe is a modern, stylish, and an interesting concept, one that every girl would ideally love to see in place of her overstuffed closet.
With a walk-in wardrobe, you're much more organized. It helps you stay on top of your game by making it easy for you to spot your best clothes and get rid of clutter much faster.
Here are a few considerations you need to be mindful of, which will help you design the perfect walk-in wardrobe.
Space Requirements
If you're lucky enough to have a spare room in your home, you can consider converting that into a walk-in wardrobe. Some master bedrooms come with adjoining spaces, which can be turned into a closet by simply adding a door to it. Those with an open bedroom need not lose hope. You will just need to frame the walls in the bedroom to enclose a certain amount of space to be used as the closet. And of course, add a door to it.
You will have to consider the size of your bedroom when deciding on how big you want your closet to be. You might also want to think about the kind of door you want to fix. While conventional doors are purely utilitarian, French doors add a touch of luxury and grandeur to the closet.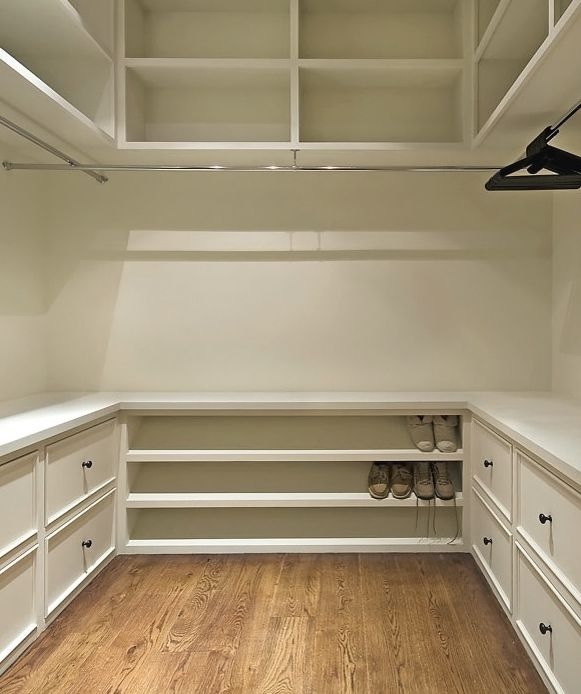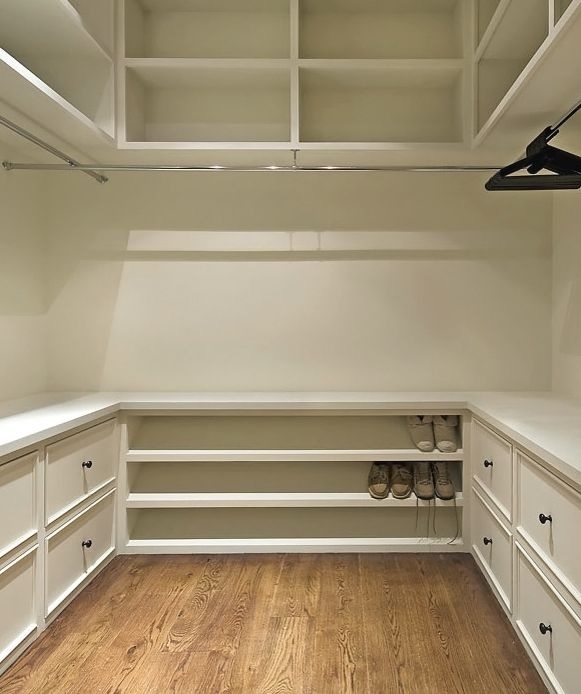 Storage and Organization
After working out the space requirement for your closet, you need to move to the next step i.e. storage options. You might want to take your time with this because finding errors after the storage is built would only imply wastage.
Because a walk-in wardrobe helps you stay organized, it makes sense to make optimal use of the available space. Consider installing rods in the wardrobe so you can store your precious clothes on hangers. High-quality hangers are space-savers and can make it very easy for you to sort your wardrobe. No need to fold your clothes, or worry about ironing the crease from the folds. Just put them on hangers and display with élan.
Shelves can come in handy when storing folded and heavier garments such as your sweaters and jeans. Do make it a point to incorporate laundry hampers into your wardrobe. You can store your intimate essentials, handkerchiefs, and socks in drawers. Invest in a scarf and belt holder, and a jewelry hanger for arranging your earrings, necklaces, bracelets, rings, and other items. There should be a separate storage system for your shoes. Having a rack dedicated to displaying your impressive collection of sunglasses is also a good idea.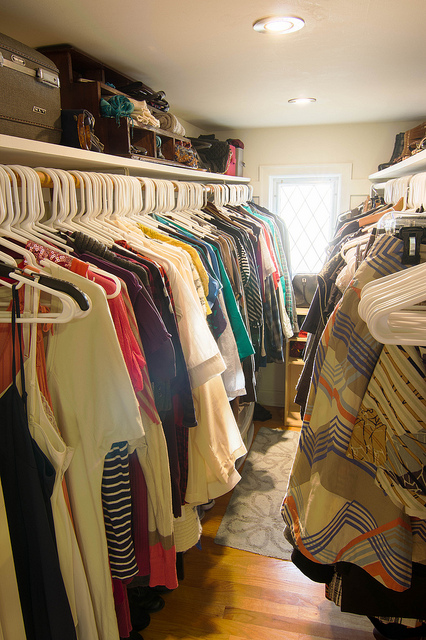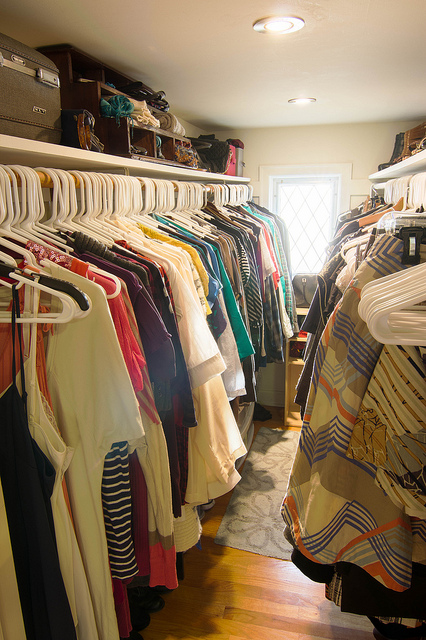 Design Details
The details can make all the difference. Do take an active interest in every aspect of the wardrobe design. From the size and shape of the mirror, to the finish of the wooden/laminated storage options, details matter when it comes to the durability and the aesthetics of your walk-in closet.
The quality of the material used to build the frames, the shelves, the racks, and the rods should be examined carefully. Maybe you've thought of having a lamp or a chandelier to light up your closet. Do ensure that the electrical fittings and plugs are safely installed. You don't want your closet to burn down in an electrical fire.
The Features
There are 3 important wardrobe features that you might want to think about before building your closet.
The Flooring
Your closet's flooring will play an important role in its overall appearance and feel. You can choose to install a hardwood floor for a warm, earthy look. Wooden floors with a mahogany or a cherry finish will be darker in color and may make your closet appear elegant but smaller. Wood in softer colors will make your closet seem brighter and larger.
If you're on a budget opt for amtico vinyl flooring tiles. Anti-scratch and water resistant, not only are vinyl tiles  inexpensive but they're easier to lay and look 100% natural and authentic. Guests will be unable to tell the difference and your wallet will thank you for it. Best of all, there's a lot more choice available with vinyl flooring. Think outside the box and go for slate or stone tiles or go for a traditional look with a honey brown grain texture flooring. Easy to clean, just use a damp cloth with hot water and soap to get rid of dirt.
A lot of people choose to install wall-to-wall carpets in their walk-ins, which gives the space a softer and more welcoming look.
The Lighting
Having sufficient lighting in your wardrobe has two purposes:
– It increases the visibility of all the items in there.
– If placed strategically, it enhances the aesthetic appeal of a beautifully crafted wardrobe
Do make sure that you hire an electrician to install the wires and light fixtures. Small/medium-sized wall-mounted lamps fixed in several areas of the wardrobe can prove to be a good bet. To add an element of luxury, you can get a chandelier or a pendant light fixed.
The Ventilation
If your walk-in happens to have a window in it, you can use natural light to brighten it up during the day. Apart from your exhaust fans, and heating/cooling vents, windows can work well in keeping your closet ventilated. Do keep in mind that sunlight can lighten dark clothes and damage them as well. So make sure you keep the window covered with curtains or blinds.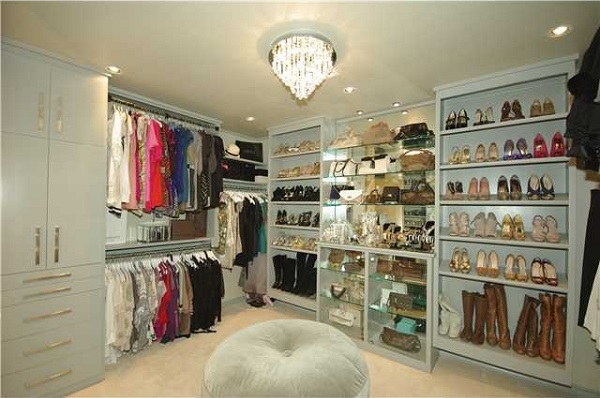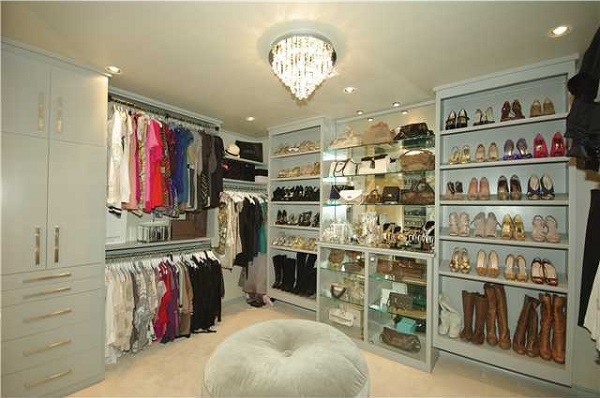 Having a walk-in wardrobe is a great way of adding an interesting twist to a part of your home. Not only does it make your life more organized, but also adds value to your house. Simple additions like this can make you feel like a star! So what are you waiting for? It's time to build your own walk-in wardrobe!