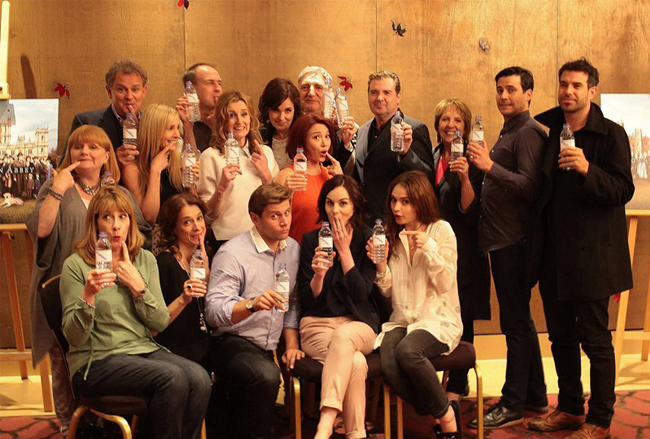 Downton Abbey has responded to water-bottle-gate (where eagle-eyed fans spotted a "not of the era" water bottle in one of the promo pics for Season 5) in the best way possible.
Michelle Dockery, Hugh Bonneville, Laura Carmichael and the rest of the gang can be seen holding bottles of water in a pic that was posted to the official Facebook page, with Michelle Dockery looking very guilty and cheeky while doing so.
Not only have the cast and crew used humour to silence the critics, but they've also decided to do some good at the same time, as they have used the blunder as a chance to raise money for WaterAid. When life gives you lemons…
"The cast of Downton Abbey embraced 'water bottle-gate' today by posing for a picture to promote the work of international charity WaterAid," reads the caption underneath the picture.
"A publicity still released this week hit the headlines when a plastic water bottle was spotted in the corner of the picture. The official photograph of The Earl and Lady Edith was cropped and used during the launch of the new season, but it was when an un-cropped version of the image worked its way onto the internet that it sparked a global press frenzy."
Water bottles or lack thereof aside, we can't wait for the new season of Downton Abbey to hit our small screens. Not long to go now!
[Glamour]