As a true fashion lover, you will undoubtedly be completely up on what's hot and what's not, this season. You'll also know that the best places to shop for the latest fashion trends are some of the biggest, most beautiful and most fashionable cities of the world. Whether you're a fan of high end fashion and designer couture or you love the thought of pounding the flea markets hunting for some marvellous vintage bargains nothing beats a trip to a city renowned for its fantastic shops, boutiques and markets.
If you're thinking of taking a short mini break away to indulge your love of shopping, here is a list of some of the best places you can go to shop until you drop:
Paris, France
You only need to see the words Chanel, Louis Vuitton, or Dior to know that Paris is an utterly chic shopping destination for any true fashionista. Traditionally the city was renowned for the Champs-Elysées, however, this has gone a bit too mainstream for anyone looking for that unique Parisian experience. You could try the ever-glamorous Avenue Montaigne and the streets of Saint-Germain which are still home to well-known designers. But, to do shopping in true Parisian style the secret is to slow down and make it into an experience. In Paris, fashion is more than a look, it is a lifestyle.
Try whimsical concept store Merci which stocks designs by Stella McCartney and Yves St Laurent, often with some large discounts. Colette offers reduced prices on designer goods too.
To take in some of the city's stunning department stores, there's Le Bon Marché, with its wondrous section of gourmet food and the vast beauty department of Printemps, which includes fashion, lifestyle and marvellous accessories, as well as an exclusive line by Christian Dior this year.
The wonderfully flamboyant Galeries Lafayette is housed in a seven-story art nouveau structure with an entire floor dedicated to lingerie and every Friday at 3pm there's a free fashion show with English commentary.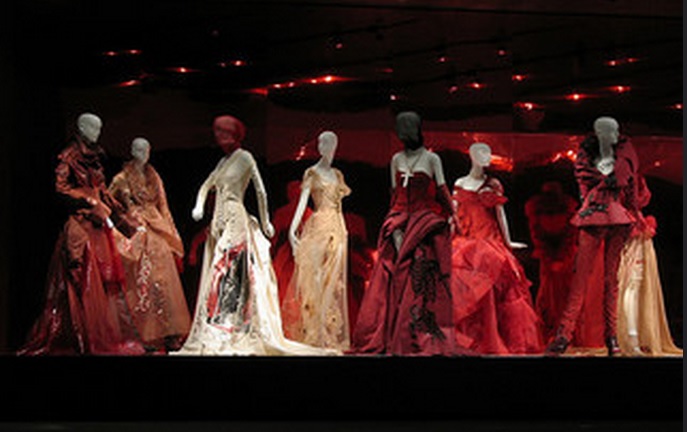 New York, USA
While Paris does chic, New York does some fantastic interpretations of chic, so if you're looking to go a bit further afield for your fashion holy grail, this is the place to go. It's no wonder New York often tops the list for favourite designer shopping destinations in the world, with high fashion Utopias such as Sak's Fifth Avenue, Barney's of Madison Avenue and the world famous Bloomingdale's to choose from.
If vintage is your thing, try Rare Vintage which features an array of treats from a wide range of design houses including the likes of Galanos, Dior, Givenchy, Ungaro, Pierre Cardin and Ossie Clark.
There's also a vast array of shopping experiences to be had in New York, whether you fancy your own personal shopper, shopping tour, curated shopping or some great bargain discounts. The list is endless.
Milan, Italy
One of Italy's largest and most glamorous cities also happens to be one of the fashion capitals of the world, so if you're a true fashionista, Milan has to be near the top of your mini break list. With big names like Armani, Prada, Dolce & Gabbana and Versace, lining the streets of this stunning city, it's no wonder that the locals are as glamorous as the shops on display.
Ostentatious splendour and top to toe glitz and glamour is a good way to describe the shopping in the haute couture powerhouse that is Milan. For the big designer names check out the Via Montenapoleone, Via Sant' Andrea, Via della Spiga, Via Manzoni or the Gallerie Vittorio Emanuele II.
If you're looking to experience true fashionista glamour and style, you can also enjoy a totally stylish shopping experience at the stunning fashion district Quadrilatero della Moda or Quadrilatero d'Oro ('rectangle of gold). Even if you're just window shopping, it truly is a sight to behold.
Slightly kinder to the pocket is Il Salvagente ("the lifesaver"), Milan's best known and longest established outlet, which is spread over three floors with designer goods by all the top names and some big discounts.
Barcelona, Spain
This beautiful city is the capital of the autonomous community of Catalonia and is the second largest city in Spain. It ranks second behind London in the Globe Shopper Index list of perfect shopping destinations and it's easy to see why a Barcelona mini break is the choice of many a fashionista.
The city is home to the famous 5km shopping line, which stretches from the top of the Ramblas, through Plaça de Catalunya along Passeig de Gràcia and up Avenue Diagonal. Much of the shopping line is pedestrianised too, so you don't have to worry about traffic while you're wandering aimlessly in shopping heaven.
The city has a massive range of shops including many of the big designer names like Versace, Giorgio Armani, Burberry, Bally, Cartier and Calvin Klein to name but a few. If you're looking for a truly exclusive and elegant fashion experience, the Passeig de Gracia should be your port of call. You could also take in the clothes and accessories of the Portal de l'Angel, Rambla de Catalunya, Turo Park or the international fashion and high end designer chic of Avinguda Diagonal.
Barcelona also has many large department stores – two of the largest, El Corte Inglés and Fnac are in the centre of the shopping line.
Just like its culture, the shopping is truly magnificent, so if you're looking for a short break in Barcelona for some serious shopping, you couldn't go far wrong.
London, England
It's no surprise that London often comes top of the list of the best shopping destinations in the world. Not only is it one of the most fashionable cities, but its diversity, boldness and eclectic culture is something to behold.
The massive variety of shopping, from the wealth of designer boutiques to its many flea markets means it's no wonder it's ranked first on the Globe Shopper Index as the top European shopping city.
There is nothing you can't buy in this city, so if you've chosen a mini break to London, and you're looking for designer shops, there's a great range on Bond Street. If it's a touch of mainstream shopping you're after, head for the big name stores of Regent Street and Oxford Street. Or there's always the home of the truly wealthy – Knightsbridge, which is where Harrods is based. And for some totally cool swinging style, Carnaby Street or the King's Road should be your destination.
If boho chic is what you desire and you are a true fashionista, go and get a feel for the cultural Pandoras Box that is London's many street markets. If you especially love your fashion vintage, head north to the stalls of Camden Market. You can pick up some real fashion bargains there.
For many people a break means the chance to enjoy doing what they love, and for the true fashionista, this means only one thing – checking out some of the best shopping destinations on the planet! So now you've had a taster of some of the world's most beautiful cities, it's time to start booking a mini break to whichever fashion haven is your greatest desire.