Shopping for clothes is tough, shopping for glasses is tougher. This is because our faces are the most unique parts of us. Think about how many other people you know who are the same height or body type as you, or have the same foot size. We choose the length of leg or width of waist when buying jeans, and shoes come in helpful sizes and even half sizes. So why then is it so much harder with glasses and sunglasses? Why are there no sizes or precise criteria for us to follow? And it's worse, because glasses can either work with our features or against them in a way clothes usually don't. And the stakes are even higher with glasses — especially if you wear them every day. Well this guide looks to demystify glasses and how to choose the right pair for your face shape and size. It's been written with the help and insight of Red Hot Sunglasses, who are experts in all things glasses and sunglasses.
Face size
First of all, it's important to work out whether or not you have a large face or a small face. This can be trickier than it sounds as it can be arbitrary as to what constitutes a small or large face, and especially hard if you think you might actually be somewhere in the middle.
Small face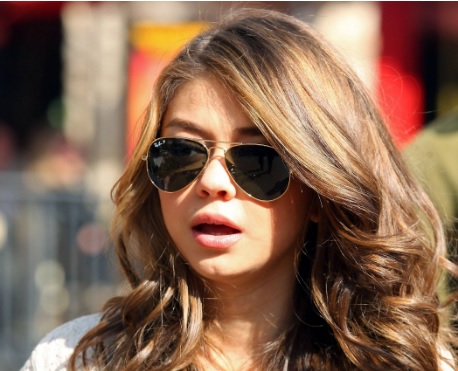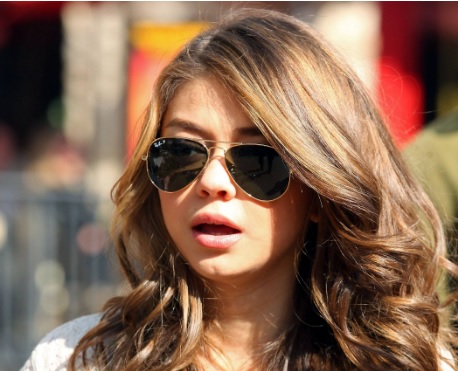 If you don't know if you have a small face, compare yourself to these celebrities:
Women: Kristen Stewart, Sarah Hyland, Reece Witherspoon
Men: Colin Farrell, Jude Law, Leonardo DiCaprio
If your face is small and you're a woman, then the best advice is to opt for large or oversized glasses and sunglasses as the big, chunkier frames will actually emphasise your more feminine, softer features. Other great styles include cat eye and aviators, but we'll get to these in more detail later.
If your face is small and you're a man, then you do not want to choose oversized glasses or sunglasses. Instead, look for smaller frames that fit with the proportions of your face. You don't need to choose miniature frames, however, which might look a tad silly on your face. Just look for slightly smaller than average frames.
Large face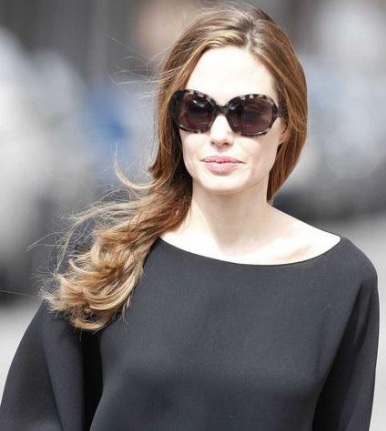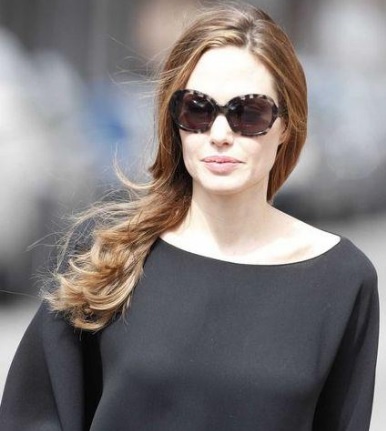 If you don't know if you have a large face, compare yourself to these celebrities:
Women: Angelina Jolie, Amanda Seyfried, Tyra Banks
Men: Benedict Cumberbatch, George Clooney, Zac Efron
If your face is big and you're a women, then the best thing you can do is look for frames with natural curves and gradual lines. Big, angular shapes might not be your friend. Oversized glasses and sunglasses can work better, but for different reasons than with women with smaller faces. Large frames make your face look a little smaller, which helps balance out your features. It's not about disguising your larger face; it's about balancing it.
If your face is large and you're a man, you're looking for medium-sized to slightly larger glasses that don't emphasise or take away much from the perceived size of your face. Aviators and Wayfarers are perfect for this. A larger face on a man usually highlights their masculine features, so you'll really just trying to accent this effect, not mask it.
Face shape
There are all kinds of face shapes out there and a larger guide could spend thousands of words going through every single shape. Below, however, I've covered the four main face shapes. All the others have a lot in common with each of the following four options.
Round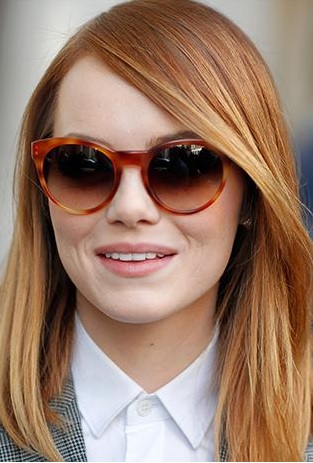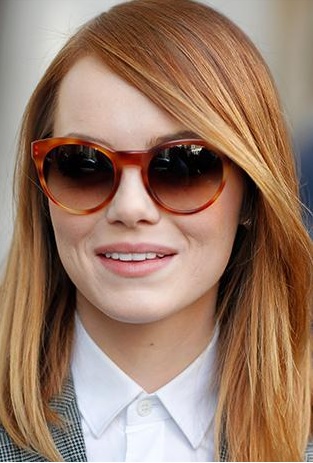 You have a round face if you face is roughly as wide as it is tall and your forehead and chin taper slightly, creating a circular shape.
Women: Eva Longoria, Ginnifer Goodwin, Emma Stone
Men: Kanye West, Zach Efron, Gerard Butler
For men and women with round faces, the best thing you can do is choose frames that add definition to your face, breaking up your rounder features. For this reason, angular, or square frames are perfect. Women have another option as well: cat eye sunglasses. Cat eye sunglasses are particularly good for women with round faces as the diagonal flick up on the outside pulls the focus upwards, at an angle, making your face appear longer than it is. If you have a round face and you want some cat eye sunglasses, then you can find some at Red Hot Sunglasses' cat-eye collection or in most other quality sunglasses retailers.
Square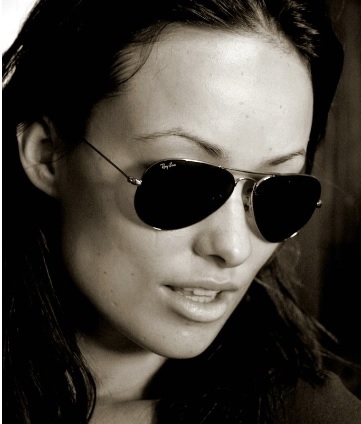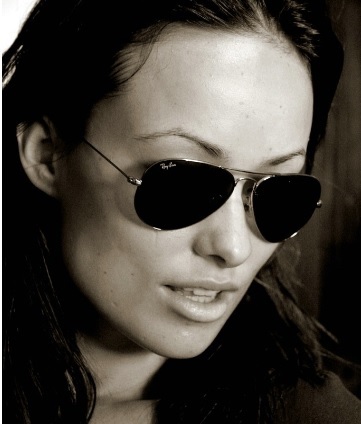 You have a square face if your face is as wide as it is tall and your jawline and forehead are equal or similar widths.
Women: Angelina Jolie, Olivia Wilde, Paris Hilton
Men: Brad Pitt, Hugh Jackman, Henry Cavill
Men and women with square faces have a natural angular look and it's best to balance out your features by choosing softer, rounded frames. Look for round-rimmed glasses to soften your features. Aviators also soften your angles as they have a curved, inverted teardrop shape that pulls the eye upwards.
Heart/ Diamond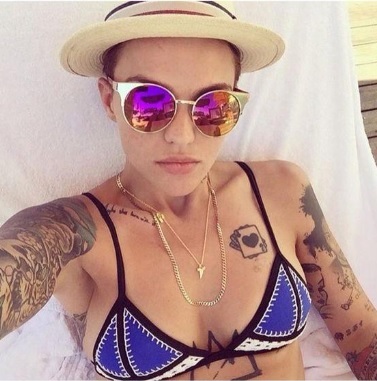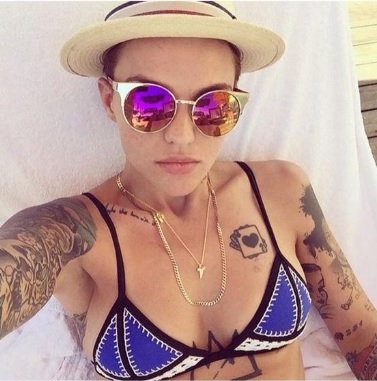 You have a heart-shaped face if you cheekbones are slightly wider than your temples and your chin tapers to point. A diamond-shaped face is similar, except your temples are much narrower than your cheek bones.
Women: Rihanna, Reese Witherspoon, Ruby Rose
Men: Ryan Gosling, Chris Pine, Robert Pattinson
For women, the ultimate glasses or sunglasses for your heart- or diamond-shaped face are cat eye sunglasses as the upwards curve of the glasses accentuates your feminine features and the up-turn corners help balance out your slightly top-heavy face shape.
For men with heart- or diamond-shaped faces, Aviators are the perfect choice as their reverse teardrop shape adds emphasis to the top of their face, balancing it out nicely.
Oval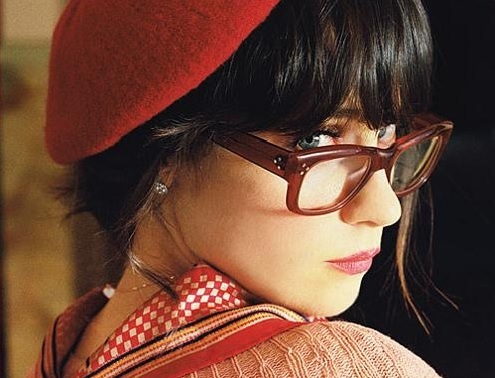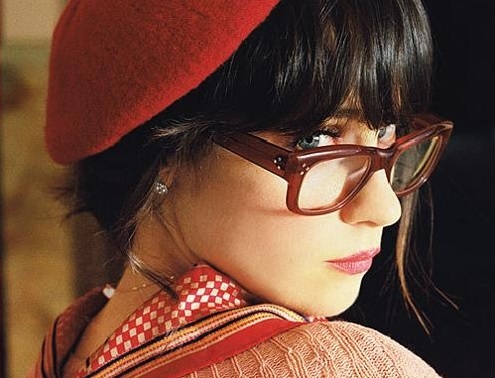 Oval faces are perhaps the most versatile and are widely considered to be the most objectively attractive.
Women: Jessica Alba, Beyoncé, Zooey Deschanel
Men: Will Smith, David Beckham, Jude Law
Oval faces pretty much go with any type of sunglasses you fancy. With this in mind, perhaps it's best to focus more on the size of your face when choosing your next pair of glasses. It's difficult to offer advice for oval-faced people because they've won the face lottery and don't really need to worry too much. So if you have an oval face: congrats, have fun choosing whatever glasses you like!