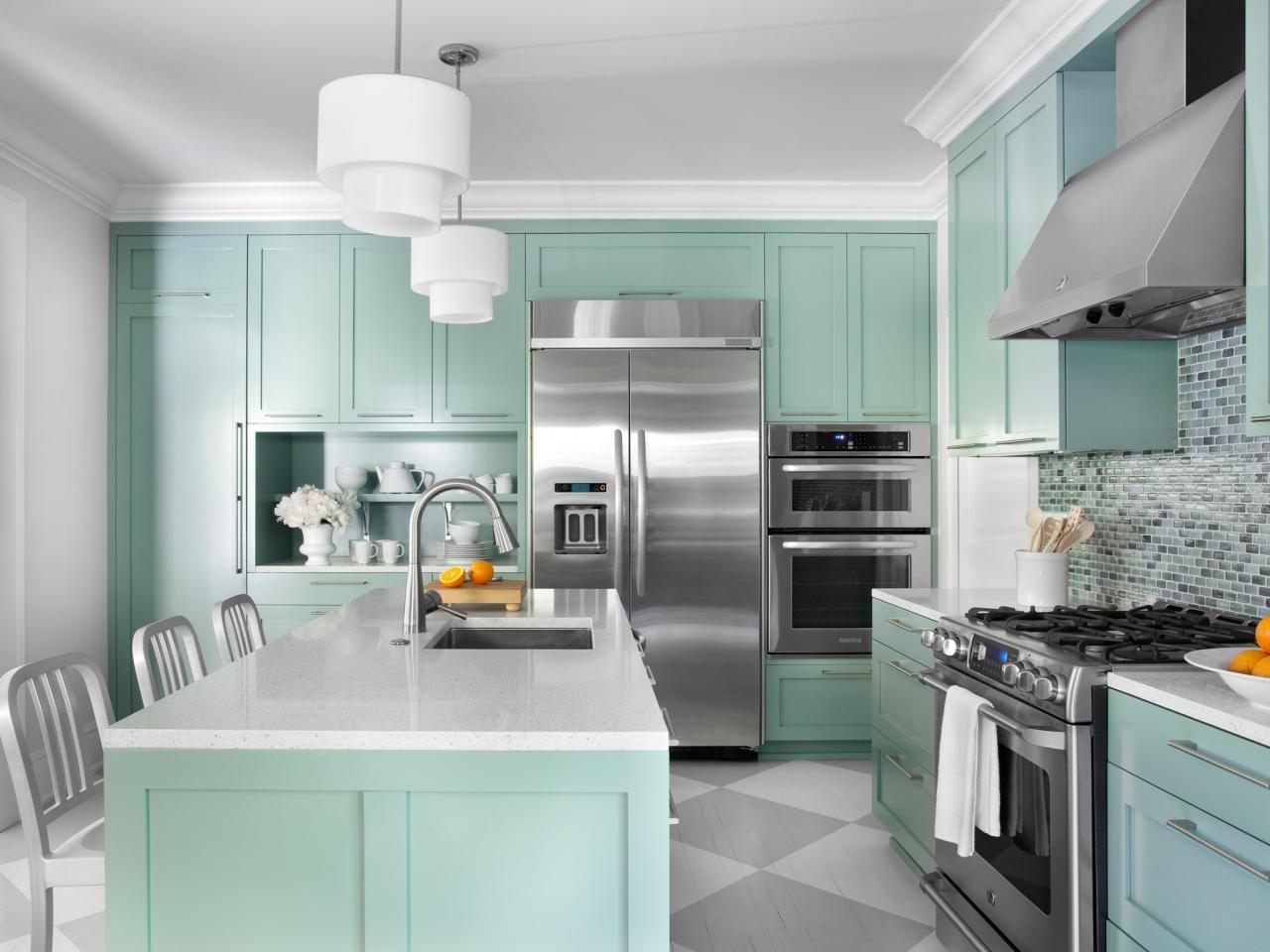 For most people, a kitchen is a functional place where meals are prepared, cooked and served, and nothing more, but as more homes become open-plan and as kitchens and dining rooms become integrated, kitchens need to have more personality, and one way this can be achieved is with colour.
Big space, small space
The first thing to consider when thinking about adding colour to a kitchen is the size of the area. Very dark colours should not be considered for a small kitchen, as a dark colour will simply make it look even smaller. A large kitchen should, on the other hand, be able to take dark colours rather well, providing they are offset with lighter spots of neutral tones. As cabinetry takes up most of the space in the kitchen, cabinet door fronts are the most obvious places to add colour. Nowadays, one does not have to choose from only a few colours, such as natural wood stains to simple black or white, because literally all colours are available for door fronts, from baby blues to sunburst yellows, and such colours will certainly add a cheery and contemporary touch. However, be careful. Do not have bold-coloured doors and a bold wall colour, as the overall effect will be too harsh for the eyes. Instead, choose a light, neutral tone, such as a white, cream, grey or stone for the walls, to provide a pleasing contrast. And if the budget is a bit tight and new cabinetry is simply out of the question, do not despair. Simply buy appropriate cabinet paint and paint the doors in the colour desired. As an alternative to painting the doors, consider painting or wallpapering the interior of glass-fronted cabinets in a contrasting colour or bold pattern to really make them pop out. Predicted colour trends for 2017 include dusky blues, lime greens and bright reds, and pastel blues, pinks and yellows.
Beyond cabinetry
It is time to look at the other areas of the kitchen, not just the cabinetry. How about the doors in to and out of the kitchen? Paint these in a contrasting colour to the rest of the kitchen and one will certainly be making a bold statement. This theme could even be extended to the window frames, but if painting these seems like going a step too far, consider adding colour with the window dressings. Curtains are a poor choice for kitchens as they can be considered a fire hazard, so opt for patterned roller blinds or bright shutter styles that are perfect for kitchens, as these are streamlined, fit against the window frame and are great at regulating airflow and light but still allowing privacy.
Splashbacks
Then there is the horizontal space between the cabinetry that offers a prime opportunity for adding colour. This space is often tiled, and one can choose either a plain, bold colour or a mix of plain and patterned tiles. An alternative is to forgo tiles altogether and have a single-sheeted splash back that is all one colour; a perfect choice when used between light-coloured cabinets. The colour used in this space can also be used in other parts of the kitchen to bring the whole together. You can find printed, glass, plastic and all other kinds of kitchen splashbacks online.
The other parts
But it is not so easy to add colour to fixtures and fittings when one is renting a property, so what choices are there for colour additions in a kitchen that is not one's own? The answer is to add colour to the removable and smaller items in the kitchen, such as crockery and gadgets. If one's cabinets are open-fronted, then this is easy. Simply invest in brightly coloured plates and mugs, mixing up the colours or keeping them all to one shade.
Then there are the items kept on show on the worktop, such as a food processor, toaster, kettle or coffee maker. Often, these are available in a range of colours, from bold, statement-making blacks and whites to pretty pastel shades that can give a kitchen a retro or country feel.
Soft furnishings
Lastly, colour opportunities arise in the soft furnishings used in the kitchen. If there is room for a rug, then lay down a rug that has a bold pattern or is a colour that is in direct contrast to the kitchen flooring. Kitchen chairs or stools can be upholstered or covered in a boldly coloured fabric or vinyl to add dots of colours, and if there is a breakfast counter, use coloured table mats.
There are opportunities to add colour to even the smallest of kitchens. All that is needed is a sense of colour proportion and an eye for the shades that complement one another.