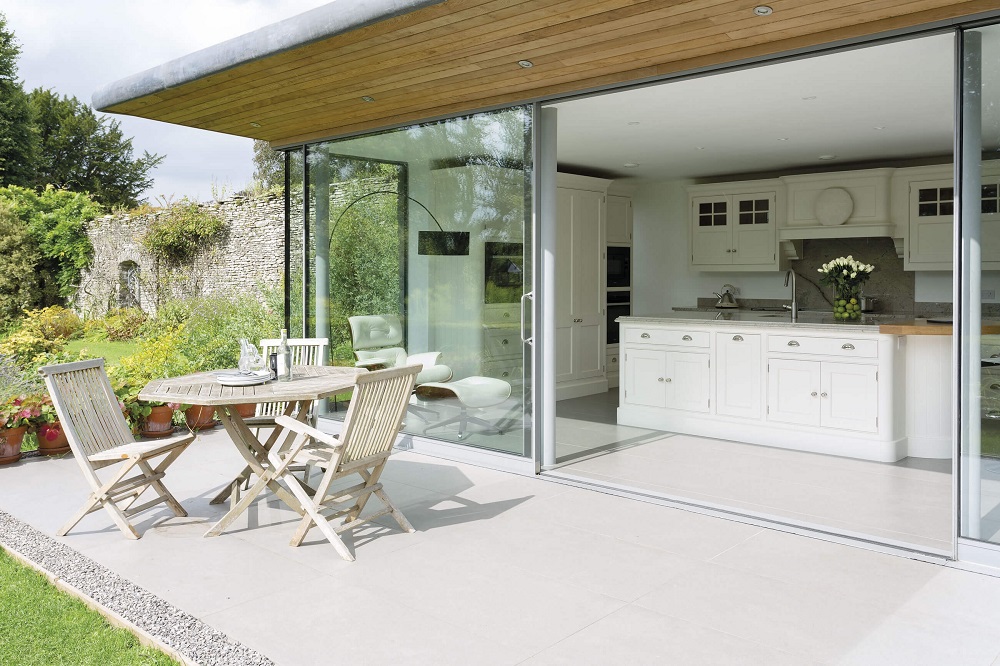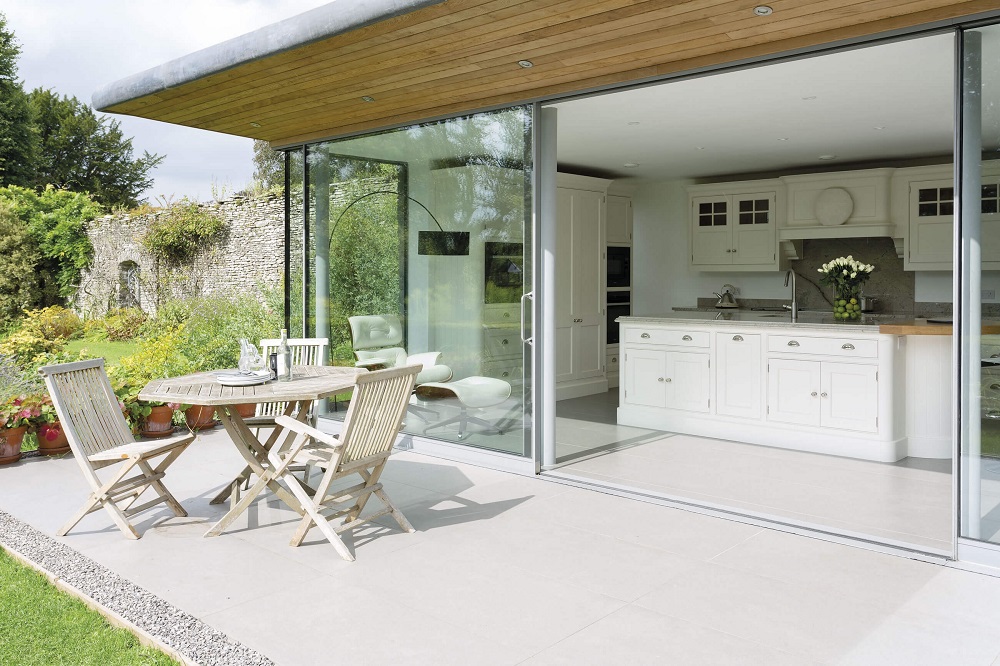 We all long for a bigger kitchen and dining area: after all, it's here that we spend time cooking, eating, and entertaining. If you need some extra room, but you haven't got the space (or the cash) to build a full extension, then you can still use your garden to add a stylish al fresco dining area that functions as an extension of your kitchen.
Creating a seamless flow between your indoor and outdoor areas will make your kitchen feel much more spacious, and it will make your garden a functional space for dining and entertaining, meaning you'll get plenty of daylight and fresh air during the warmer months. Just read on to learn how you can blend your inside and outside areas to make your garden an extension of your house.
Add a set of glass doors for a seamless feel
When it comes to creating an illusion of space and length, nothing beats a set of French or bi-fold doors. These will let plenty of natural light into your kitchen, making it feel airy and spacious, and when fully opened they'll provide a seamless transition from indoors to outdoors.
If you have a very narrow kitchen, then go for a set of sliding bi-fold doors with very slim aluminium frames: this way, you'll have a clearer view of you garden, and the doors will take up less room when folded back.  
Level the area and choose flooring with care
Once you've selected a set of doors, you'll need to create a raised deck or terrace that's the same height as your kitchen floor. By keeping your outdoor flooring the same level as your inside tiling, your space will almost feel like one large room when your kitchen doors are fully opened.
When choosing a flooring material for your outside dining area, you'll want to pick something that will be weather resistant, but also something that's going to work well with your kitchen floor. For a truly seamless, spacious look, you could even install the same flooring in both your kitchen and your terrace area: this selection of indoor/outdoor tiling from The London Tile Company includes lots of colours and styles, so you can choose one to suit your existing kitchen décor.
Create your al fresco dining area
Once you've installed a set of French or bifold doors, and created a level deck or terrace, you'll need to set about making your new outside area a space you can use for al fresco dining. For a truly seamless feel, it's a smart idea to choose a dining table and chairs that look like indoor conservatory furniture: Wyevale Garden Centre has some high-quality sofa-style seating in their garden furniture collection that is perfect for this.
Remember, if you've installed a set of wide glass doors, the view of your garden will become an integral part of your kitchen, so you want this to be a gorgeous view you won't mind seeing every day. Accessorise your new al fresco dining area with plenty of container plants to add greenery, then add a few cushions to your seating area to brighten things up. You could even choose colours that match your kitchen for a more consistent look.
Add cover and lighting
In an ideal world, the sun would shine every day, and you could spend all day lounging in your outdoor dining area. But in reality, the British summertime is often less co-operative than we would like, so it's a smart idea to add some easily accessible shelter in case of downpours.
Installing a canopy over your outdoor dining area will really make it feel like a natural extension of your indoor space. It also means you can still use your outdoor space when the weather is less than perfect. An automatic extendable canopy or awning will let you turn your outdoor dining area into an indoor one at the touch of a button, so they're a great solution if you need some shelter than can easily be moved to let more light into your kitchen.
We could all do with a little extra kitchen space. By installing some glass doors, fitting a level floor, and choosing some versatile, high-quality garden furniture, you should be able to create a seamless, functional space that's perfect for al fresco dining and entertaining.