Last Updated on 4th February 2021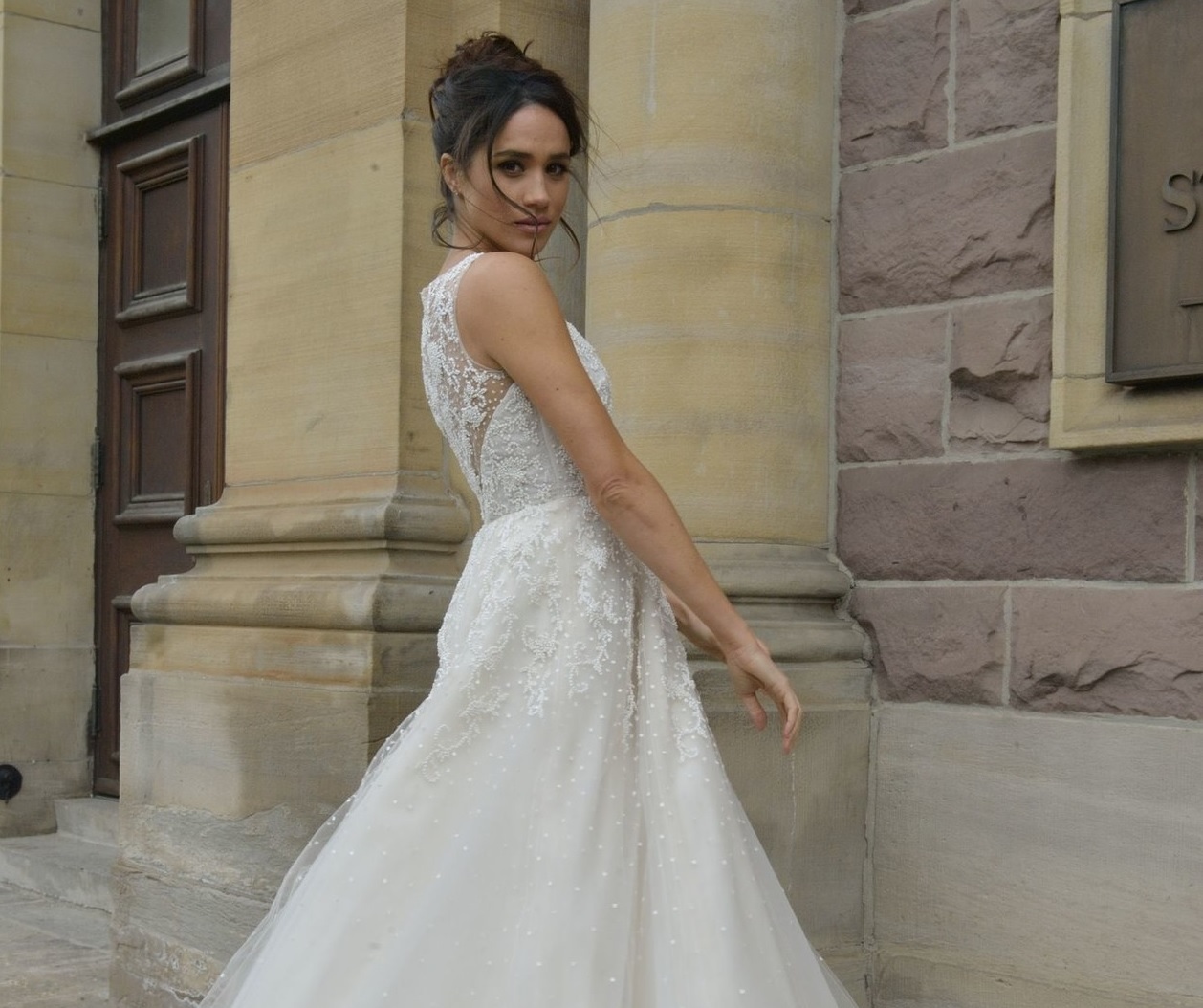 It's safe to say that it's a matter of "when" rather than "if" Meghan and Harry will tie the knot. So the bigger question really is, who will design Meghan Markle's wedding dress?
Before we speculate, what we can say with certainty is that her dress won't resemble the wedding dress she wore as her character Rachel Zane in Suits (not even a little bit).
Speaking to Glamour, Meghan categorically states that Rachel's wedding dress is not her "personal style". So whilst that narrows down her choice of dress ever so slightly (and we mean VERY slightly as there's still a ton of other styles she could opt for), who will have the honour of designing her wedding dress is a mystery!
As we excitedly wait for an official announcement as well as confirmation of the chosen designer, we've put together a mini list of the designers we predict will be in the running.
1. Victoria Beckham
Already a close friend of the family (the Beckham's were guests at Kate and William's wedding) according to reports if Harry has his way then the former Spice Girl will be the designer of choice. Meghan's worn Victoria's designs on a number of occasions and if all goes to plan, Meghan and Harry and the Beckham's may be neighbours in the not-so-distant future, further cementing their friendship.
2. Roland Mouret
Meghan and Roland Mouret became fast friends after an encounter in Istanbul in which Mouret declared how much he'd love to dress the actress. Responsible for the infamous galaxy dress and loved by many celeb starlets, Mouret is the ideal candidate. Both Meghan and Mouret have declared their fondness of each other with pics on Instagram, and having a friend design her dress would make her big day even more special.
3. Erdem
Ok, now admittedly we're not quite sure about this one. But we've included Erdem as a possible prospect as Meghan is known to be a fan. Remember when we saw Meghan and Harry pictured together at his friends (Tom Inskip and Lara Hughes-Young) wedding in Jamaica? She wore a gorgeous printed resort 2017 Erdem dress and looked stunning. If Erdem can work his magic on her wedding dress we're sure it would be beautiful.
4. Narcisco Rodriguez
So we're throwing up the likelihood that Meghan might go for Narcisco Rodriguez for one main reason only. That is, she gushed about her love for Carolyn Bessette Kennedy's much-adored wedding dress which was designed by the man himself. Favouring a simple, classic style, there's a big chance, Meghan may decide to replicate one of the most sought after wedding dress styles. And who else to help her achieve her dream than the original creator?
5. Stella McCartney
As far as other British designers go, (aside from Victoria Beckham) Meghan has spoken of her love for Stella McCartney and Alexander McQueen. But we highly doubt Meghan will choose McQueen, simply for the reason that Sarah Burton (creative director of McQueen) was responsible for her soon-to-be sister-in-law Kate's bridal gown. The same goes for Giles Deacon who designed Pippa Middleton's dress, even though Deacon has said he'd more than happy to do the honours. But Stella on the other hand could be a serious contender.
We suspect Meghan will opt for a British designer and style-wise we should expect something similar to Carolyn Bessette Kennedy's dress but with short sleeves. With that in mind, our money is on Victoria Beckham or Stella McCartney. Who do you think will design Meghan's dress?