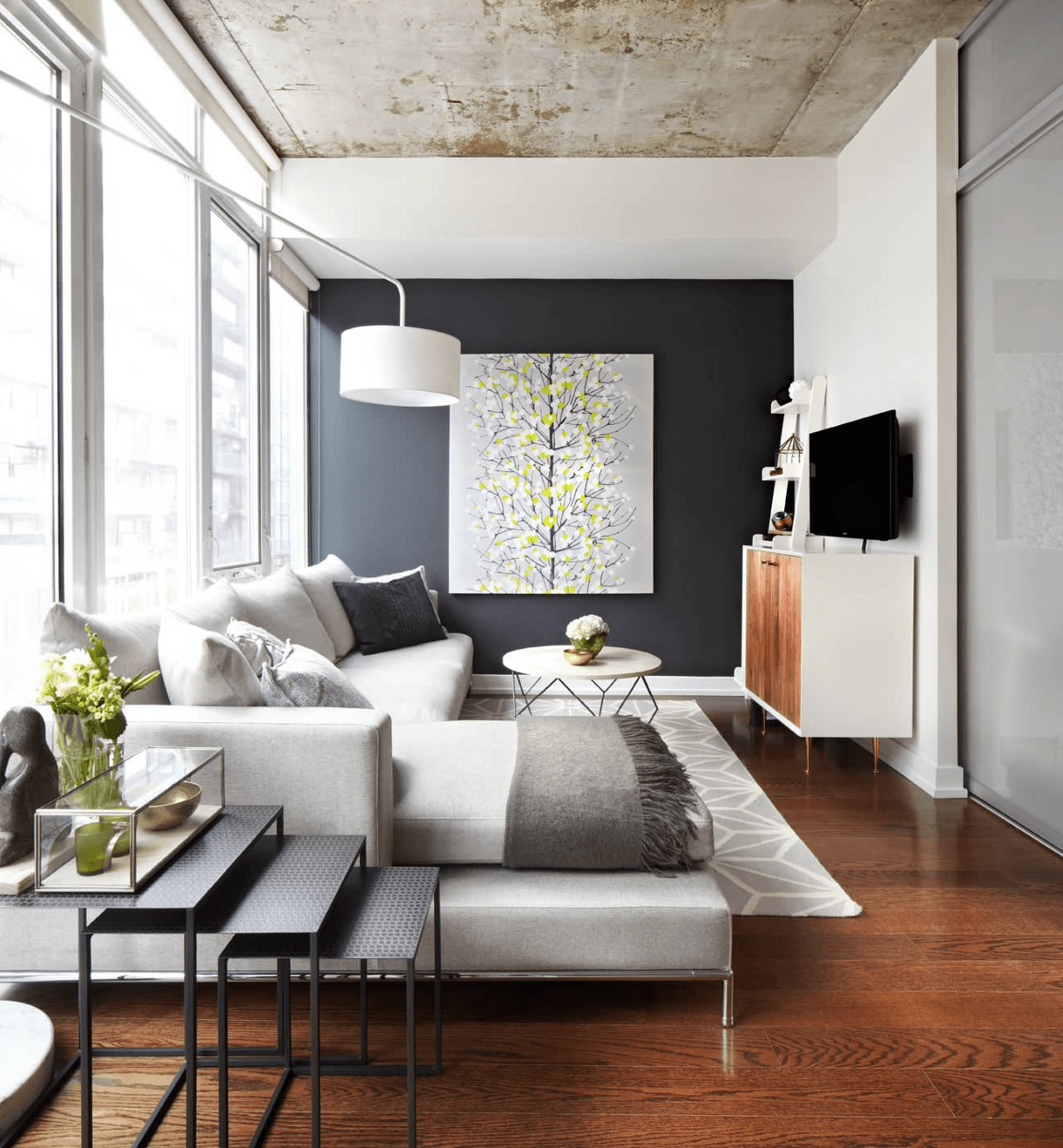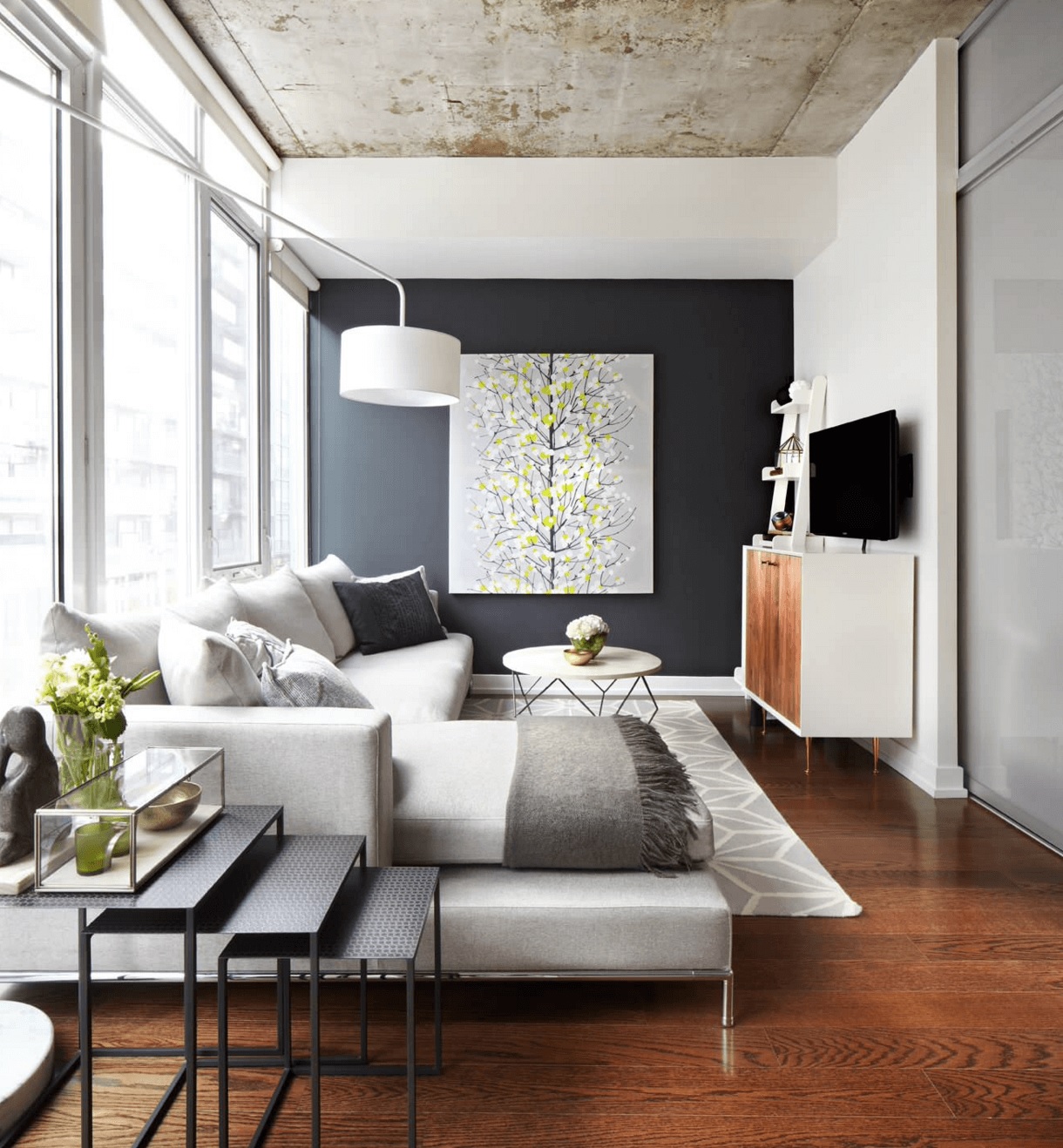 Feature walls are a relatively easy and timeless way to decorate your living room in an eye-catching way. They create a focal point by decorating a single wall to draw your focus.
There's an abundance of methods of adding a feature wall to your living room. That's why we're sharing seven of our favourite ideas of how you could use this decor technique in your home.
Feature walls can work well in any room, no matter the size, however, in this post, we're focusing on creating a statement in a living room.
Add Some Paint
Painting a single wall or a section of a wall is the most common method used to create a feature wall. A bold colour is used for a section or the full focal wall with neutral colours used for the rest of the room. Dark colours will also look great with white or light walls.
Accessories should be added to the wall, and rest or the room that suit the style and complement the colour of your living room.
If you don't want to paint a full wall or section, you could try painting a shape or pattern on part of the wall. Again, bold designs will be the best way to create your feature, mixing together bright and contrasting colours
Add a Wall Mural
A wall mural is a beautiful and simple option for your living room feature wall. A huge range of designs is available. You could add photographs of cities, landscapes, forests, animals or whatever else you want with a mural. It will give your room a one-of-a-kind look that's sure to be a talking point whenever you have guests over.
Once you've picked your design, choose a light colour that matches the rest of the room. Avoid putting accessories on the wall mural. Try decorating with leaning images, mirrors etc.
Murals can also be easily removed, allowing you to redecorate and keep up with changing decor trends.
Add a Wallpaper
Similar to a wall mural, adding a vibrant wallpaper to your living room can give your space a striking accent wall. Try to use a prominent colour with surrounding lighter walls.
Over the last few years, wallpaper has had a huge resurgence. A wide range of patterns is available to choose from with designs that work well with any style.
Add a wall neon lighting
It is a unique and modern way to create a stunning feature wall in your living room. With a variety of colours and designs available, wall neon lighting can be customised to match any decor style. It can be used to highlight artwork or simply as a statement piece on its own.
Plus, with energy-efficient LED technology, wall neon lighting is both cost-effective and environmentally friendly.
By adding a wall neon light sign to your living room feature wall, you can elevate the space and create a truly captivating ambiance. Whether you're relaxing on the sofa or entertaining guests, wall neon lighting is sure to make a bold and memorable impression.
Add Some Panelling
Wood panelling is a traditional home decor technique that became popular with the nobility in the Tudor period. Since then, it has been seen in all different shapes and sizes as a prominent form of decoration. Typically, wood panels are added to a wall with a unique patterns carved into them.
In the modern day, adding panelling to a single wall creates a beautiful effect. Dark natural and painted wood create an amazing feature wall. Use with light walls and dark furniture to create a classic look in your space.
Alternately, you could use reclaimed wood for sustainable and beautiful form of wood panelling.
Add Some Wall Storage
Using furniture as your wall accent is a popular choice as you're able to create the room's focus wall whilst adding additional storage to your home. Either a wall mounted cabinet or full-length bookshelf will look stunning. Wall mounted furniture is suited to a smaller space, giving the impression of space.
Fill the shelves with books, art and other accessories but try to avoid clutter by limiting too many things in one place. If you want more storage options, combine shelves with cupboards to give you more freedom with your space.
Furniture in white, black and neutral colours will look fantastic and give you more freedom with the other walls.
Add a Gallery Wall
Gallery walls are popular design trends that have been around in interior design since the mid-2010s. They combine art, family photographs, mirrors, clocks and whatever else you might want to create your wall decor. A mismatch of frames adds to the effect of the gallery wall. This popular fashion can be completely flexible, so add some character by showing off your something you love.
When creating your gallery, be sure to map out where you want everything to go. Use masking tape to mark up your wall to make sure the spacing is right before you begin. Choose either a linear style, a shape or organised chaos.
If mismatched shapes aren't your thing, you could consider personalised photo wallpaper as an original wall covering, or a personalised print from Hey Chimp. Paired with a sentimental LED neon wall sign, you can create a really striking feature wall that just exudes love and comfort.
Feature walls are most effective if you make them your own. Use your own unique style and personality to give the wall something a little different to the norm.
Get creative and don't be afraid to be experimental to create a unique design. Use accessories to tie together the room with your overall style.