What did we do over the holiday period?
Well, we umm ate loads, drank too much, and wished we'd binge-watched Bridgerton. 'Cause actually we were kinda late to the party with this one. 
We only started watching Bridgerton after seeing so many of our lovely followers tweeting about the show. And oh man are we glad we checked it out 'cause it really was sooo good. 
Produced by ShondaLand and based on Julia Quinn's romance novels, Bridgerton is centered around the Bridgerton family. In particular the eldest daughter Daphne and her quest to find Prince Charming.
It's pretty much Downton Abbey meets Gossip Girl, complimented with fantastic music, stunning outfits and a huge dose of scandal. And it's funny too. But best of all it was great to see proper diversity in a period drama. 
And yeah, it also didn't hurt that Duke Hastings was so damn CUTE! 
Considering all the rubbish news we've had lately, Bridgerton was a welcome escape. We've just finished it and honestly, we can't wait for season two. 
But in the meantime, we're crushing on the outfits and searching for Bridgerton inspired dresses to wear as soon as the weather decides to warm up. 
Join us! 
First let's have a look at some of the awesome fashion moments this season had to offer. 
Best fashion moments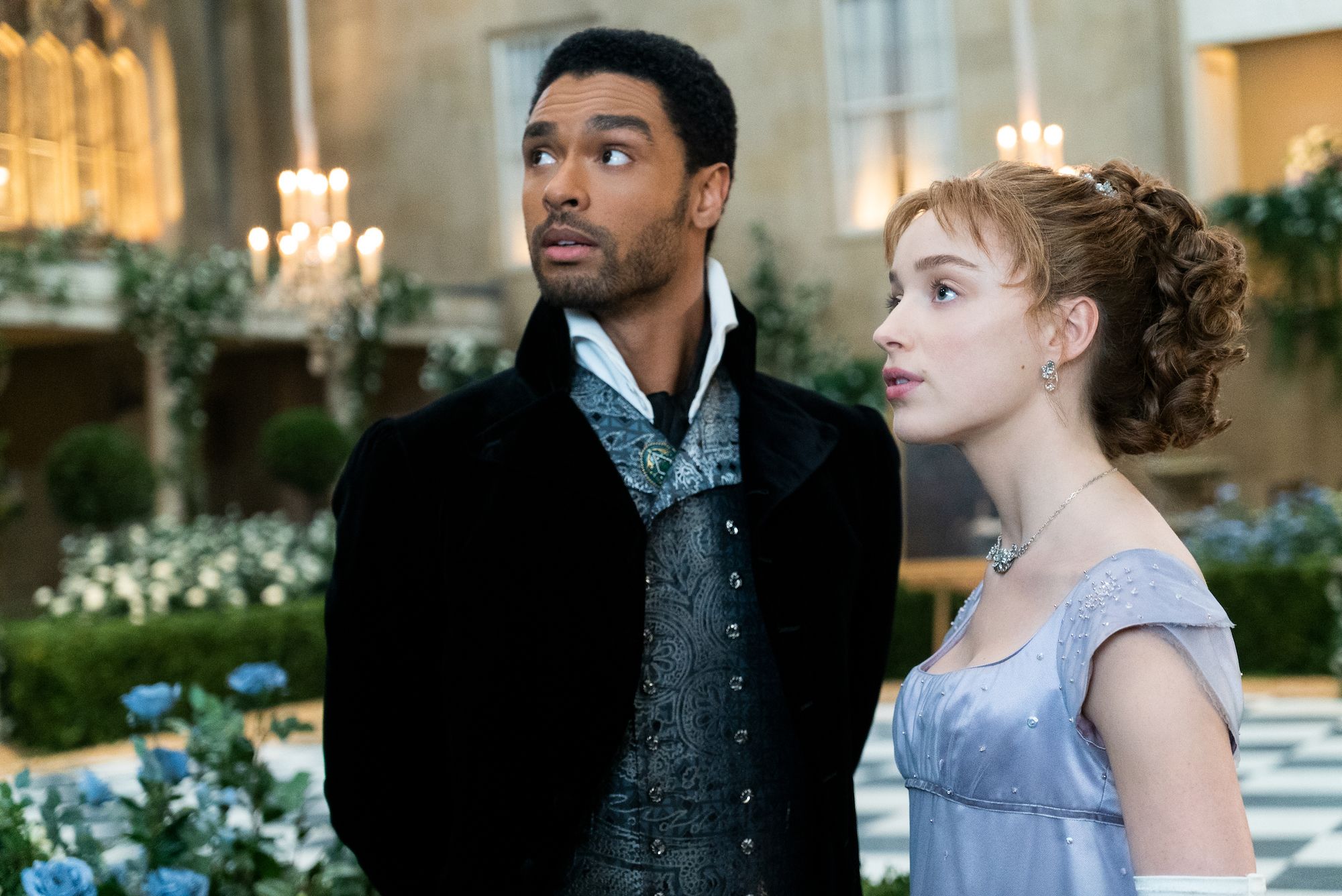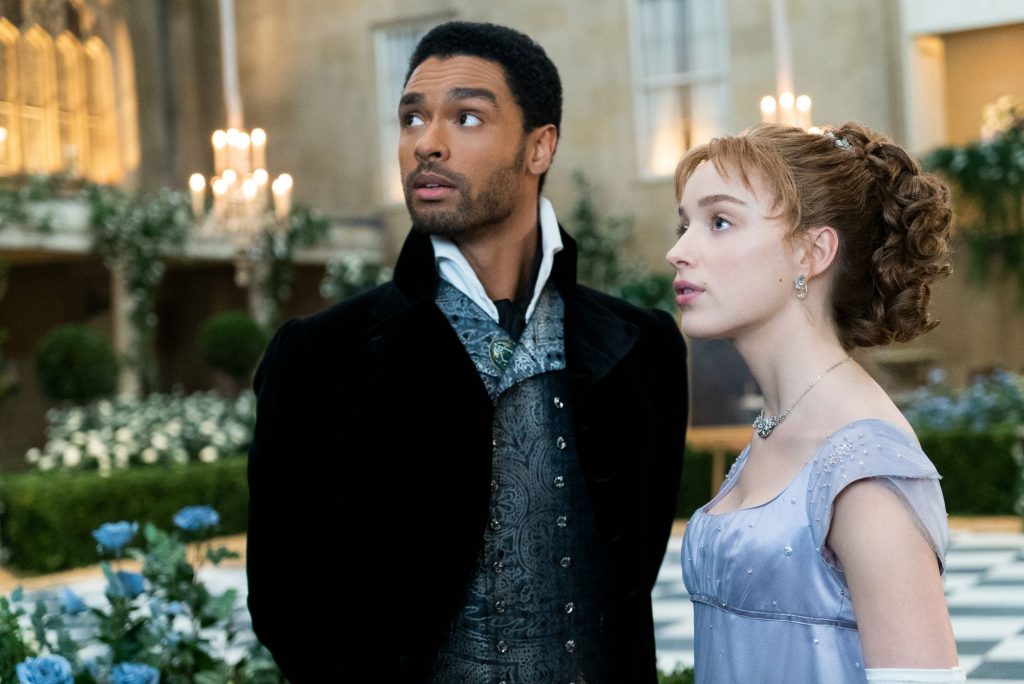 Set in the Regency era, as you would expect the dresses in Bridgerton are predominantly embroidered empire-waist gowns, with each character sporting a signature colour or print to define their character's personality.
However unlike the fashion in the Regency era, if you notice there's not a bonnet insight in the drama.
And what made the costume design so successful?
Rather than drawing inspiration just from the Regency era, costume designer for the show, Ellen Mirojnick took inspo from the 18th century right up to the 1960s.
Speaking to Harpers Bazaar Mirojnick said, "I visualised the costumes as a reimagined, fictional portrayal of Regency London. My inspirations were everything from portraiture of the late 18th Century and early 19th Century to the 1940s, 1950s and 1960s."
Mirojnick also looked to the Chanel 2017 & 2018 collections, telling Fashionista "A lot of the inspiration for the embellishments actually came from Chanel Spring 2018 or 2017. There's always something in Chanel you could use."
It's safe to say her attention to detail was noticed and loved by us all. Because according to Lyst, since watching the show, we've hit up Google searching for period pieces. From headpieces to elbow-length gloves and especially corsets, we can't seem to get enough.
Queen Charlotte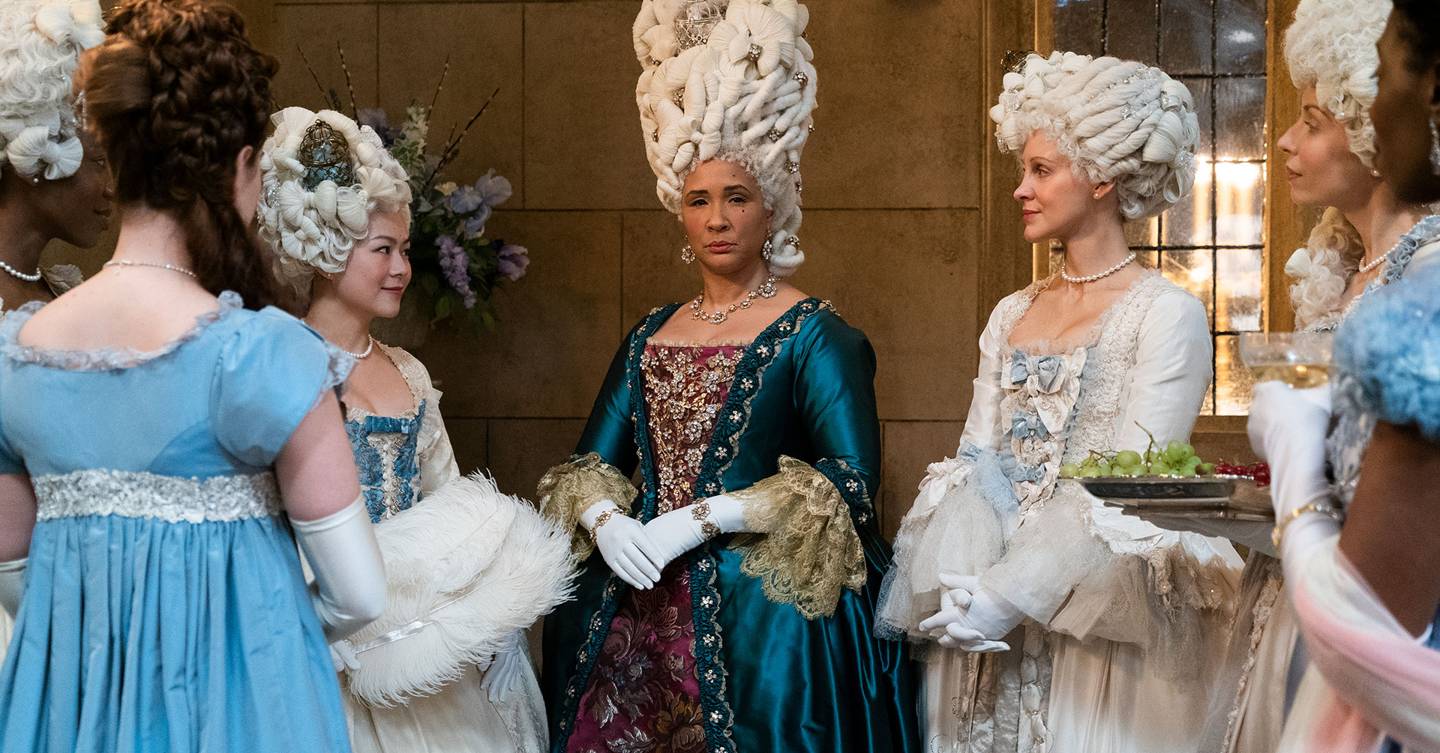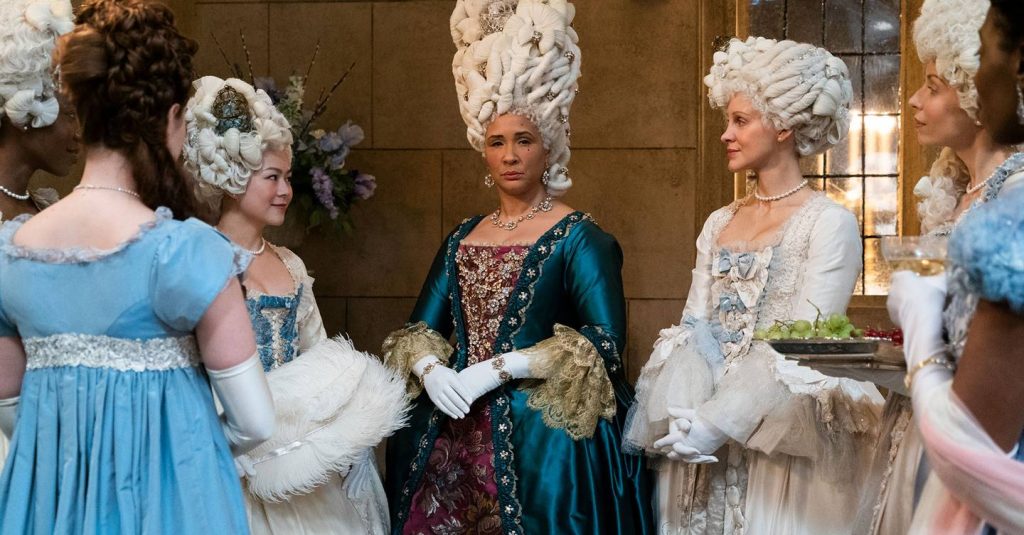 As you would expect Queen Charlotte's gowns are regal and elaborate and left us wanting more. Rich jewel tones and statement jewellery along with gravity-defying hairstyles were her key looks. We love the contrasting colours on this outfit in particular.
Daphne Bridgerton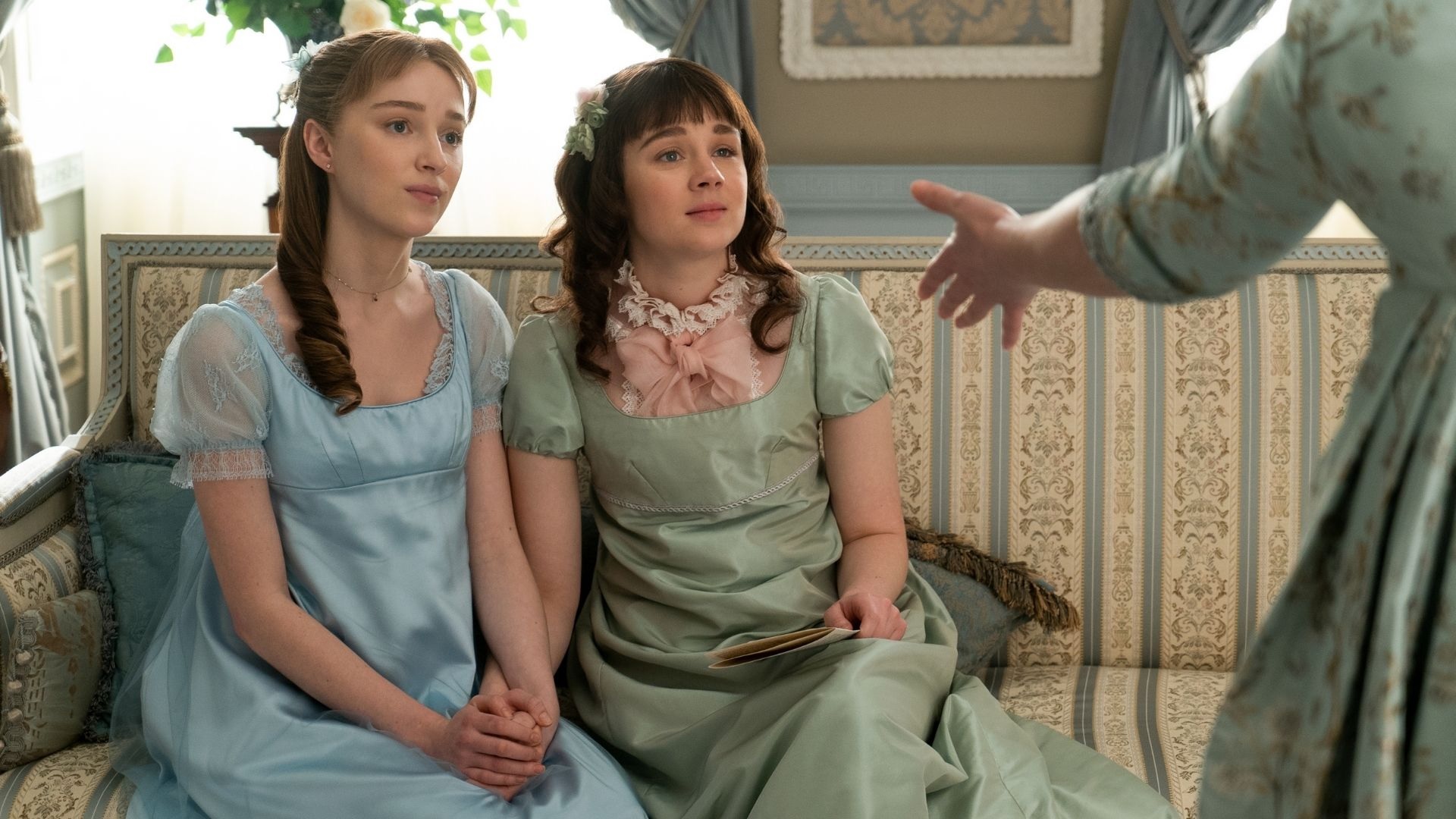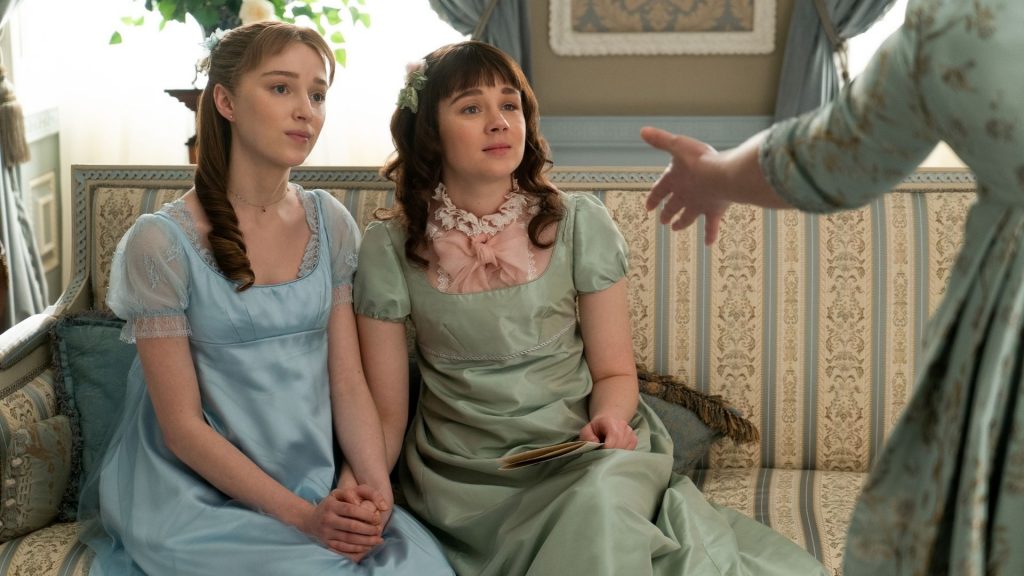 More classic dresses with delicate puff sleeves can be found on Daphne Bridgerton played by Phoebe Dynevor. Who can you believe is Sally from Coronation Street's daughter?.
Flirting mainly with pale blue with moments in a stunning cream or white ballgown, Daphne's dresses were demure and complemented with subtle jewellery.
Marina Thompson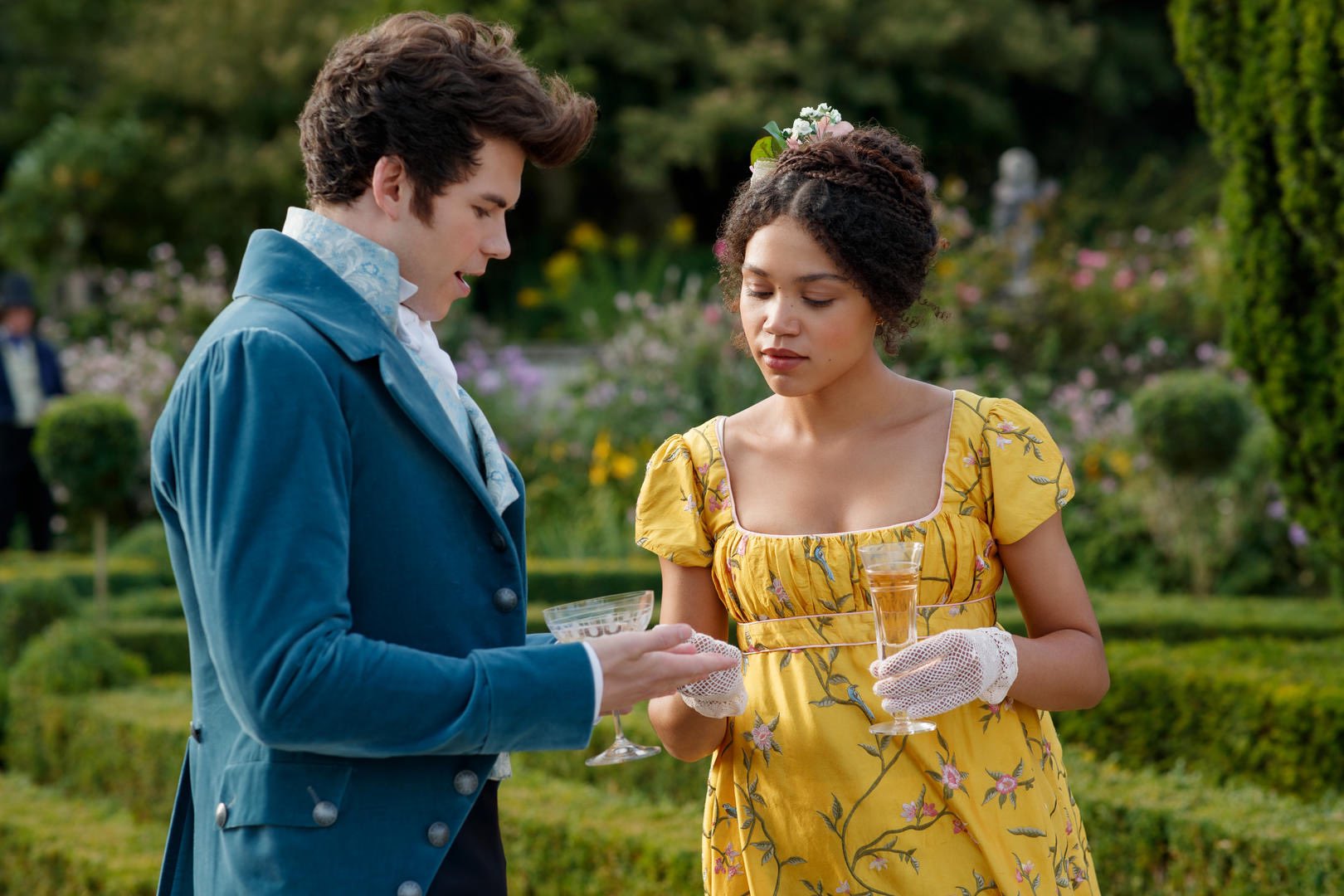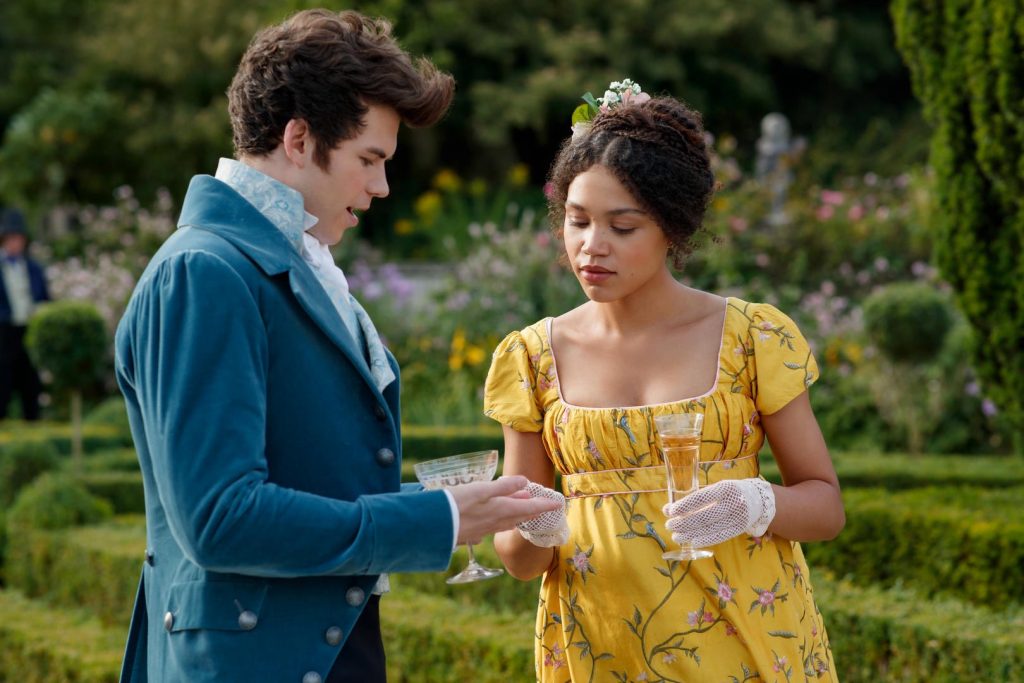 Marina's style also evolves the more ingrained she becomes in the Featherington family. As the storyline develops we see Marina experiment more with colour and print. like this beautiful yellow floral print dress, which could easily be worn today. and is one of our favourites.
Penelope Featherington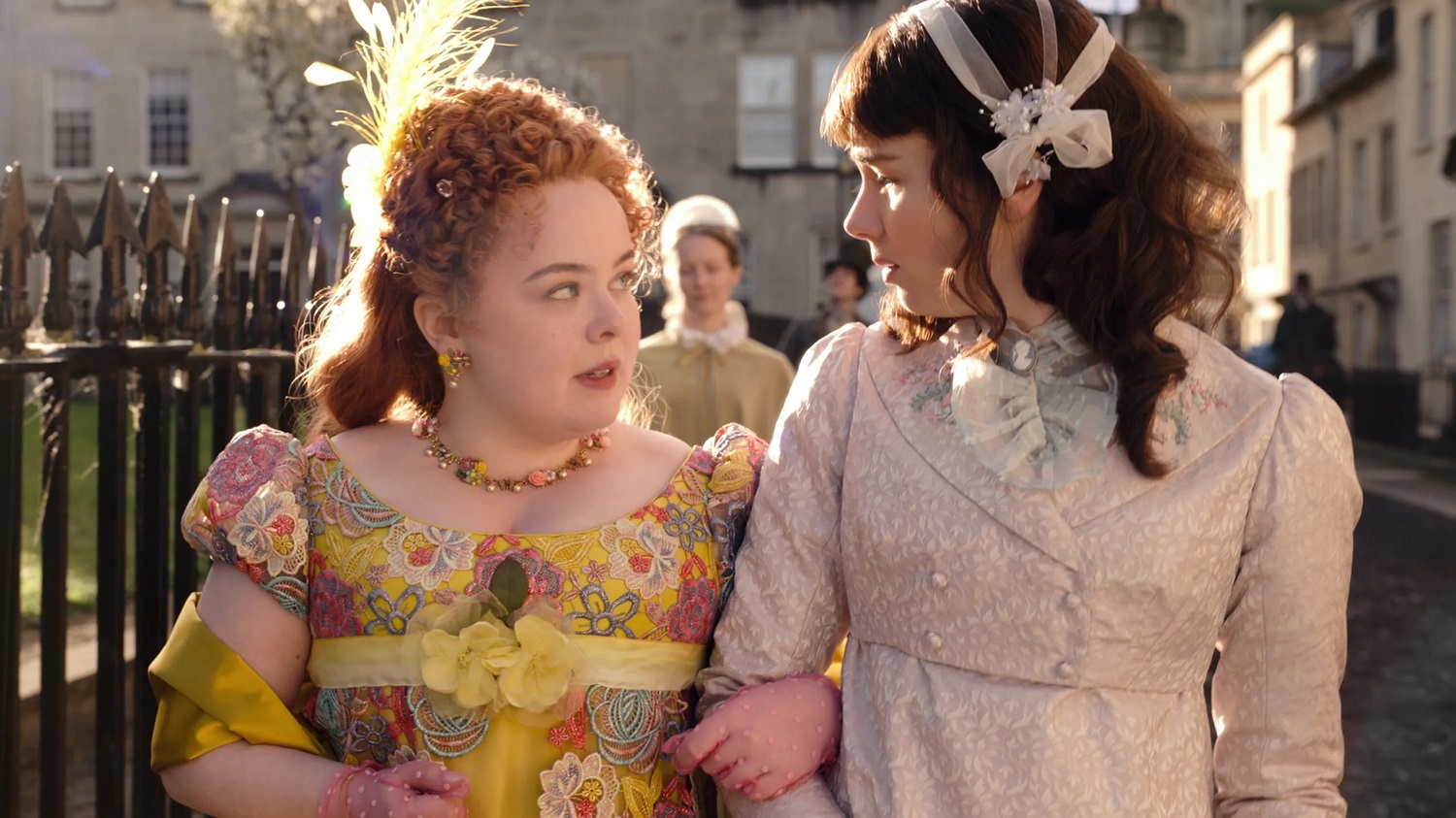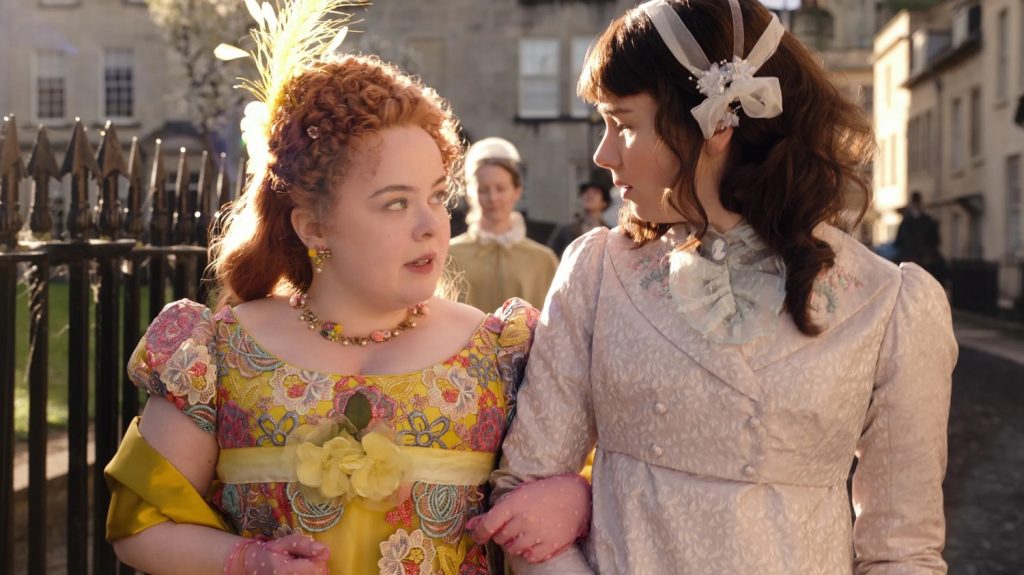 Another favourite of ours is again another yellow floral print dress as seen on Penelope Featherington who wears quite a bit of yellow.
Aside from yellow being the most popular colour of the Regency era, it's also associated with jealousy and deceit. So it's very possible her colour of choice could have been intentional…hmmm.
Portia Featherington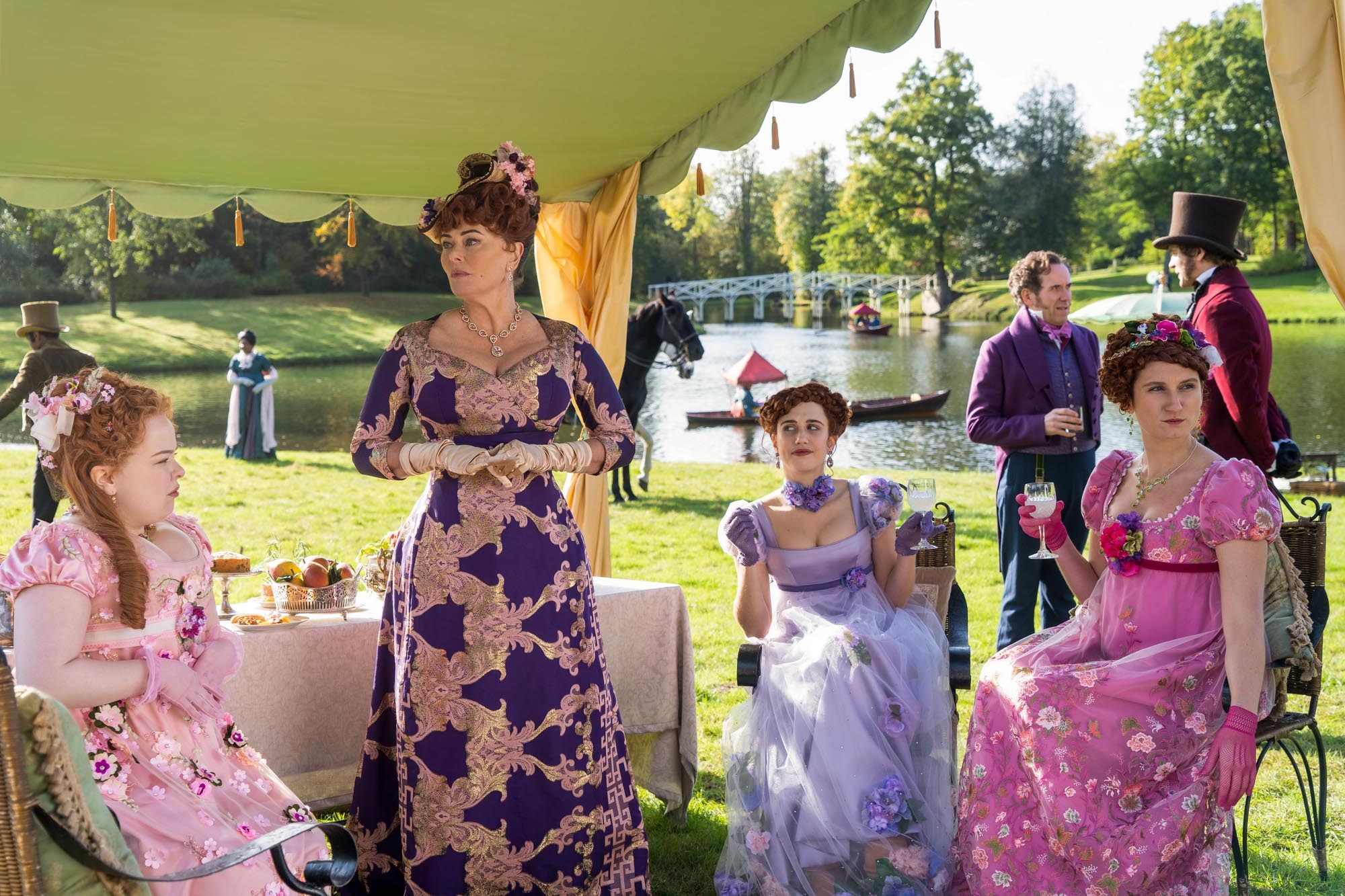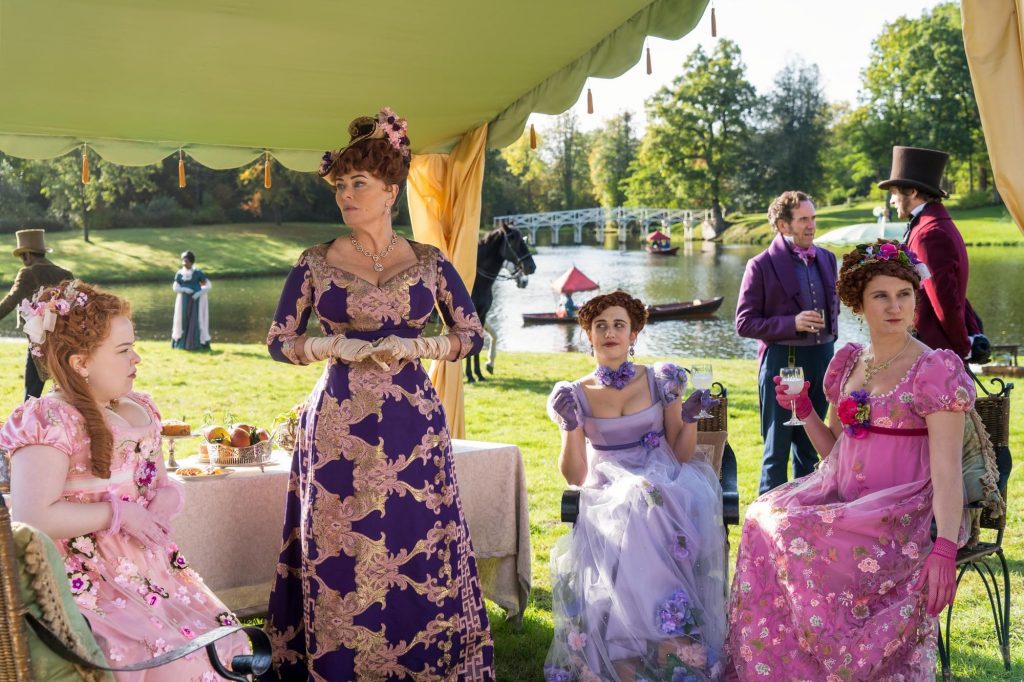 Finally, we had to include this bold jacquard print floor-length dress as seen on Lady Portia Featherington. The print is just gorgeous, attention-grabbing, and looks fantastic on her.
Want to replicate these looks for yourself?
Here's some Bridgerton inspired dresses guaranteed to inject some period drama into your wardrobe (oh and don't forget the gloves!)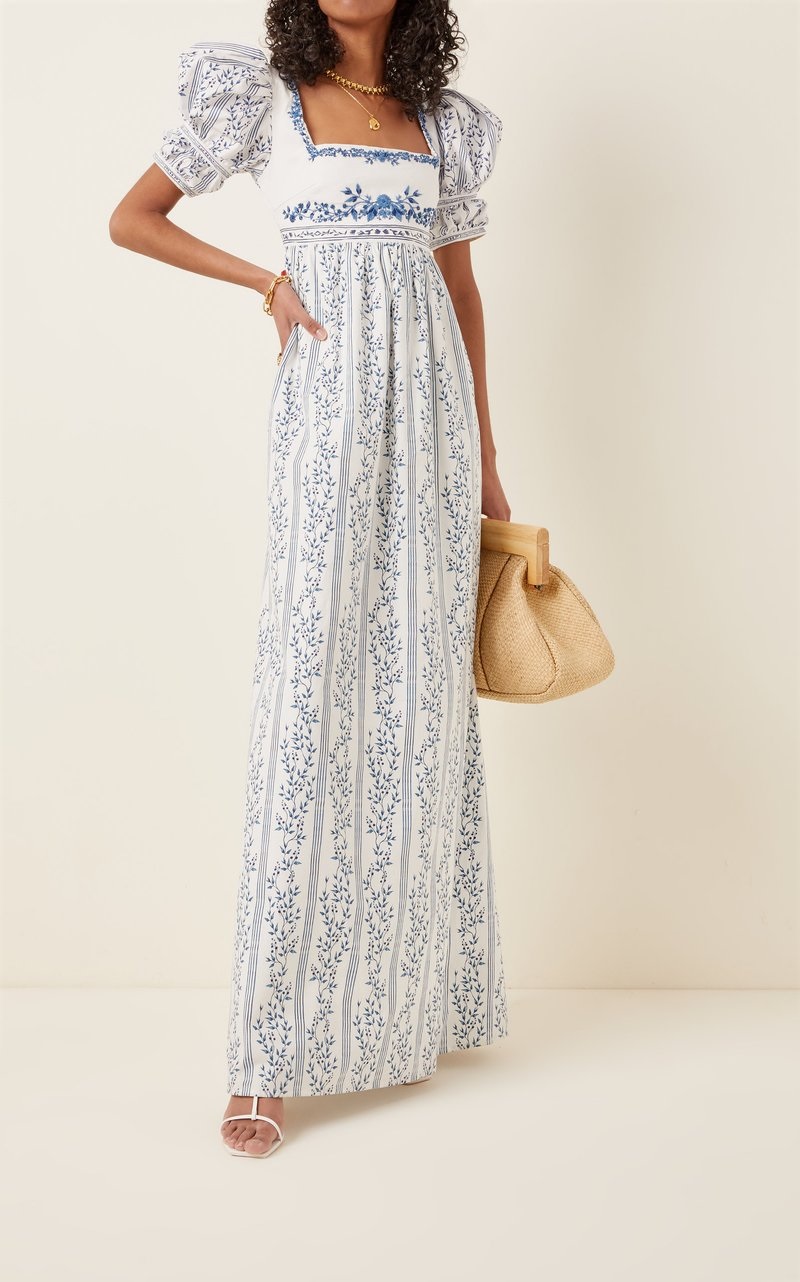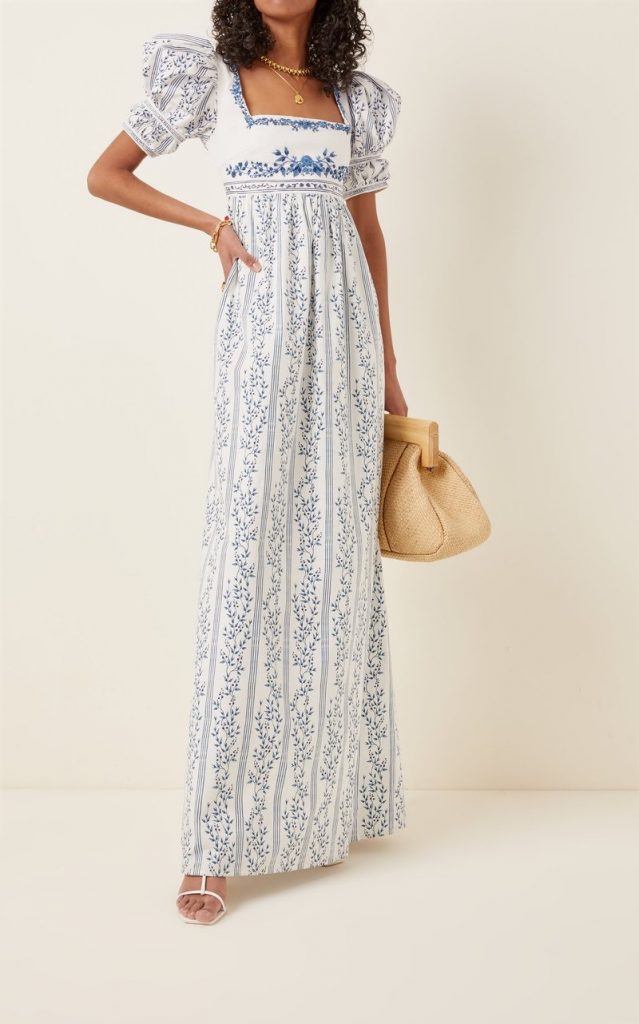 Agua by Agua Bendita Pistachio Grosellas-Printed Poplin Dress available at Moda Operandi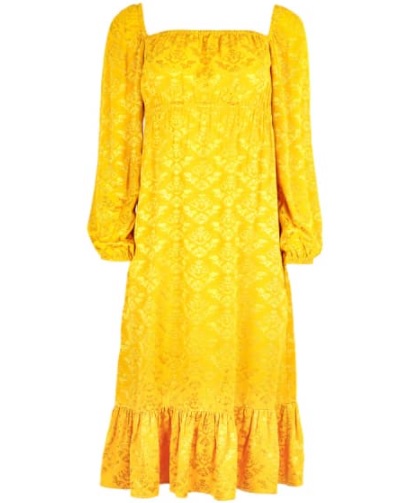 Sustainable Empire Dress available at Wolf & Badger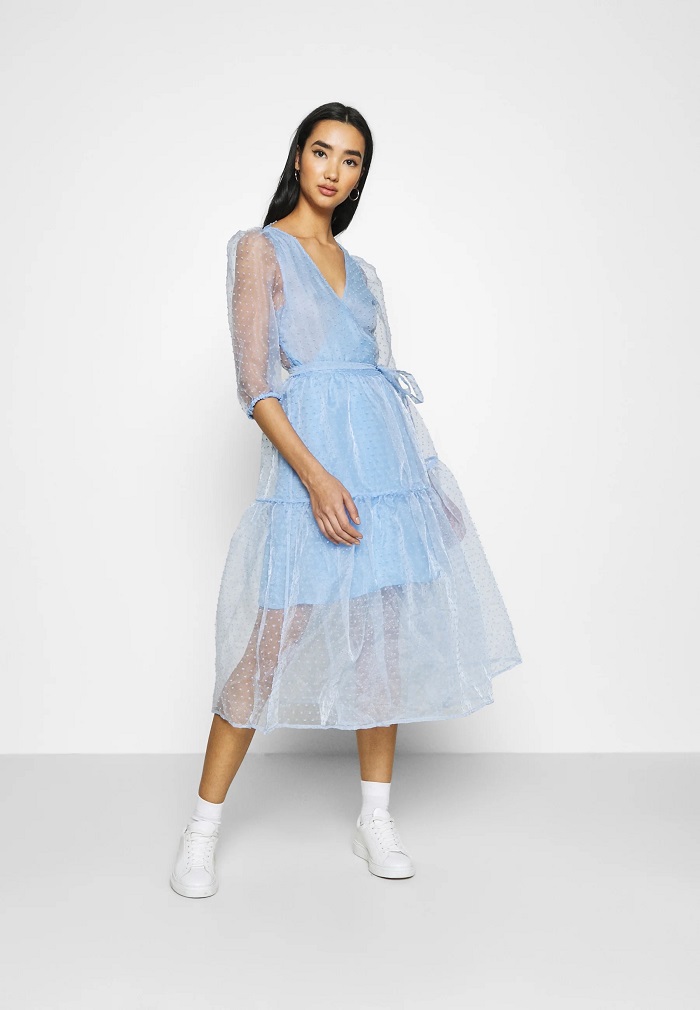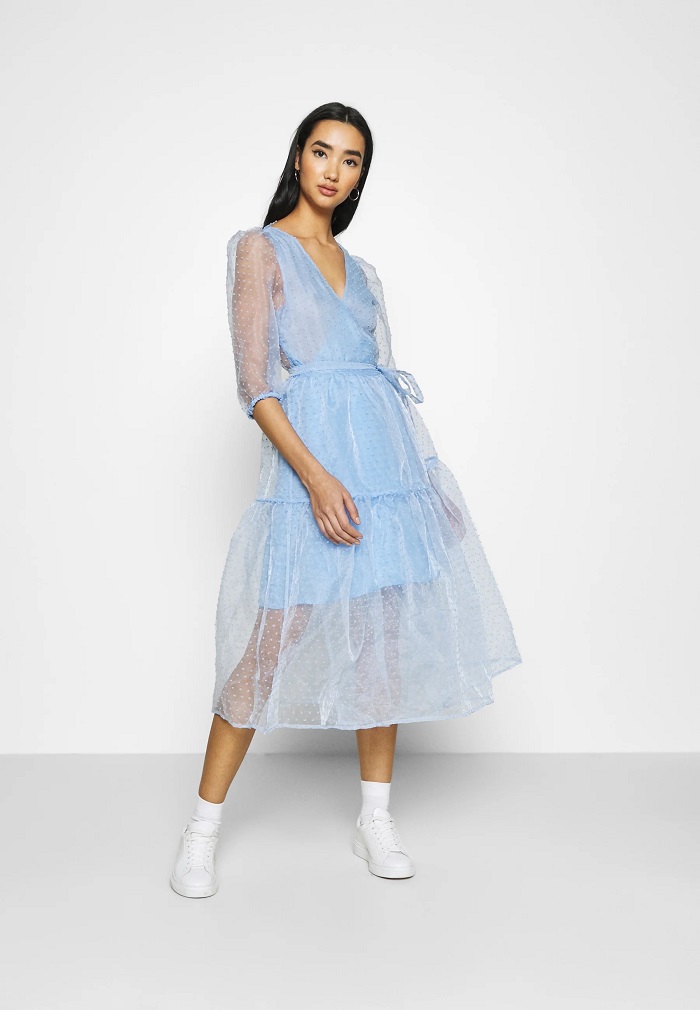 Monki Sara Day Dress available at Zalando