This season we are bringing you Irish spring styles for everyone. It is the perfect time of year to brighten up your wardrobe with pops of color and fresh looks.
Colorful Ponchos
Flattering and elegant, a poncho is a must-have for every spring wardrobe. These beautiful wool ponchos offer the perfect solution to this season's changeable weather without compromising on style or comfort.  
Choose from handwoven Donegal Loden Tweed, super soft woolen cowl necks, and more. All available in a rainbow of color options from multi vernal plaid and vibrant reds to multi-mulberry and Blue Heather.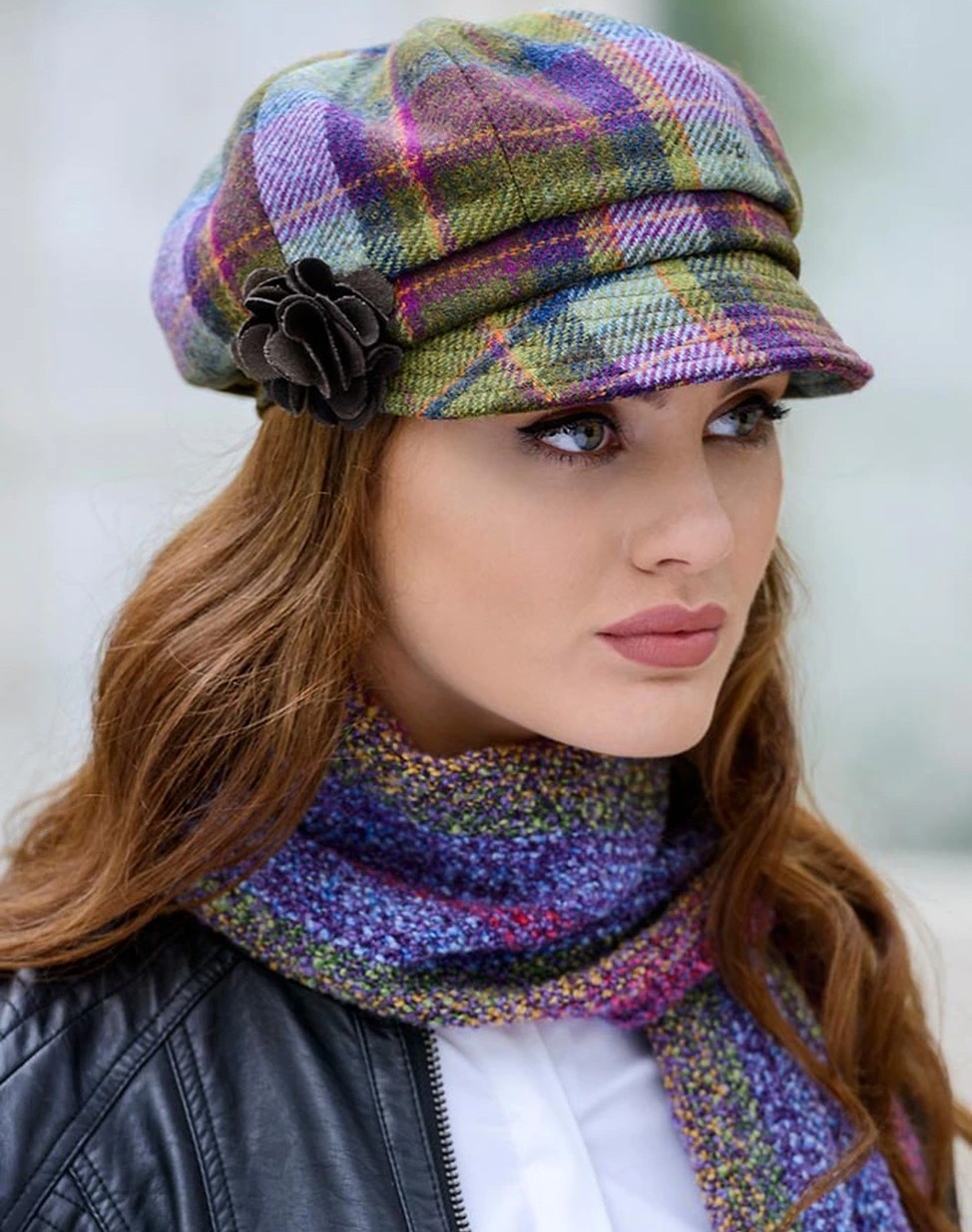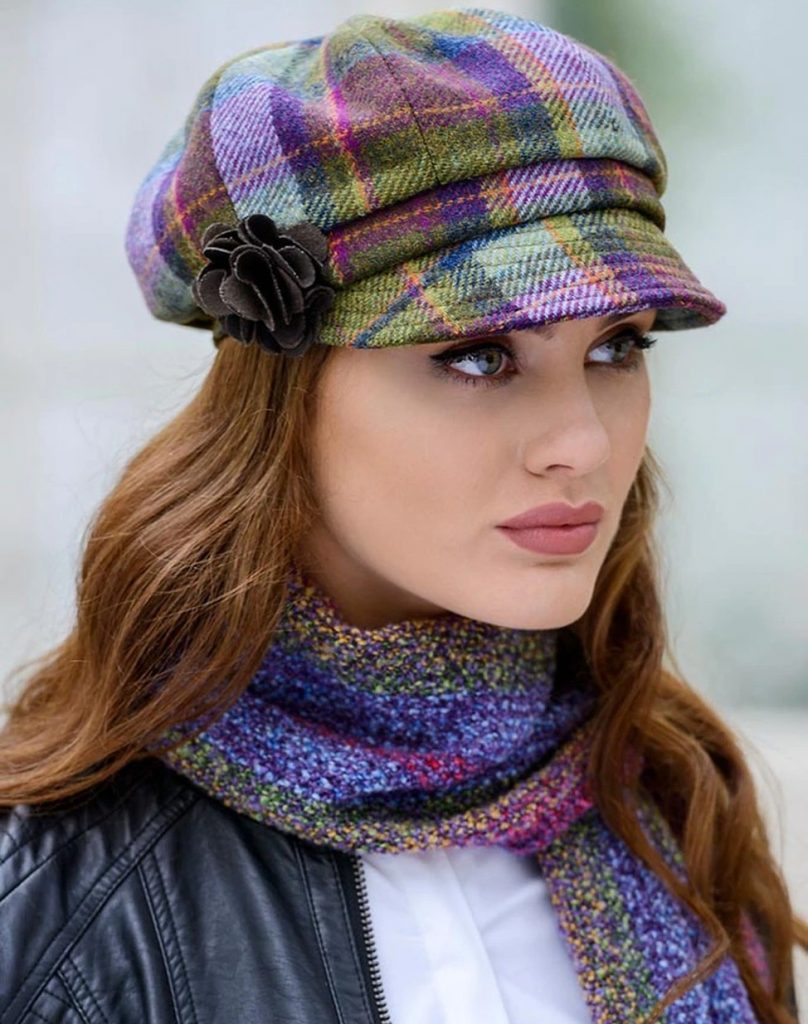 Newsboy Hats
No outfit is complete without the right hat. Newsboy hats are a flattering option for every face shape and come in a plethora of colors to suit your mood. For a feminine touch, choose one of our newsboy hat options with a leather Rosette.
Match a single tone newsboy hat to your outfit with options in plain black wool, magenta or red tweed, or a wine-colored cord cap. Alternatively, stand out with a hat that pops with color. Mucros Weavers' newsboy hats are inspired by Killarney National Park, where the studio is located. These tweed and wool hats mix stunning colors to striking effect. You may also enjoy, Branigan Weavers' use of alpaca wool to hand weave subtle pinks, greens, and blues but also offer and more vibrant rainbow options too.
Wraps & Shawls
Handcrafted wraps and shawls add a sophisticated elegance to any outfit. The right wrap or shawl is versatile enough to be worn with jeans or a cocktail dress and heels. For spring, choose a lambswool, chenille, or Aran wool option for ultimate chic.
Jimmy Hourihan's Fringed Celtic Spiral Shawl in Black and Fuchsia features the Celtic Spiral and a fringed edge. Whereas, Kerry Woolen Mills has created a range of Celtic Ruana style wraps in cobalt, emerald green, and lemon yellow.
For something a little different, look to the Aran Shawl Wrap with pockets and Super Soft Cabled Shawl Wrap. Both available in a range of colors for you to choose from.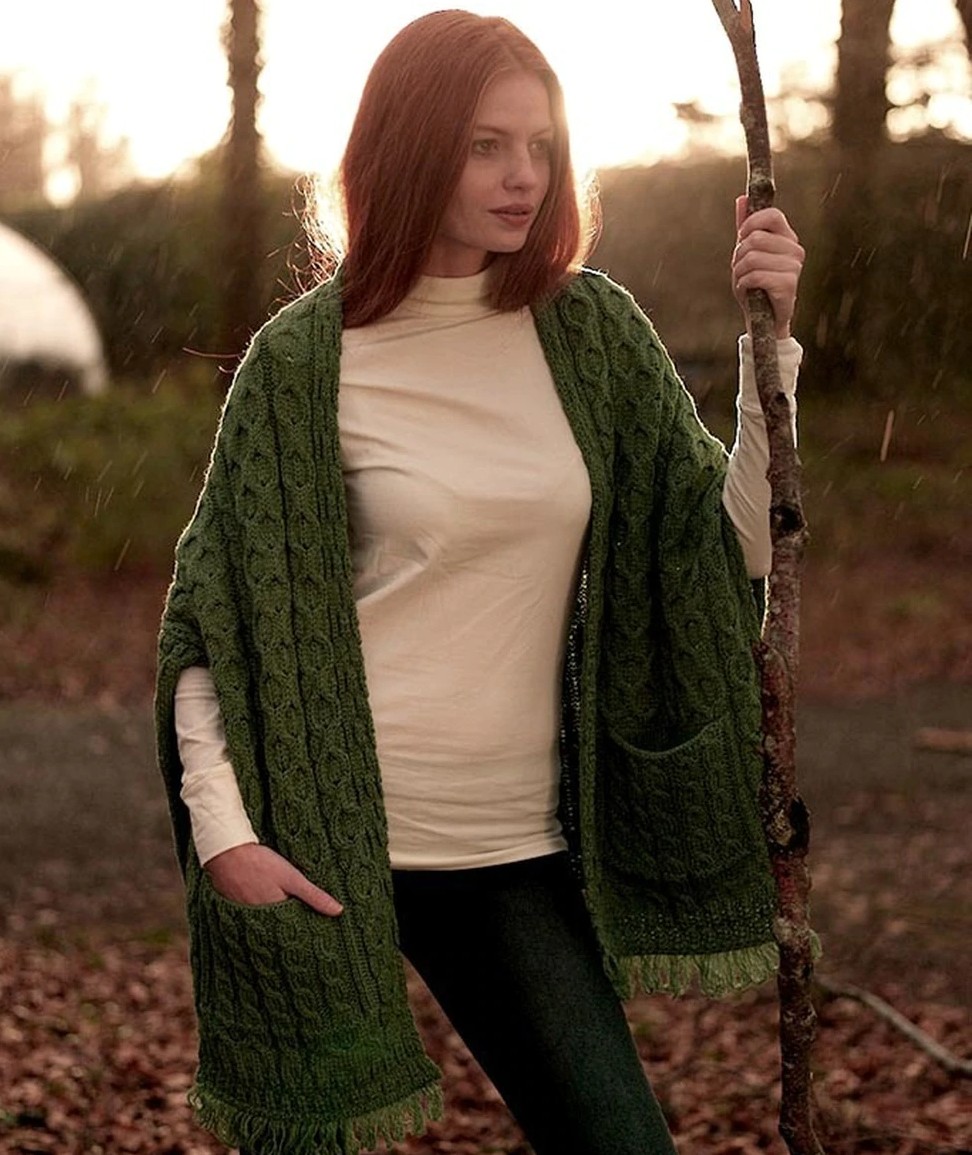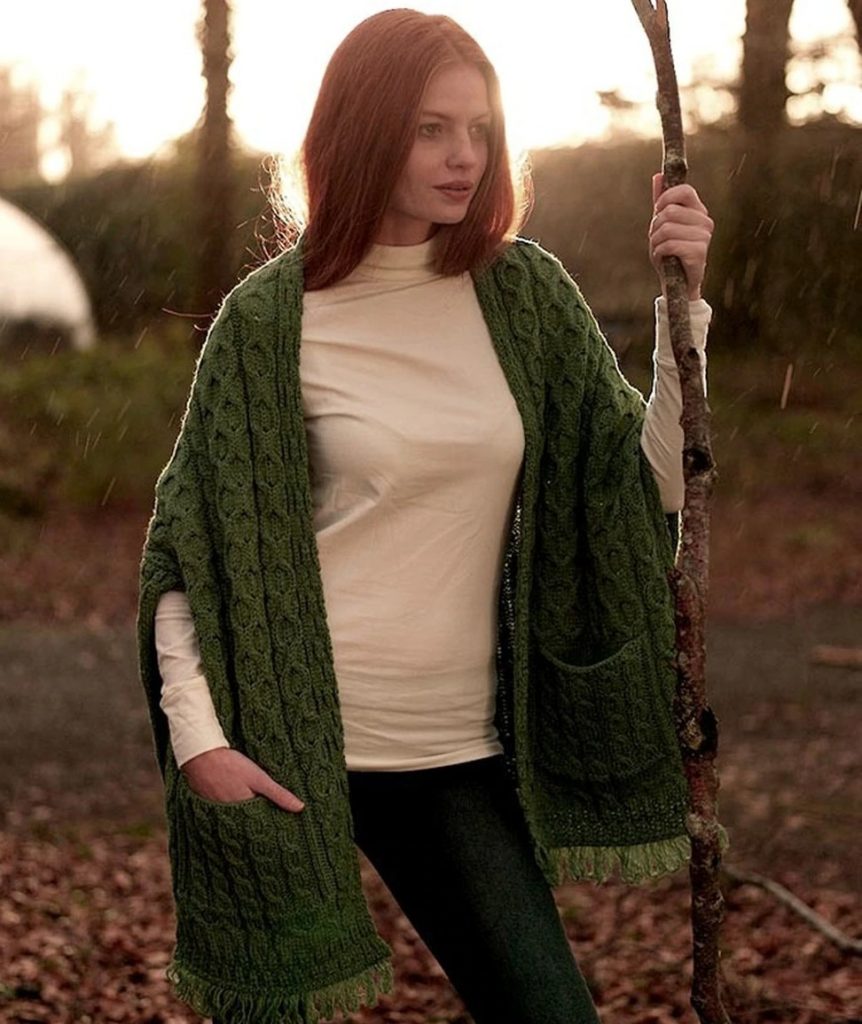 Women's Tweed Jackets, Blazers & Skirts
No spring wardrobe is complete without at least one tweed item. Tweed lends itself well to fitted women's fashion including pencil skirts, classic blazers, and striking coats. Durable and wrinkle-free, tweed gives a feminine silhouette for a beautiful shaped finish to any piece.
Our tweed range includes Fern skirts from Dubarry of Ireland in navy, sorrel, rowan, and mist. All fashioned in a country-style tweed with bias inserts for the ultimate flattering fit.
We also have a selection of incredible tweed jackets and coats, including 3/4 length coats, fitted blazers, and statement coats inspired by period drama Poldark. Coats are available in blue tweed with red edging, primary green check with moleskin trim, and classic navy and herringbone.
Tweed Bodywarmers For Men
Spring is the ideal time of year to head outside and explore as the weather warms up. The ideal companion for your outdoor adventures is a tweed bodywarmer from one of our Irish weavers.
Worn over a jumper or shirt, a bodywarmer gives a touch of style to your outfit. Choose a quilted bodywarmer for cooler climates and pick from a range of finishes. Celtic Tweeds' bodywarmer in brown has Nappa leather trims on the collar and pockets whilst Emerald Isle Weaving has four convenient pockets in their Brian Irish Wool Tweed bodywarmer.
Irish Tweed Jackets & Coats For Men
For those looking for something a little more substantial, look no further than our Irish tweed jackets and coats. This spring, treat yourself to a tailored coat or handmade jacket that will be the envy of all your friends.
Suited for pairing with formal and relaxed outfits, a coat like the Sean Tweed Overcoat in Olive Herringbone is a great choice. This is a tailored coat, woven from 100% wool tweed. For a shorter option, look to the Skellig Wool Tweed Walking Jacket in Navy. This is a zipped coat with a quilted lining and features the traditional herringbone pattern in blue.
For something a little different, the James Stephens Brown Poets Jacket is a contemporary take on military styling. This jacket has a touch of luxury with its unique printed golden lining and thick hopsack weave. The Rockville Two Button Tweed Jacket in Beechwood is another take on the tailored jacket. This jacket honors the lines of classic tailoring for a sleek look and comes in an eye-catching green and gray wool tweed.
With a few key pieces from Weavers of Ireland in your favorite colors, you will have the ultimate spring wardrobe. When it comes to spring fashion, look for pieces that lend themselves well to learning and outfit versatility.