Your wedding ensemble is something you want to be absolutely perfect, and that goes for more than just the dress for your big day. Wedding day accessories can elevate your dress and really bring the look together. This goes for shoes, hair accessories, and, of course, your wedding jewelry.
While you might be afraid of most upscale wedding jewelry due to the hefty price tag, you can rest easy knowing there are affordable and high-quality bridal jewelry options out there to help you look your best when you say "I do." Wedding jewelry doesn't have to break the bank! Once you've found a few styles and pieces you love, it's important to stick to a few general bridal jewelry guidelines. Here are some dos and don'ts when it comes to planning your wedding jewelry set.
WEDDING JEWELRY DOS:
DO Take Inspiration from Your Engagement Ring: If you aren't sure where to begin, your engagement ring is a great place to start when it comes to curating a wedding jewelry look. Get inspired by the size, shape, stone and style that makes your wedding ring extra-special. For example, if you're donning a unique oval engagement ring with a silver band, consider searching for similarly shaped earrings and base your entire jewelry look around silver. This will help you to narrow down your search from the start so you won't get overwhelmed.
DO Make a Fun Statement: If you're all about new trends and breaking the mold, this is your chance to do so on your wedding day. A pair of dangly or large statement earrings can add the perfect amount of extra sparkle to your look, especially if you plan on having your hair in an updo for the big day. This is a great idea for brides with a simple or classic wedding gown as well. You can have the best of both worlds by keeping things traditional with your dress and really ramping things up with your wedding jewelry. Choose a necklace that makes a statement or a sparkly ring stack to wear on any of your non-wedding ring fingers.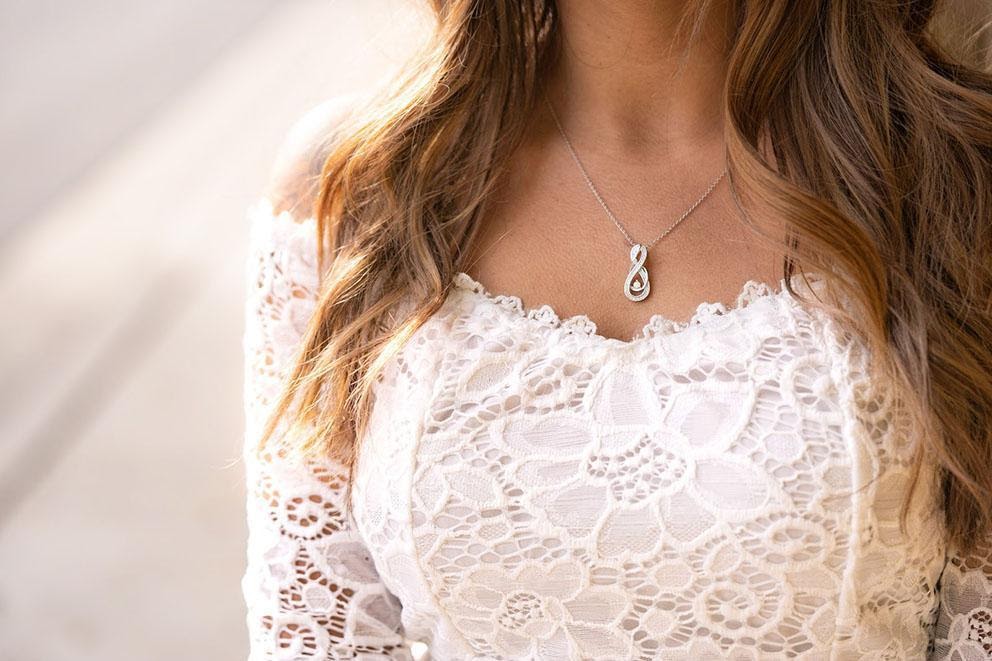 DO Search for Dainty Pieces: On the other hand, you might want to keep things delicate and super-feminine for your wedding day. This kind of look makes a statement in a totally different fashion. Delicate bridal jewelry is classic and looks great on everyone. To achieve this, go for thin chains and bands, sleek materials and a "less is more" mindset. Regardless of individual style or piece, a set of dainty wedding jewelry is sure to elevate any wedding gown.
DO Add a Bracelet: Don't overlook a bracelet for your wedding look. Though your hands might be covered by your bouquet for most of the ceremony, the reception and wedding party photo session are both the perfect time to show off a bridal bracelet. A bangle or delicate chain-link bracelet adds a bit of sparkle to the wrist and helps elongate the arm. It also can attract the eye to your hand and engagement ring!
WEDDING JEWELRY DON'TS:
DON'T Overdo It: While it's absolutely okay to make a statement on your wedding day, be careful not to add too much bridal jewelry. On that note, if you don't feel like wearing a lot of jewelry at all on your wedding day, a pair of understated stud earrings and your engagement ring might be just the right thing for you. Plan ahead and try on different jewelry looks with your wedding dress to see how many pieces of jewelry feels right to you.
DON'T Mix Too Many Colors: No matter how much jewelry you wear for your wedding day, it's a good idea to keep things cohesive in terms of metals and colors. Simple beauty can get lost in a mix of silver, gold and rose gold. Instead, why not try an all-silver look with clear or colored stones or a bold gold-themed set?
DON'T Overthink It: Let's be honest: Over all the things you might stress about leading up to your wedding, your bridal jewelry should not be one of them. Curating a wedding day jewelry look can be as easy as picking out a daily outfit! Go with your gut and choose pieces that make you feel both happy and confident. Think about what you love to wear on a daily basis, and then take it up a notch from there without all the added stress.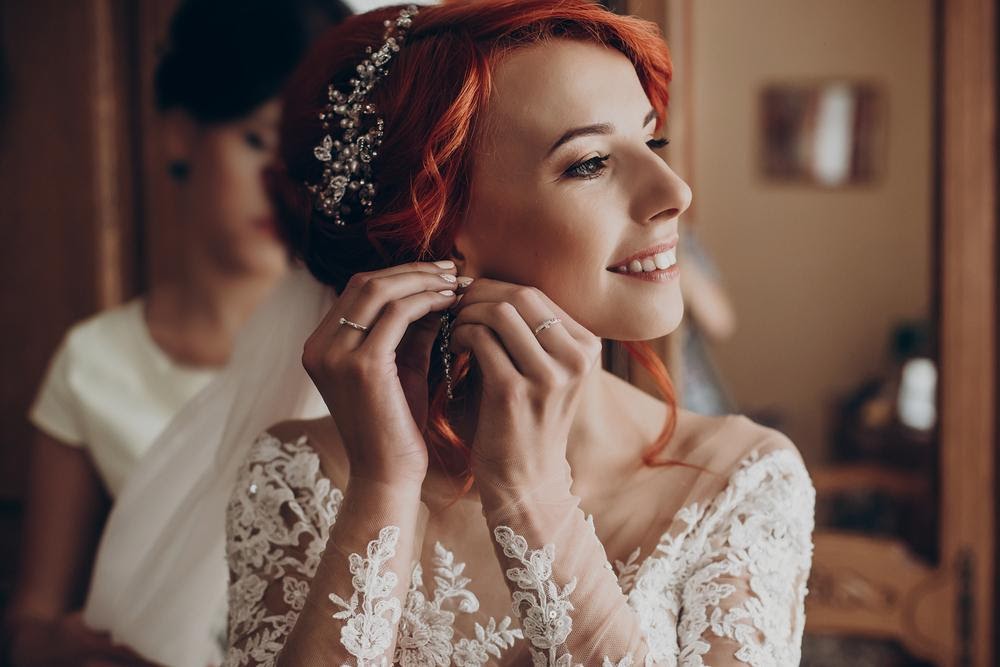 DON'T Buy Jewelry Before the Dress: If any rule is most important in this list, it's this one. Definitely be sure to decide on a dress before purchasing wedding day jewelry. It's important to work with the neckline, material, and style of your dress when choosing bridal jewelry so you have an idea of how much jewelry to add or what pieces to stay away from altogether.