Last Updated on 9th June 2022
Are you getting married? The gleeful anticipation of your upcoming nuptials is celebrated in many ways. From engagement parties and bridal showers to the big day, every bride needs to look her best in every moment. While the gown gets a lot of attention, it's far from the only piece of bridal fashion you'll be shopping for. Here are some tips for finding the perfect dresses for every bridal event.
The Engagement Party
Your first foray into wedding celebrations will begin the moment he pops the question. Traditionally, weddings are planned over many months or even a couple of years. An engagement party allows the couple to celebrate their big news now and officially kick off the wedding planning phase of the event.
These parties also serve as an ice breaker to introduce the two families. Waiting until the wedding day to make important introductions can cause some ruffled feathers and undue stress on the newlywed couple. It's best to start these introductions early so that everyone can come together and celebrate happily on the big day.
The engagement party is typically a cocktail party, giving the bride-to-be full permission to wear a fun and flirty dress with an above-the-knee cut. We recommend avoiding anything overtly sexy, seductive, or revealing. You want to make a great first impression on extended family members that you'll be meeting for the first time. And you want to send a clear message that you are committed to your soon-to-be husband.
For the perfect engagement party dress, stick with something semi-formal that shows off your personality. And then, dress it up with a little fun by choosing a fun color or a little sparkle. An A-line cocktail dress that has a little twirl in the skirt can be the perfect balance of modesty and fun.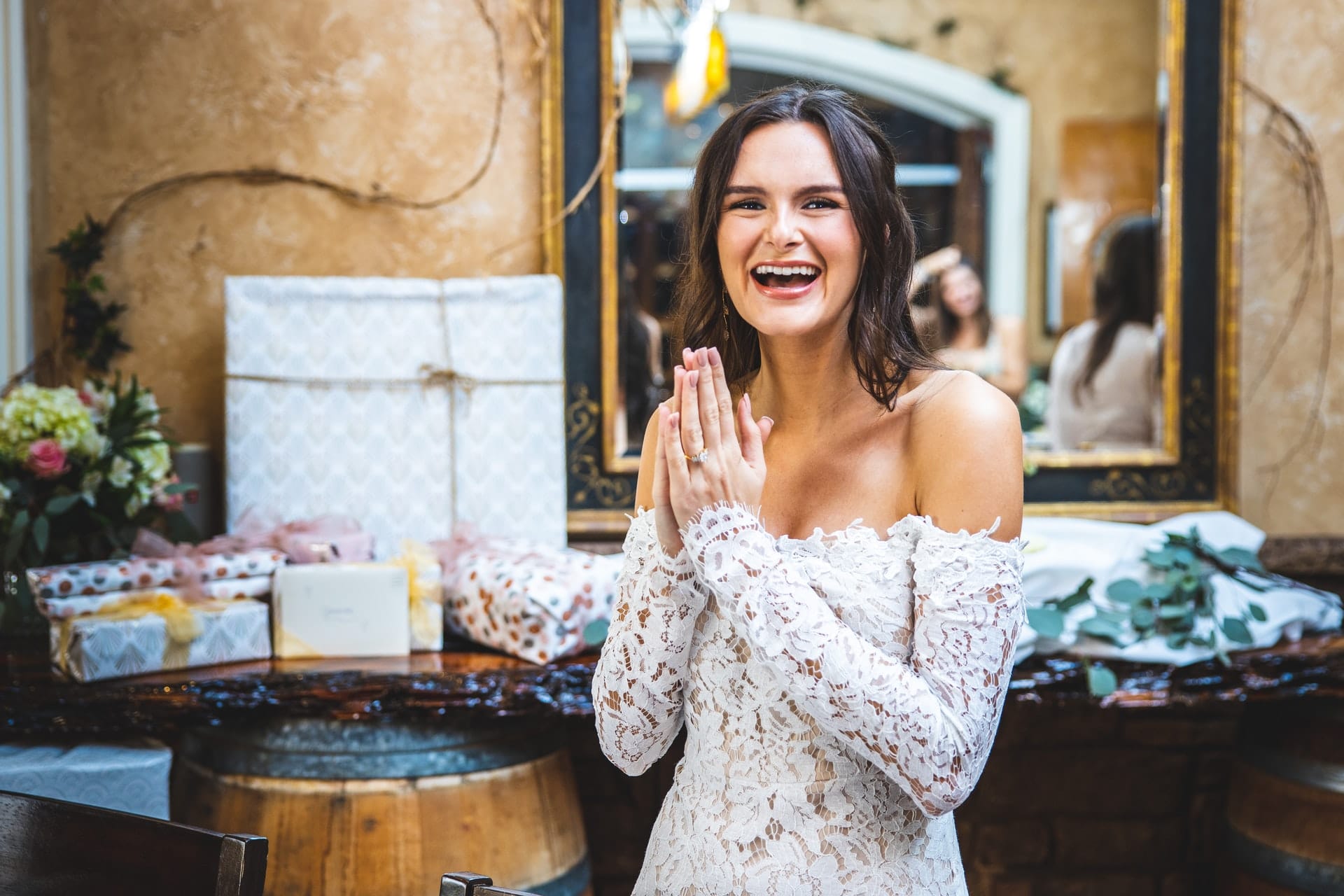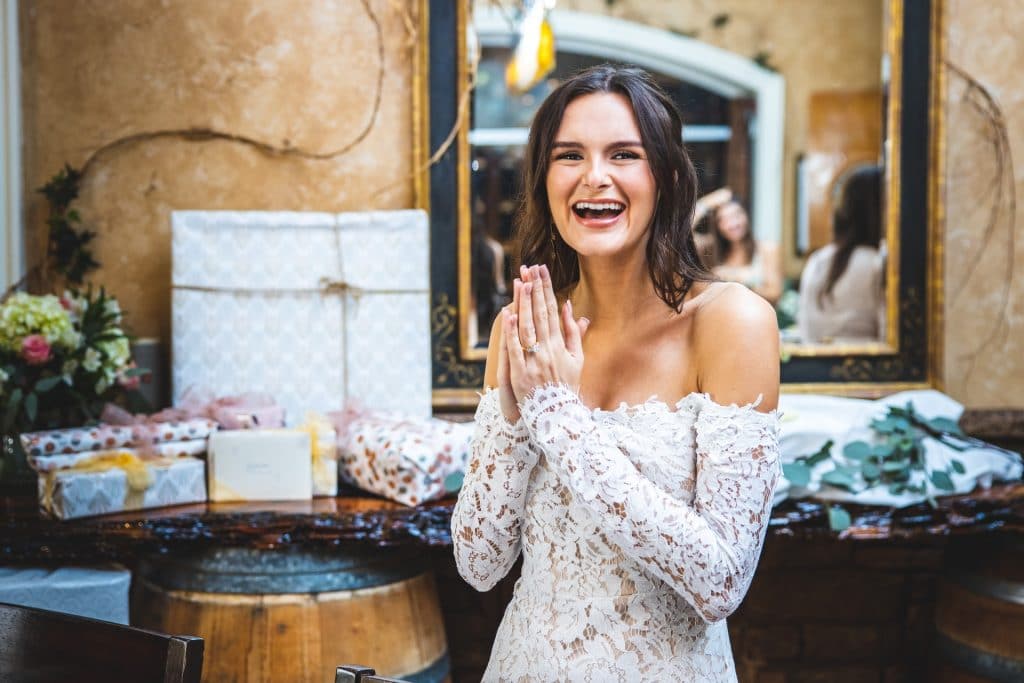 The Bridal Shower
As the wedding day draws near, you'll gather with your nearest and dearest ladies to celebrate your upcoming nuptials in an intimate setting. The bridal shower is a long-standing tradition dating back to an earlier time when it was customary for a father to provide a dowry in exchange for marrying his daughter.
The bridal shower is still a traditional element of the wedding celebration today. It's typically an afternoon tea type of event. But that doesn't mean the bride should show up in blue jeans. These events can range from very simple and casual gatherings to high-tea.
Go with something ultra-feminine for your bridal shower. Keep it sweet and simple. You're spoken for, and all the guests will be ladies, so low-cut necklines and extra short hemlines don't belong. We love a skater dress with a little neckline detail or lace accent to give it some flair. There are no hard style rules for color, but most ladies have fully embraced their inner bride-to-be and prefer white or ivory with a shorter hemline.
The Bachelorette Party
Just before the wedding, many brides look for a chance to get together with their girlfriends and have one last hurrah. While this gathering is a lady's take on the traditional bachelor party, stemmed in celebrating sexual freedom and drunken debauchery, it can be tailored to fit the brides' circle. Everything from sipping wine and doing crafts to a party bus on the Vegas strip is acceptable.
Our first tip is to dress for the event. A night out on the town requires a different ensemble than an early evening in. Keep in mind, you are a bride-to-be, and a color choice that nods in that direction is most appropriate. The bachelorette party is your opportunity to be a little more revealing with a form-fitting white dress with a shorter hemline.
For casual gatherings, stick with casual materials like a light-colored cotton sundress for an afternoon in the park. Or, a fitted ivory dress with a stunning lace neckline for a night at the casino. Heels or sandal flats to match how casual or formal the event will be. And, polish your look off with a little bolder makeup that is appropriate for the nightlife.
The Rehearsal Dinner
The rehearsal dinner is a time to sit down with the wedding party and immediate family members before the ceremony. The wedding day will be filled with the hustle and bustle of the day's events, so most wedding parties embrace this opportunity to sit down and share a meal with those they love most.
With friends and family in attendance, the rehearsal dinner is another opportunity to show off your bridal style. This event is your opportunity to keep it chic. Choose a form-fitted white dress with a shorter hemline and a modest, elegant detail.
A short-sleeve sheath dress with a peek neckline that gives the illusion of a plunge without the revealing aspects of a low-cut neckline is totally on-par for the rehearsal dinner. We also love the classic look of lace details to add modesty to lower necklines and three-quarter length sleeves to add sophistication to simple sheath dresses.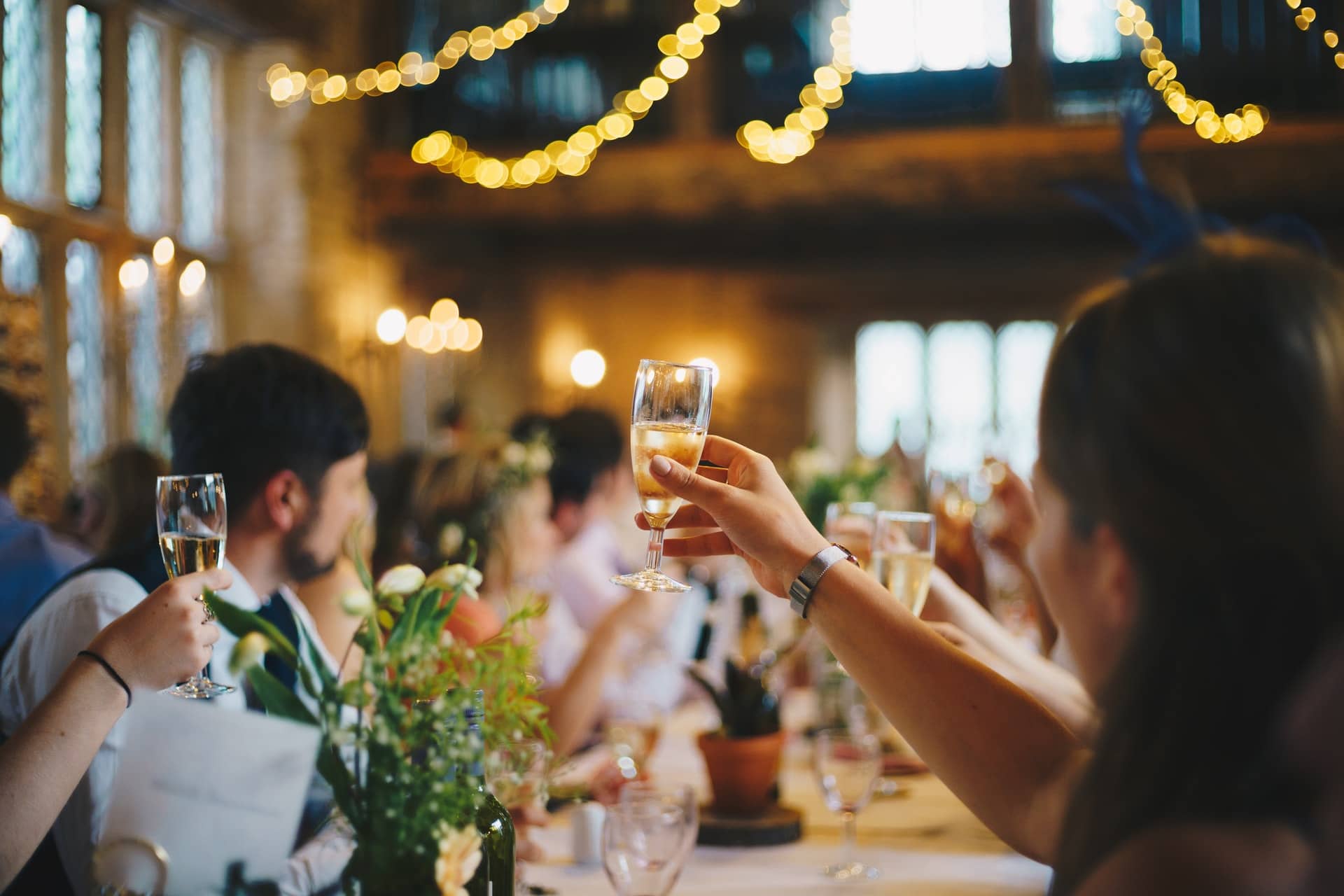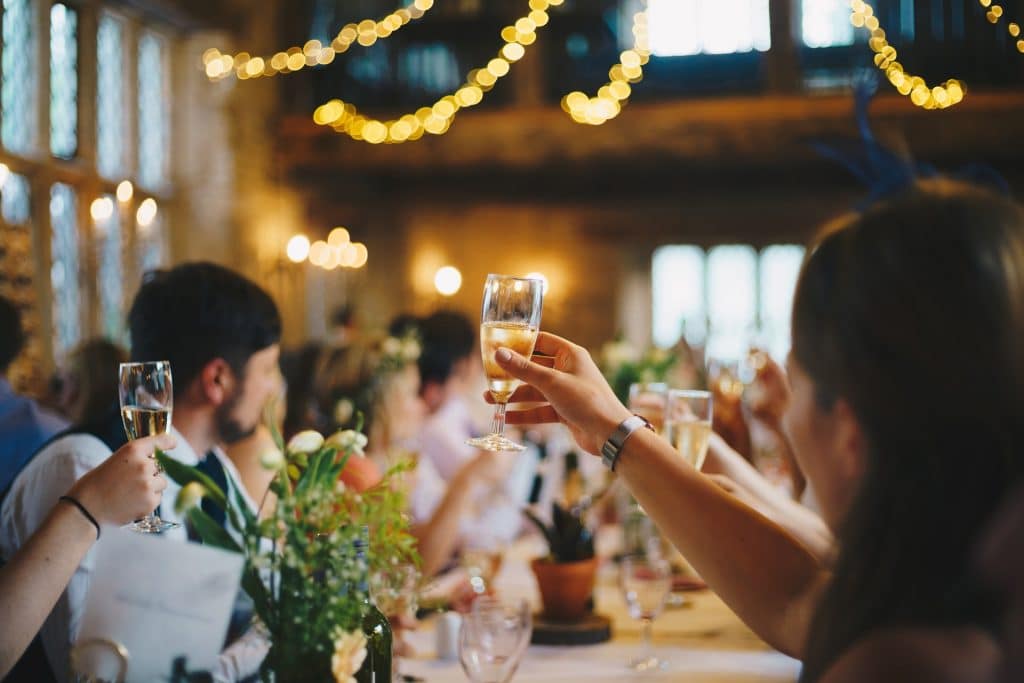 The Wedding Reception
Some brides choose to stay in their gowns for the whole duration of the ceremony and reception. But if your reception is planned for a different date or you have a restrictive, cumbersome cathedral gown, you have options that will allow you to celebrate with your friends and family comfortably.
Reception dresses and alternative wedding dresses are intentionally flowy, comfortable, and less restrictive. The key is to stick with a semi-formal gown with a classic look. And, of course, stick with ivory or white because it is your wedding day.
Final Thoughts on Nailing your Bridal Style
Getting married is a whole process filled with dozens of wedding-themed events that allow you to celebrate your big plans with friends and family. From the engagement party to the big day, a bride-to-be needs a whole wardrobe of carefully selected dresses that send the right message. Most brides will never go wrong with classy, sophisticated, modest choices like the pieces at NewYorkDress.com. And since most of these events are in the evening, you'll be shopping for plenty of cocktail and semi-formal dresses to mark the milestones of your upcoming wedding in style.