The trend of wearing Hawaiian jewelry changes constantly as new generations are born, despite its long history. Hawaiian jewelry has recently become more fashionable thanks to fresh designs and trendy motifs. This does not imply that it has lost the timeless allure and beautifulness for which it was renowned; instead, it just means that it has been more elegantly preserved. Today's handcrafted Hawaiian jewelry portrays precision and elegance, contrasting earlier styles that appeared rough and unpolished.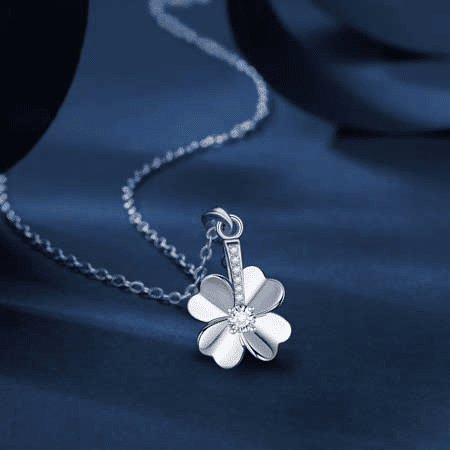 Hawaiian jewelry is made entirely from natural materials found in abundance on the shorelines or in the islands' waterways. And this is what contributes to its distinctive appearance and global acclaim. The best thing about handmade jewelry from Hawaii is that it is timeless and never goes out of style. Because of its timeless appeal, the wearer will always draw attention. Both formal and casual outfits look well with these jewelry items.
You might be interested in the following types of Hawaiian Jewelry.
The Plumeria Flower Jewelry
Hawaiian traditional leis are made of plumeria flowers, farmed widely in Hawaii for lei manufacturing. Due to their substantial size, gorgeous colors, and potent aroma, they make excellent leis. The stunning Plumeria leis are generally made by stringing them together in a single-strand lei. These flowers are the ideal accents for a welcome home lei that is attractive or can be worn obliquely behind the ear.
You could see plumerias adorned with hibiscus blooms in vintage Hawaiian headdresses. These blossoms will be a magnificent addition to your lovely yard and home, beaming with lovely colors and a soft aroma. Although what will grab your attention is the symbolism and purpose behind these stunning pieces!
Hibiscus Flower Jewelry
Have you heard that one of the best ten flower names in the world is the hibiscus?
Hibiscus jewelry is often associated with feminine beauty. It is in their nature to be delicate. The short-lived nature of these flowers symbolises youth, beauty, or perfection in many cultures. This magnificent blossom may have appeared in some Hawaiian-themed films. These blooms stand for lust and love. It was thought that making a tonic out of the flower's petals would bring love and luck to anyone who drank it. Moreover, wearing flowers was believed to be a sign of sincere interest on the part of ladies.
Some traditions embellish the flowers with marital wreaths during ceremonies to represent the couple's unwavering dedication and love for one another.
The Bird of Paradise Flower Jewelry
A flower called the Bird of Paradise looks like a lovely bird. The first time you see this flower, you might think it's a bird. The flower's vivid hues and complex petals mimic the real bird of paradise. This flower is indigenous to South Africa, a similarly vibrant nation.
The flower can represent the concept of paradise on Earth, which is one of the most obvious. The flower's resemblance to a bird in flight lends itself to its interpretation as a symbol of freedom and the capacity to move freely.
The bird of paradise can also stand for brilliance, splendor, success, royalty, and regality. It can also stand for optimism for the future and constancy, particularly in romantic partnerships.
The Red Tower Ginger Flower Jewelry
The spiky leaves of a pineapple or a vermilion-colored pine cone are similar to this spiky red blossom. Red tower ginger, which has a distinctive spiral shape, is commonly grown in Hawaii. The flower jewelry symbolizes diversity and eternal prosperity, making it a perfect addition to stunning floral arrangements and container gardens.
The vivid red blossom on the red tower ginger develops into a spiral shape. It represents riches and diversity and has a pineapple-like exterior. Furthermore, the discovery of one growing nearby is a positive indication.
The Orchid Flower Jewelry
Orchids are fitting funeral flowers because they represent enduring love and affection for the deceased.
They are stunning flower jewelry linked to romance, elegance, sensuality, and friendship. It is all a single symbol of elegance that must be cared for and cultivated constantly. These lovely flowers also make beautiful presents for our most loved ones, with whom we celebrate love daily. It is impossible to avoid buying orchids for ourselves, giving them as gifts to our loved ones, or keeping a flower vase filled with them at home. Orchids are symbols of sophistication, charm, beauty, love, and generosity of spirit. It is the ideal flower to mark special occasions with loved ones.
Mother of Pearl Jewelry
The meanings associated with the mother of pearl have mostly returned to a simple admiration of its graceful natural beauty and glittering charm. The mother of the pearl is the shimmering substance that makes up the interior layer of some mollusks' shells. Among other things, it's frequently used to create one-of-a-kind jewelry with a boho-chic look.
Mother of pearl is frequently placed in a sizable chunk in mother of pearl jewelry. Mother of pearl can be enormous and comes in various eye-catching colors and variants because it is made from the inner shell. Numerous clothing stores provide the mother of pearl jewelry, and you can also buy it online at sites dedicated to handmade flower jewelry. Jewelry made by the mother of pearl frequently has a bohemian style.
There is no denying that the mother of pearl jewelry cannot compare to the level of luxury, elegance, and refinement presented by pearl jewelry. Wearing mother-of-pearl jewelry ensures your daily well-being, safety, and protection.
The Summary
It's like being transported to the breezy Hawaiian Islands when you wear these tropical flower jewelry designs. These flowers not only produce a fantastic design but also have significant meaning. The Hawaiian jewellery worn by many people and families is meant to last a lifetime. Hawaii's jewelry continues to depict its people's adoration for one another, the enchanted islands, and the connection between Hawaii and its people.