For many people, wearing jewelry is not just about fashion – it's about connecting to something meaningful.
The Celtic Tree of Life is one powerful symbol that resonates with many on a spiritual level as it provides a tangible reminder of growth, wisdom, and our deep roots.
Here we explore the significance of the Tree of Life motif and how wearing a Tree of Life pendant or ring can represent your personal journey.
The Significance of the Celtic Tree of Life
The concept of a Tree of Life appears in many cultures and spiritual traditions. In Celtic belief, the tree was considered magical – a living entity that connected the upper, middle, and lower worlds.
The branches reach up to the heavens, the trunk exists on the earthly plane, and the roots dig deep into the underworld below.
For the ancient Celts, trees were wise grandfathers of the forest. The Tree of Life represented longevity, strength, protection, renewal, and divine balance.
Its endless network of branches mirrored the web of life itself. Just like a tree that emerges from a seemingly lifeless seed, the Tree of Life is a reminder that growth is constant in the cycle of life.
In many ways, the Tree of Life is a universal symbol of wisdom, connection, and an understanding of our place in the cosmos.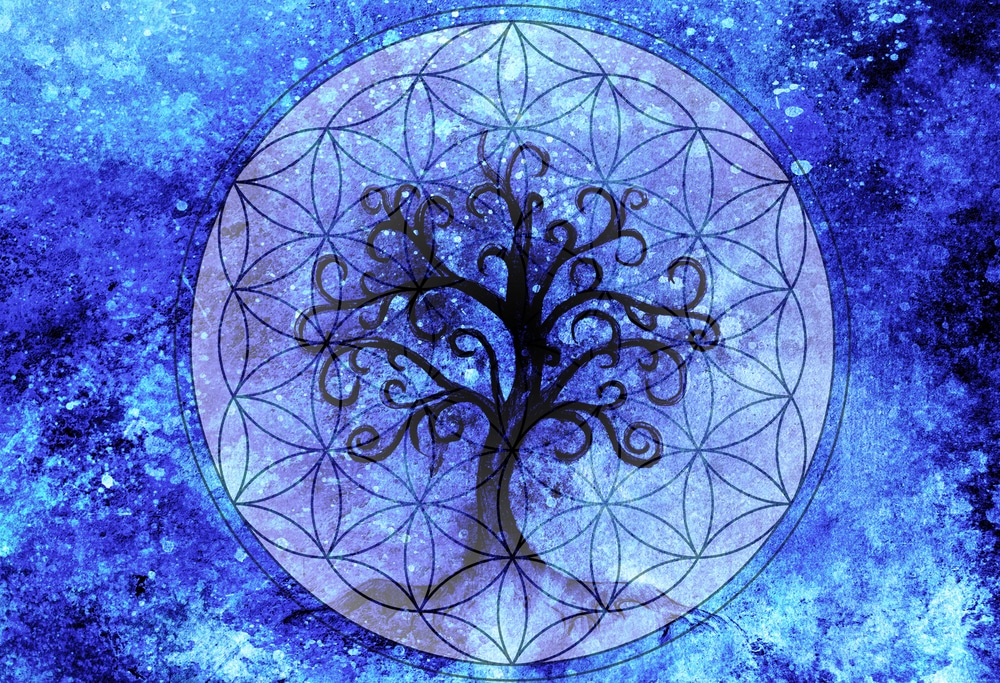 Why Wear a Tree of Life Jewelry Piece?
Wearing a Tree of Life pendant or ring grounds you in your spiritual ideals. It reminds you of the growth you've experienced, the deep roots that anchor you, and the aspirations that lift your sights skyward.
Here are some of the meaningful reasons someone may choose to wear Tree of Life jewelry:
To symbolize personal growth and reaching your potential. We all go through ups and downs on our journey. A Tree of Life pendant reminds you to reach ever higher, just like the branches reaching toward the light. It's a symbol of inner wisdom and your ability to continue growing into your best self.
To celebrate your roots and heritage. Your roots give you anchors. The Tree of Life represents the growth that comes from understanding where you came from. Wearing this powerful symbol close to your heart celebrates your cultural heritage and the wisdom passed down from generations past.
To represent balance and resilience. Trees weather the storm and stand firm in their natural wisdom. The Tree of Life is a reminder to find balance – between your past and future, between the physical and spiritual, between your aspirations and your roots. Its branches teach us to bend without breaking as we grow.
To signify life transitions or new beginnings. We all go through transitions on our life path, just like the endless cycle of the seasons. During times of change, the Tree of Life pendant is a symbol of the emerging growth that comes after difficult seasons. It brings hope that your new phase will be fruitful.
To remember a loved one. The Tree of Life also celebrates enduring bonds and paying tribute to those we've lost. Honoring a loved one with Tree of Life jewelry is a beautiful way to feel connected to their vibrant spirit and the positive influence they've had on your journey.
How to Choose Your Tree of Life Jewelry
Tree of Life jewelry comes in many styles that harness this powerful symbol. Here are some things to consider when picking your Tree of Life accessory:
Pendant vs. Ring. Do you want to wear this reminder close to your heart or display it on your hand? Pendants tend to be worn on necklaces at chest level. Rings are visible whenever you gesture with your hands. Pick the option that feels right for your personal style.
Metal. Silver and gold are classic choices that pair with everything. Go for sterling silver for an affordable option or gold vermeil for a more luxe look. Choose whichever metal speaks to you.
Accent stones. Many Tree of Life pendants accent the branches with small crystals or gemstones. Natural stone choices like amber, garnet, or emerald add a pop of color and another layer of meaning. You could also select birthstones to represent family.
Custom or personalized. Some jewelers let you customize a Tree of Life pendant with initials, names, or special dates. This adds an extra dose of personal significance.
Size and style. The Tree of Life design comes in many sizes and jewelry styles. Delicate and minimalist to large statement pieces – decide what look and feel suits your personality. Let your own style inspire you.
The great thing about the Tree of Life symbol is that it looks beautiful in any interpretation. Whether you prefer modern, minimalist, vintage, or ornate – there is a piece out there for you.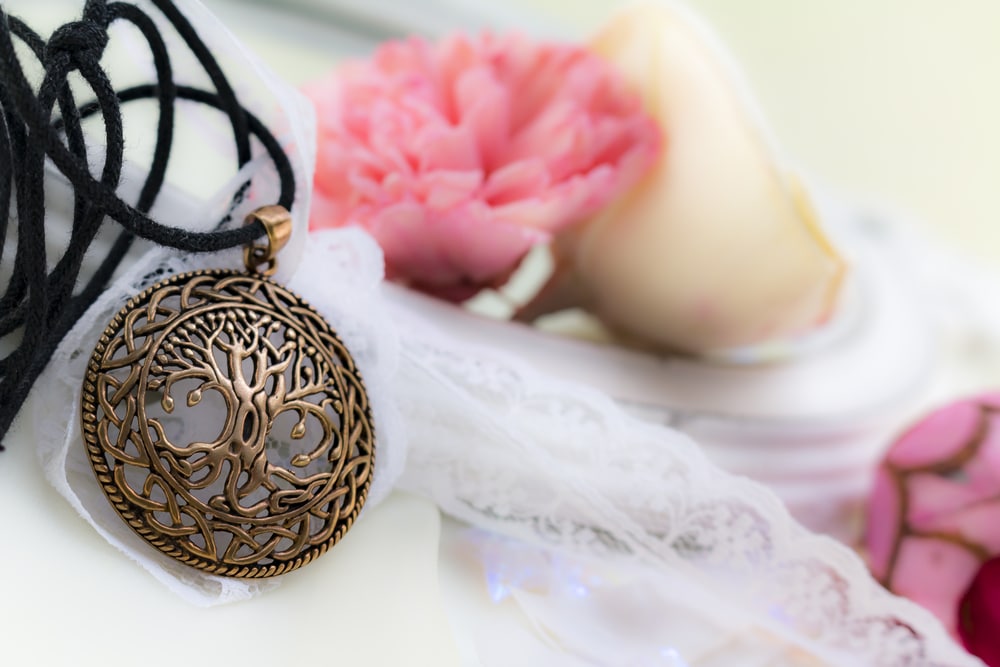 How to Style Your Tree of Life Jewelry
The Tree of Life pendant or ring is versatile enough to wear every day in many situations:
Layer a Tree of Life necklace with other dainty necklaces for a boho chic style. Mix metals like silver, gold, and rose gold for extra flair.
Anchor the pendant as the key piece on a slim silk or leather cord. Keep the rest of your look simple and let it take center stage.
Pair the necklace with casual layers like flannels or knits in autumn. Allow the Tree of Life to peak out from under your tops.
For formal occasions, let the pendant stand out against an elegant black dress or blouse. It makes a statement without heavy jewels.
Stack your Tree of Life band with other statement rings. Complementary earthy stones like jade or turquoise work well.
For an everyday look, wear your Tree of Life ring on your middle finger. It will remind you of growth and resilience as you go about your day.
However you choose to style it, your Tree of Life jewelry will serve as a symbolic anchor point in any outfit.
Caring for Your Tree of Life Jewelry
Like any special jewelry piece, you'll want to care for your Tree of Life pendant or ring so it lasts. Here are some tips:
Store it safely when not wearing it in a separate pouch or lined jewelry box slot. Don't let the metal rub against other jewelry.
Take it off before showering, working out, swimming or doing harsh household chores. Exposure to chemicals, soaps and sweat can cause damage over time.
Use a damp soft cloth to gently wipe off dirt and oils. Dry it well afterwards.
Consider having it professionally cleaned once a year by a jeweler. Ultrasonic cleaners help remove built up grime around crevices.
For rings, remove during physical activities where it may get knocked around. Also avoid contact with harsh soaps or chemicals during hand washing.
If your Tree of Life pendant includes fragile details, delicate chains or thin bands, remove before active activities where it could snag or break.
By caring for your Tree of Life jewelry properly, you ensure it remains in great shape. As you care for it, remember to also care for your own journey of growth.
Wearing a Reminder of Ancient Wisdom
Tree of Life jewelry captures the essence of nature's awe and mankind's spirit. It celebrates the roots that ground you, aspirations that lift you up, and the ever continuing cycle of life.
When you wear a Tree of Life ring or pendant symbol close to your heart, it becomes a personal reminder to keep growing, dreaming and embracing transitions along your sacred journey.
Let it inspire you to reach your fullest potential while treasuring the bonds and heritage that nourish your soul.
The Tree of Life jewelry piece serves as a little embodiment of the wisdom and balance we seek. Its branches teach us resilience and joy. Its roots teach us gratitude and peace.
Renew yourself by connecting to something meaningful. Let the Tree of Life remind you to live your journey rooted in kindness – reaching for light.