A pair of shoes can totally make or break an outfit.
But we're not talking just any old shoes here. We're talking designer shoes, baby.
You know, the kind of heels and sneakers from luxury shoe brands that basically scream "I have amazing style!" as soon as you walk in the room.
Designer shoes take your whole look up about a hundred notches with their top-quality materials, fancy details, and big price tags.
Sporting a pair of YSL pumps or Valentino loafers shows everyone you mean serious luxury fashion business.
Now let's get into the nitty gritty deets on 20 of the hottest designer shoe brands that every style star should know!
These luxury shoe brands make some of the most expensive shoes around.
20 Top Designer Shoe Brands
1. Manolo Blahnik
These shoes are hotter than a dance floor on Saturday night! Blahnik's heels are the stuff of Hollywood legends and fashion fantasies.
His sexy, elegant designs use only the finest materials and craftsmanship. Blahnik's embellished creations have strutted down countless red carpets and magazine covers.
If you want a true Cinderella experience, only Manolos will do! This luxury shoe brand is a favorite of shoe designers and celebrities alike.
2. Christian Louboutin
Louboutin pumps are instantly recognizable thanks to their fiery red bottoms. The French fashion designer's towering heels and edgy styles have been making women look fab since the 90s.
Louboutin uses punchy colors, studs, and rhinestones to transform his shoes into wearable works of art. Big spender? These expensive shoes are a red hot investment.
3. Jimmy Choo
Step into glamorous new territory in shoes by Jimmy Choo. Launched in the 90s, the brand is synonymous with elite style.
Jimmy Choo does evening footwear better than anyone with glittering crystals and luxe embellishments. Look to Jimmy Choo for strappy stilettos, trendy booties, and glitzy accessories.
Want to feel like Carrie Bradshaw or Nicole Kidman in a rom-com? Slip on these luxury brand beauties.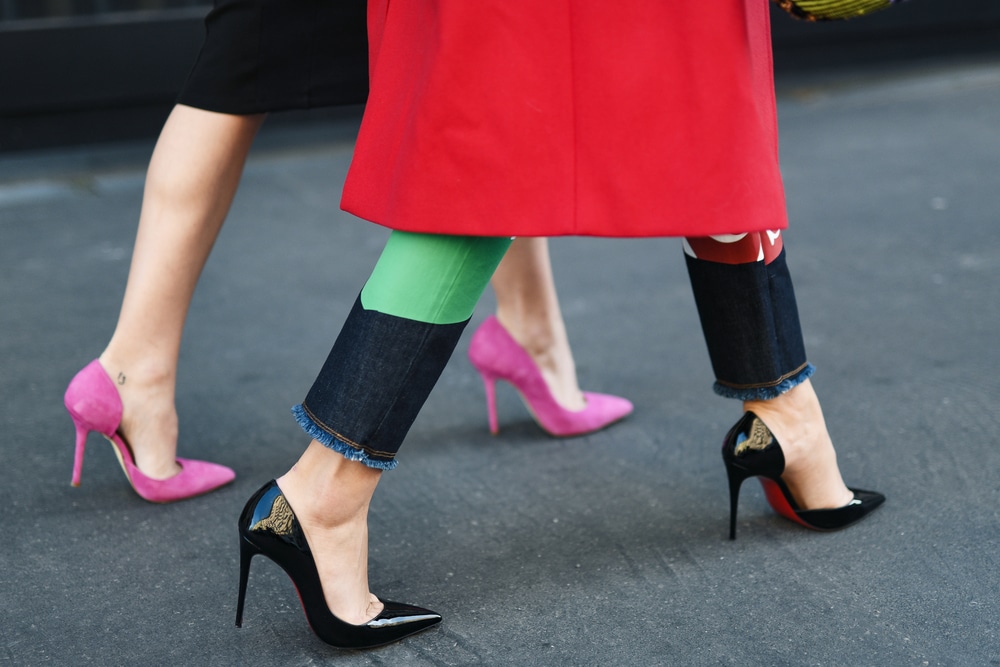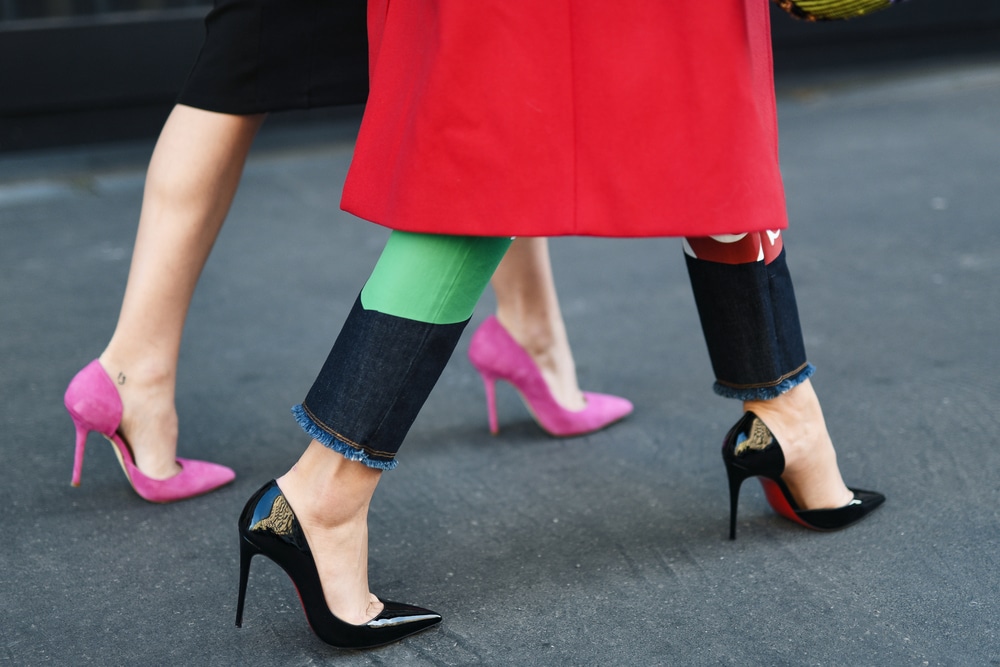 4. Gucci
Gucci just oozes fancy rich lady vibes, shoes included. With Italian craftsmanship and forever-chic designs, Gucci footwear is made for living la dolce vita. Horsebit details give Gucci loafers and pumps their signature flair.
And the materials? Think buttery soft leather, lustrous silks…ooh la la! Gucci soles are perfect for everything from casually jet-setting to an evening at La Scala. This high end shoe brand exudes luxury.
5. Prada
Prada. Say it again…Prada. Few names sound as chic and sleek as this luxury Italian label. Beyond their ubiquitous handbags, Prada kills it with elegant footwear.
Their trademark thick-soled shoes and minimalist vibe define Prada's cool-girl style. Whether it's heels, booties or slides, unique touches prove these expensive shoes are anything but basic.
Prada adds polish to any outfit from casual Friday to night-out.
6. Valentino
Valentino's shoes are as breathtaking as a sunset over the Italian coastline. Graceful details like signature studs and luxe leathers capture the brand's iconic elegance.
Feminine pumps and strappy sandals come in a spectrum of vibrant colors guaranteed to get you noticed.
With Valentino on your feet, you'll be looking straight off the runway. Style so sublime, it's practically a religious experience. This luxury brand makes beautiful ballet flats as well.
7. Chanel
To describe Chanel shoes in one word: Timeless. The French fashion house delivers sophisticated styles made to stand the test of trends.
Beyond their classic two-tone heels, Chanel churns out impeccably crafted boots, wedges and flats each season.
Owning a pair means you've arrived fashion-wise. But with their elite reputation, Chanel kicks don't come cheap.
For shoe lovers, though, the splurge is oh so worth it! This is one of the most coveted names in designer shoes.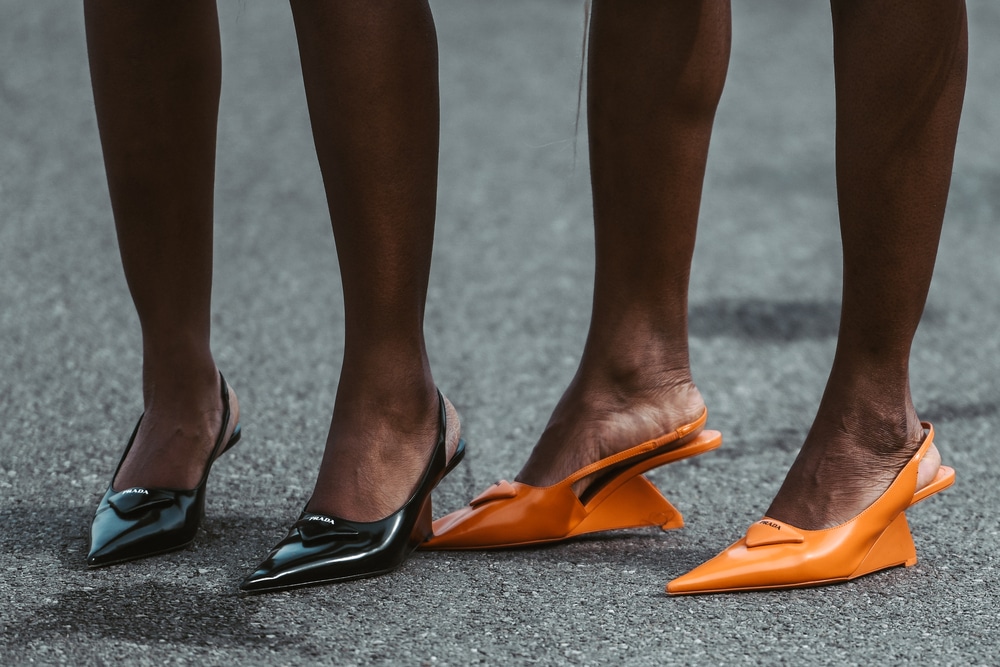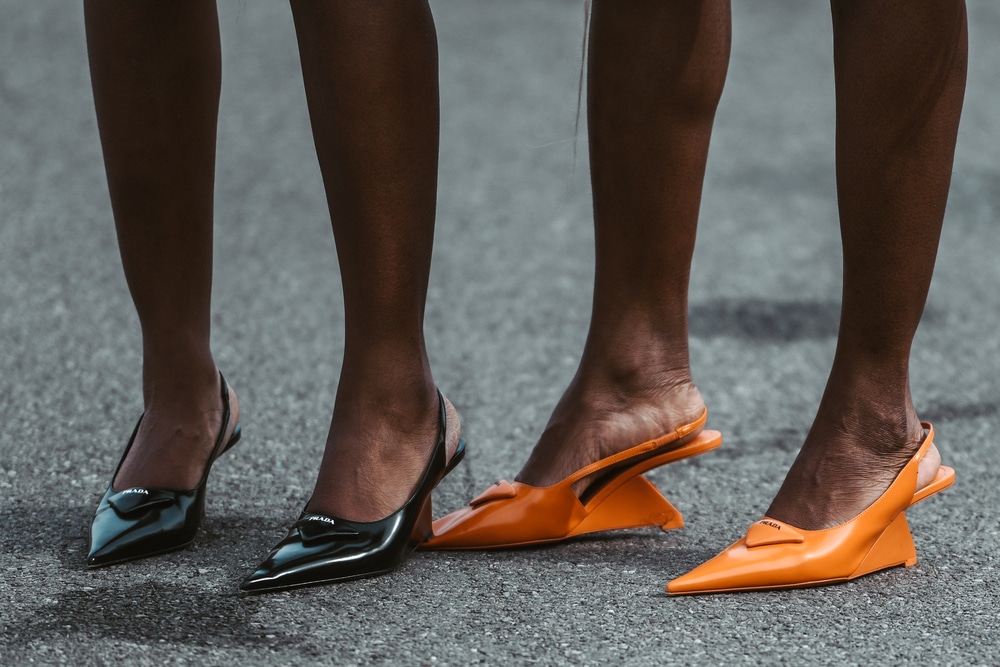 8. Versace
Versace is for babes ready to walk on the wild side! The iconic Italian brand does footwear that's fierce and over-the-top fabulous.
Metallics, vivid colors and glossy patent leather let you show off your fiery fashion sense. Platform sandals and thigh-high boots embody the label's fearless essence.
Basically, wearing Versace on your feet screams confidence and glamour. Slay, diva! Versace is high on the list of luxury brands.
9. Giuseppe Zanotti
Calling all shoe queens! No one serves embellishments and high drama like designer Giuseppe Zanotti. His flashy heels and sandals feature rhinestones, studs, and hardware for days.
With sculptural silhouettes and luxe details, Zanotti designs make boring old shoes look basic. His artistic creations flaunt serious fashion flair.
Shoes this hot set trends, they don't follow them. Sizzle, baby, sizzle! This shoe designer knows how to make expensive shoes.
10. Stuart Weitzman
When stars need show-stopping shoes, they go to Stuart Weitzman. For decades, his iconic nude heels have made gams look gorgeous on red carpets.
Beyond bridal footwear, Weitzman produces wearable luxury styles for every occasion. The brand incorporates unique fabrications like cork, vinyl, wallpaper (!) into heels, wedges and boots.
Comfort plus cutting-edge materials make these shoes celebrities' go-to. This high end shoe brand is a footwear authority.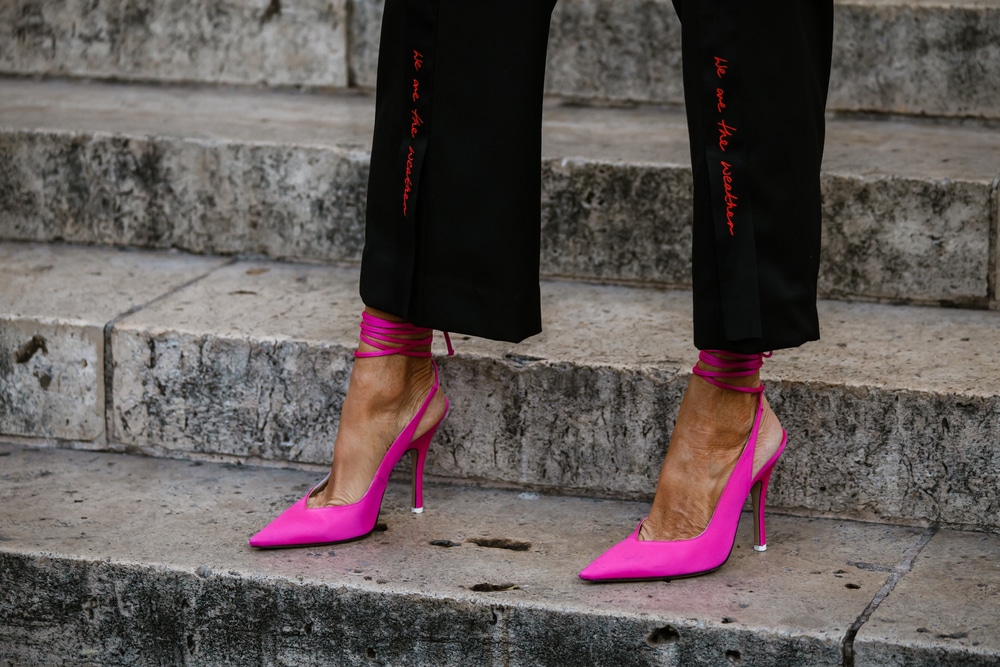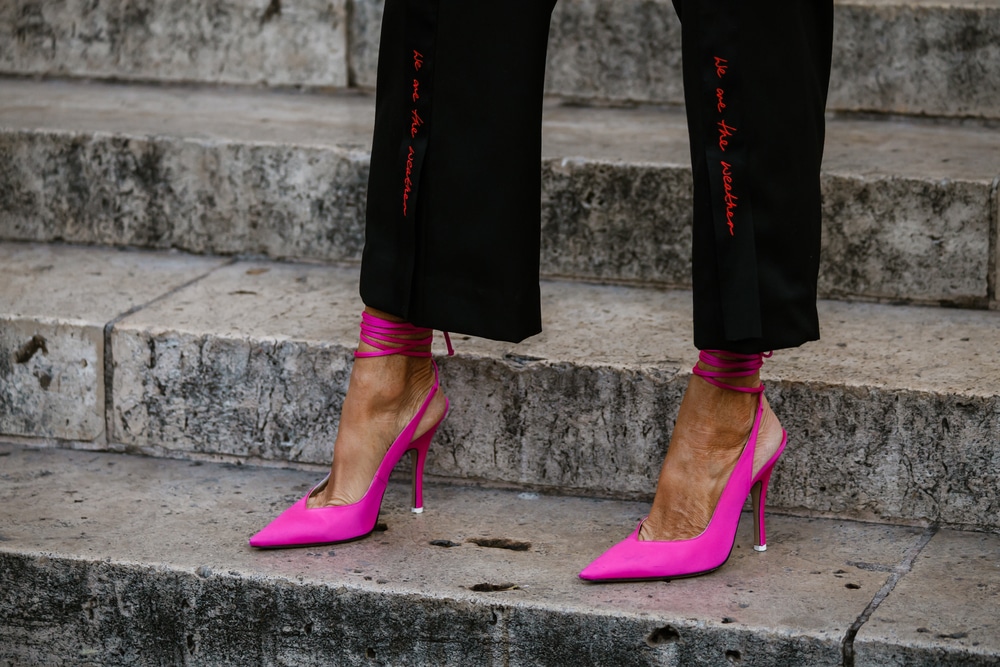 11. Sergio Rossi
Sergio Rossi has been handcrafting heavenly women's shoes in Italy since the 1950s. Today, the brand carries on its legacy of superior artistry and elegant design.
Their famously curved silhouettes come in exquisite leathers and vivid, head-turning colors. Even pre-owned pairs go for big bucks thanks to the brand's enduring cachet.
Sergio Rossi offers a master class in high-end footwear.
12. Balenciaga
Balenciaga shoes are for true fashion trailblazers. With their experimental shapes and bold designs, they make basic kicks seem totally tired.
The brand favors an avant-garde aesthetic with knit boots, oddly shaped heels and chunky soles. But they also deliver wearable minimal styles focused on impeccable craftsmanship.
However you wear them, Balenciaga soles represent cutting-edge fashion authority. The designs are some of the most unique among luxury shoe brands.
13. Salvatore Ferragamo
As an Italian leather goods legend, Ferragamo represents old world heritage and quality. The brand began when Salvatore Ferragamo hand-crafted shoes for Hollywood starlets in the 1920s.
Today, the company carries on its legacy with luxurious footwear known for comfort.
Find timeless styles like the grooved Vara loafer along with fashion-forward heels, platforms and boots. Ferragamo shoes promise elegance you can walk in. This is one of the top luxury brands for shoes.
14. Fendi
Even the soles of Fendi shoes are luxurious, made from the finest Italian leathers.
This iconic brand got its start with fur and leather and still specialized in fabulous textures and details.
Their shoes feature signatures like Fendi's logo buckles and monster appliques. Beyond gorgeous pumps and slingbacks, they offer of-the-moment boots and sporty sneakers.
However you rock them, Fendi's quality craftsmanship doesn't disappoint. The name Fendi itself is synonymous with luxury.
15. Aquazzura
If you crave shoes that are equal parts sexy and playful, slip into Aquazzura.
Edgardo Osorio founded the brand in 2011 and quickly won over style stars like the Olsen twins.
His vibrant, travel-inspired heels and flats feature punchy colors, delicate lace-ups, and flirty tassels.
Although younger than other premier luxury brands, Aquazzura designs deliver serious luxury and flair. Bellisima!
16. Alexander McQueen
Extreme footwear fanatics, these shoes are for you! McQueen's collections offer dramatic, darkly romantic styles with avant-garde edge.
Towering Armadillo platforms and ornately embellished heels embody the label's bold aesthetic.
The ornate designs make basic pumps seem totally boring. If you long for statement shoes that stand out, Alexander McQueen soles bring the drama!
This luxury brand makes shoes for fashion risk takers.
17. Dolce & Gabbana
Dolce & Gabbana exudes over-the-top Italian glamour. Their opulent shoes overflow with rich leathers, silks, and eye-catching bling.
Find classic silhouettes with modern flair along with totally hot stilettos and OTK boots. With so much luxury and texture, D&G shoes empower you to peacock your style.
Go ahead, give 'em something to talk about! This luxury fashion brand brings the drama.
18. Dior
Whether it's pumps, sandals or boots, Dior designs deliver pure elegance.
Creative director Maria Grazia Chiuri puts a fresh spin on their iconic silhouettes. Details like flowers, feathers and luxe fabrics make Dior shoes ultra feminine.
Collaborations with brands like Nike add fashion edge. Consider it an investment in elegance and quality with timeless appeal. Swoon!
Christian Dior established one of the top French fashion designer shoe brands.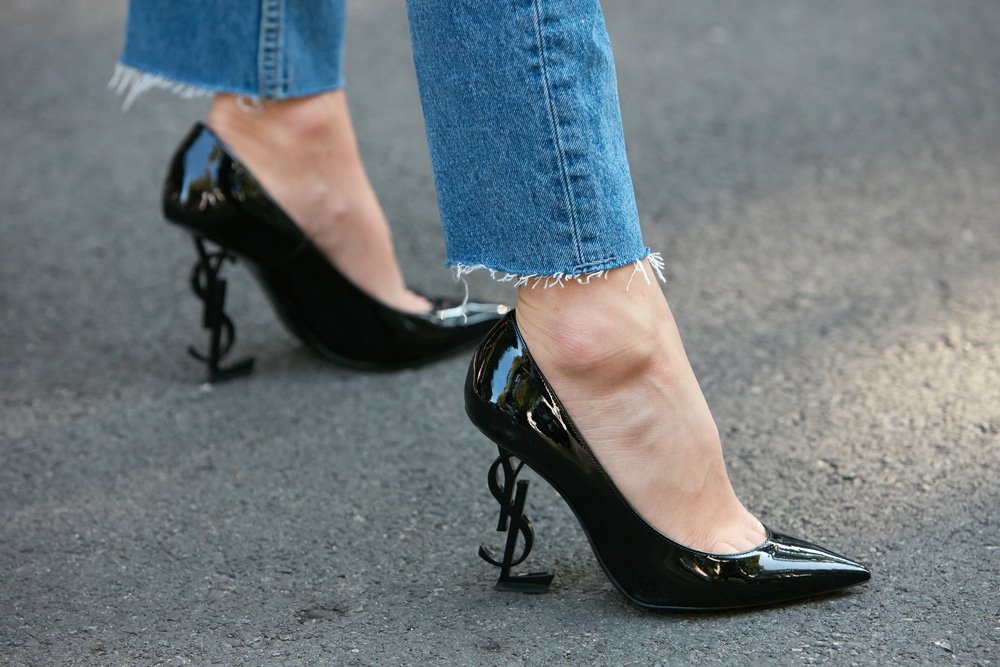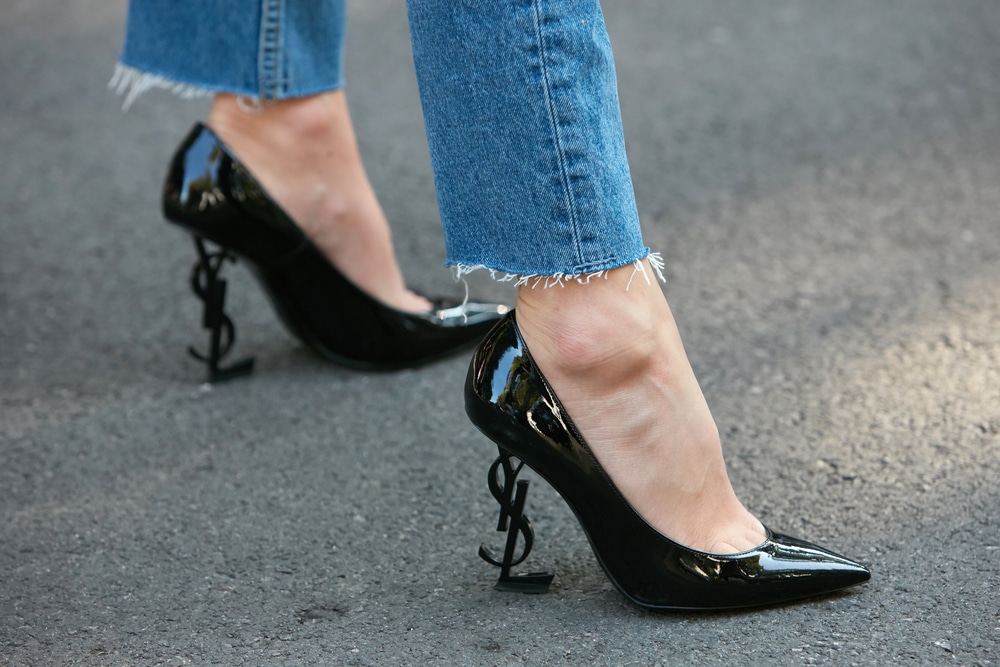 19. Yves Saint Laurent
Fun fact: Yves Saint Laurent popularized ready-to-wear fashion in the 60s. Today, the brand carries on that revolutionary spirit through its shoes.
Their Tribute and Tribtoo pumps are timeless with a subtly seductive edge. And their cult cowboy boots – trés chic with a modern twist! YSL shoes empower you to walk to the beat of your own drum
20. Sophia Webster
Quirky shoe lovers, Sophia Webster's heels are calling your name!
PVC butterfly sandals, polka dot pumps, cat heel booties…her imagination has no limits.
Even her more minimal designs feature quirky details like strawberries or emojis.
Slipping into Sophia Webster shoes will put an instant smile on your face and spring in your step!