Are leggings appropriate for business casual?
The answer is, with the right styling, yes, you absolutely can wear leggings to the office in a business casual environment.
When paired with tunic blouses and blazers, leggings take on a chic, sophisticated vibe.
Throw in some heels or loafers, and suddenly, that stretchy, comfy staple becomes boardroom-ready.
Leggings offer an alluring blend of comfort and panache that is perfect for strutting into meetings or tackling hectic workdays in style.
But there are a few guidelines to follow to avoid looking sloppy or inappropriate.
Not all leggings work for the office, and styling makes a big difference between weekend casual and weekday professional.
Read on to learn expert tips for nailing business casual with leggings.
How to Nail the Business Casual Look with Leggings: Dos and Don'ts
1. Choose High-Quality Leggings
When opting for leggings in a business casual setting, you'll want to avoid flimsy, see-through pairs.
Thin, transparent leggings are better suited for casual wear and workouts.
Instead, look for leggings made of thick, opaque materials like ponte knit, faux leather, or twill.
These will provide enough coverage so you feel comfortable and confident wearing them to work.
Leggings with a midweight, compact knit are ideal for retaining structure and shape without being too heavy.
A solid pair of leggings like these from NYDJ in black are the most versatile and professional choice for work. Pair with an oversized sweater and ballet flats or knee-high boots in the cooler months for the perfect look.
But if you want to spice things up, go for leggings in neutral colors like navy, charcoal, or dark green.
Subtle patterns like houndstooth or herringbone can also work in business casual environments.
Just steer clear of bright colors or loud prints.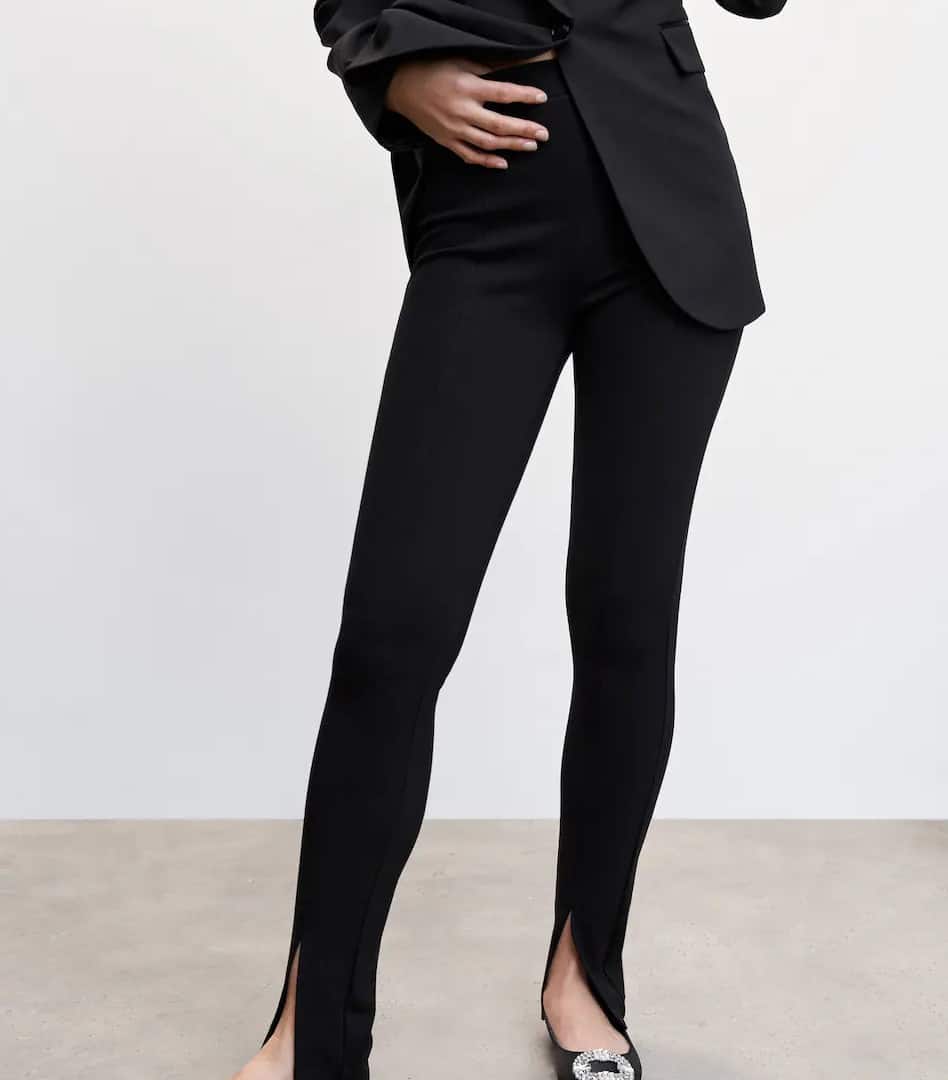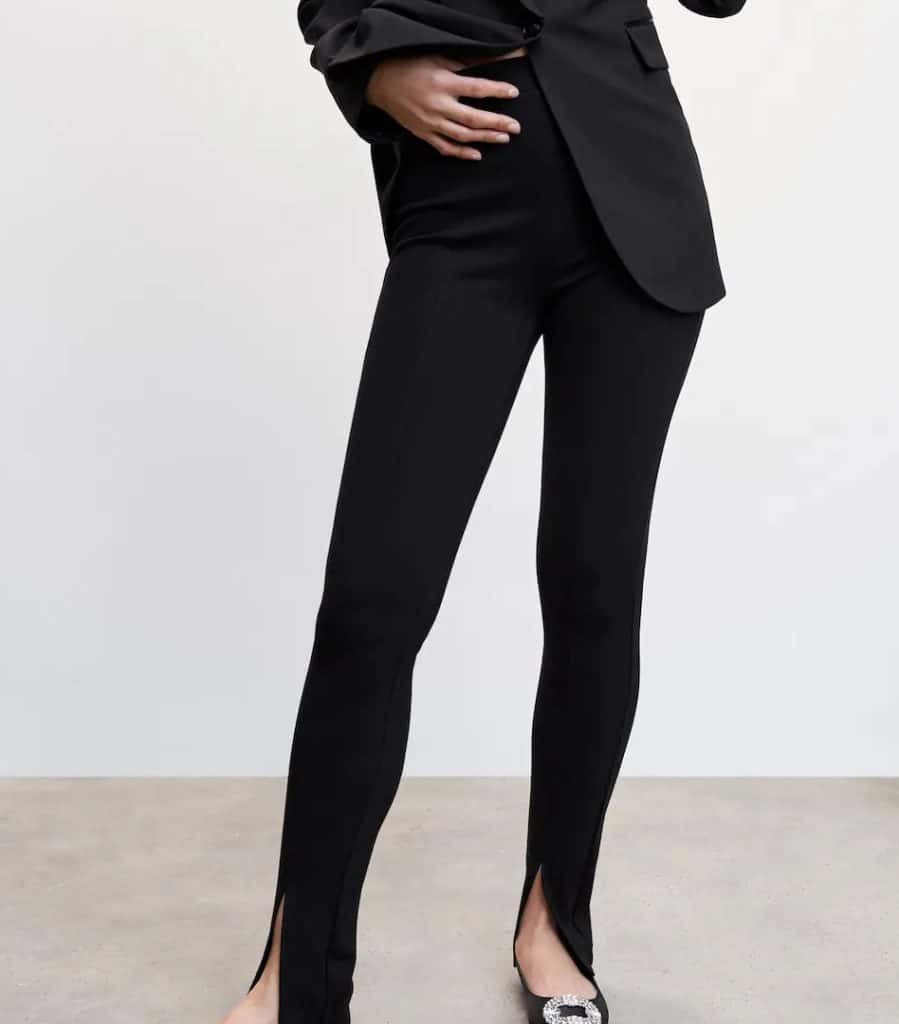 2. Style with Tunics and Dresses
A common leggings mistake is wearing ultra-short tops that show off too much skin for an office setting.
When wearing leggings to work, your top should cover your backside and reach at least mid-thigh.
Tunic blouses are an easy way to get enough coverage.
Look for soft knit tunics, relaxed fit button-downs, or trapeze dresses that hit above the knee.
Longer tops help balance out form-fitting leggings for a more polished silhouette.
You can tuck tunics in or leave them loose—both looks are office-appropriate with leggings.
For extra insurance, try leggings with attached skirt panels that provide built-in bottom coverage.
3. Add a Blazer or Cardigan
One of the best ways to pull off leggings at work is by layering with a white shirt (or a white blouse) and a black blazer.
Alternatively, team with a statement cardigan or other lightweight jackets.
Throwing on a tailored blazer instantly elevates leggings for a professional vibe.
For a casual office, swap the blazer for a long, open-front cardi in a soft knit material.
This offers the same coverage but with a more relaxed look.
Drapey kimono-style jackets or longline dusters work nicely too.
Aim for tops of a contrasting texture or color than your leggings.
For example, pair black leggings with a gray blazer and crisp white tee.
The mix of fabrics and hues creates visual interest.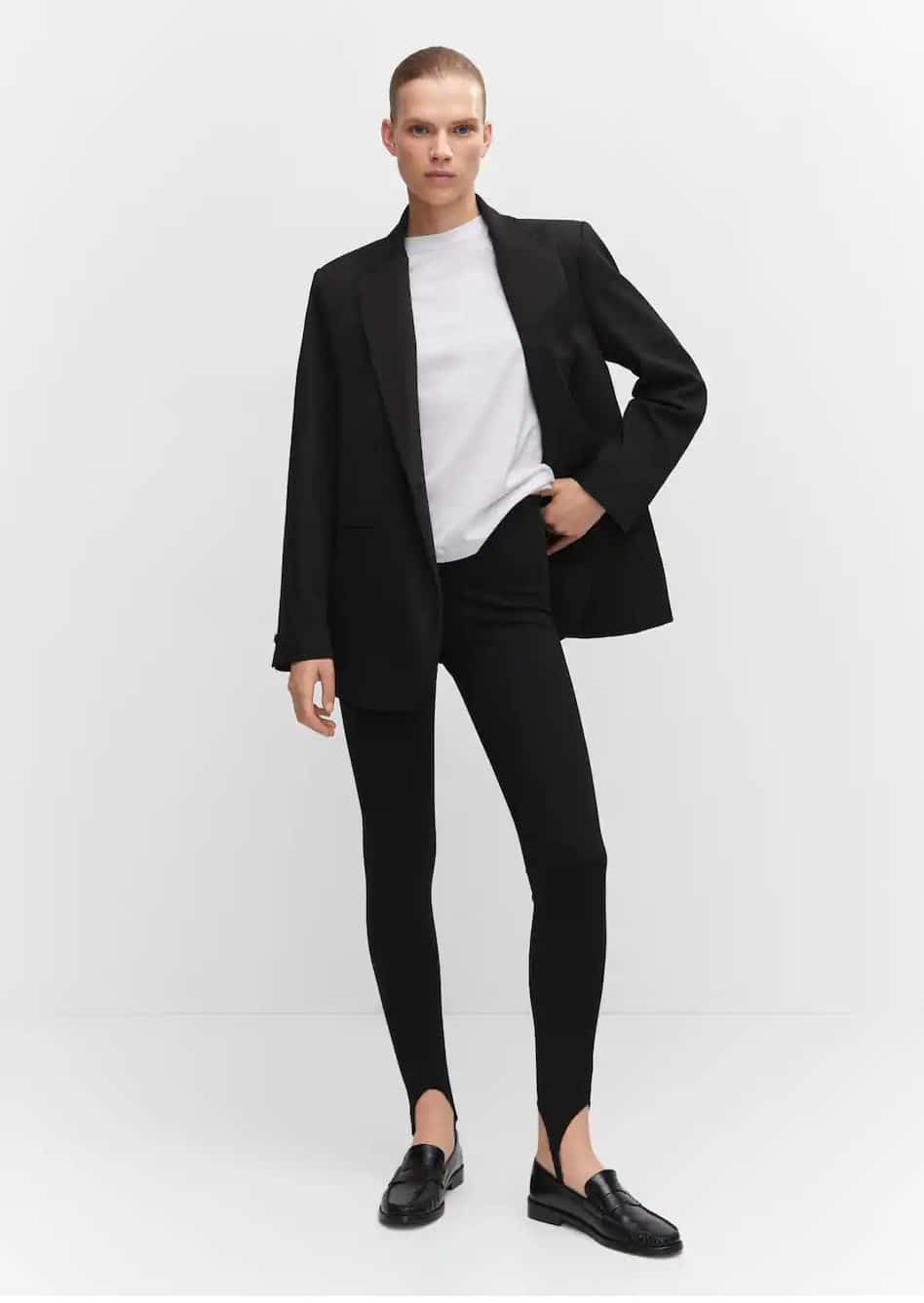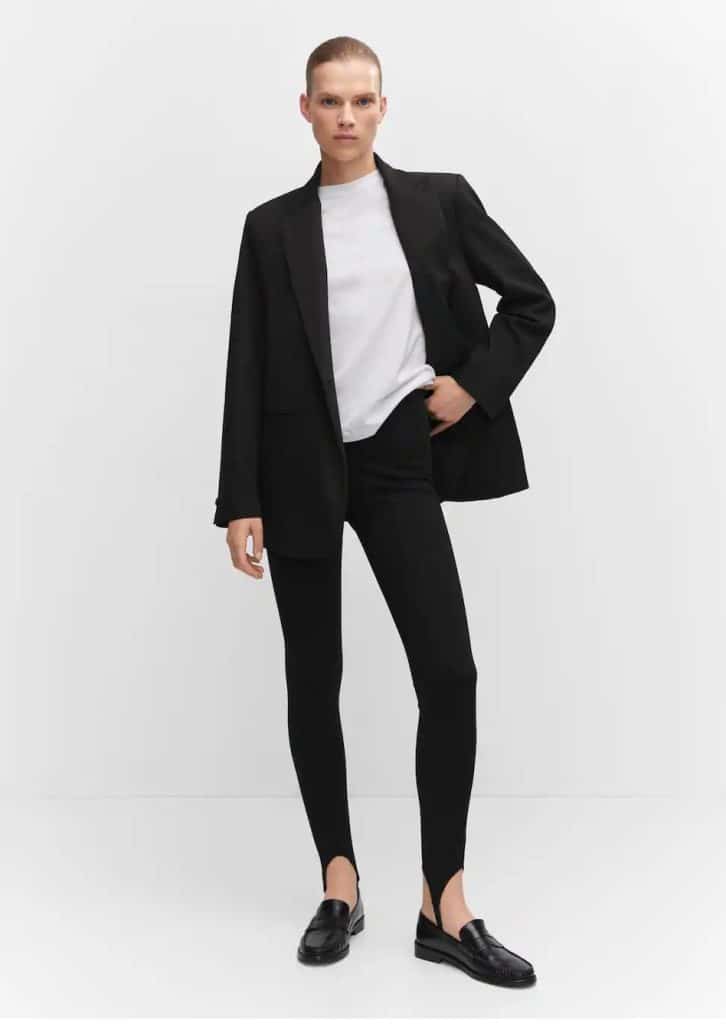 4. Select the Right Footwear
Along with your tops, the shoes you select help pull leggings together into office-appropriate attire.
Skip casual sneakers or flats, which can underdress an outfit.
Your best bet is heeled booties, loafers, or lace-up oxfords. Always go for closed-toe shoes.
Chelsea boots and block heel ankle boots also complement leggings nicely.
Just avoid towering stilettos or over-the-knee boots, which lean too casual.
If your office has a relaxed dress code, dark-colored athletic shoes like sleek knit or leather sneakers can work too.
The key is choosing shoes that don't look overtly sporty or beachy.
5. Skip Unprofessional Fabrics
Leggings made of technical "athleisure" fabrics have gotten popular in recent years.
But they aren't always office-appropriate, especially in more formal work cultures.
Avoid leggings that look like you plan on hitting the gym after work.
That means no moisture-wicking performance fabrics, mesh paneling, or bold elastic waistbands.
Leggings that resemble yoga pants or have zipper details should also be reserved for the weekend.
Similarly, steer clear of leggings in distracting fabrics like leather, latex, or liquid shine metallics.
Anything too eye-catching draws the wrong kind of attention in professional settings.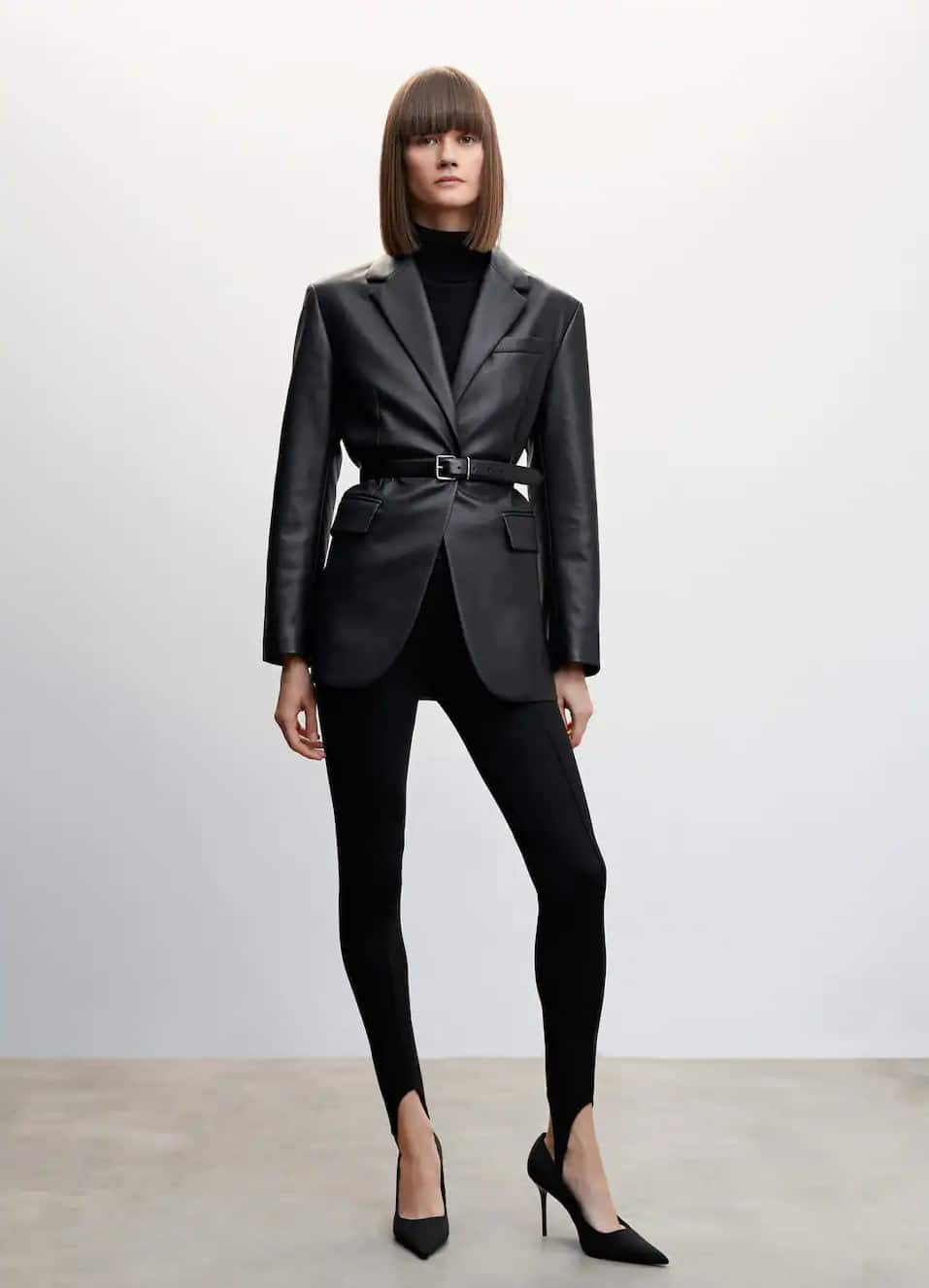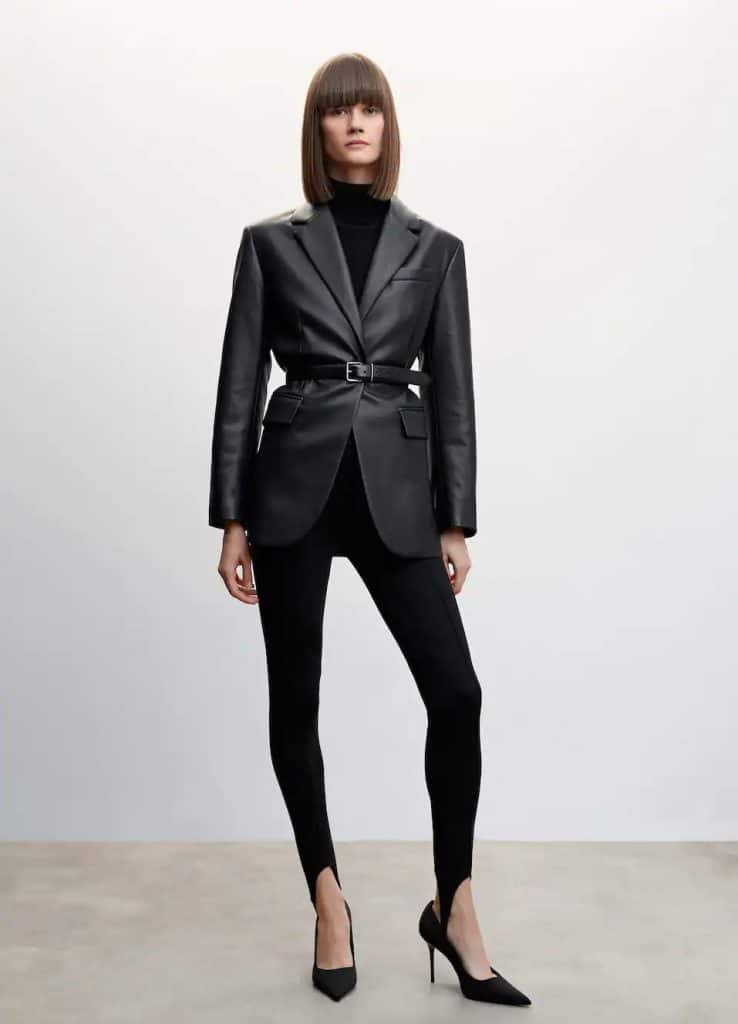 6. Mind the Length
Full-length leggings that reach your ankles are better for work than cropped capri styles.
Cropped leggings cut off at mid-calf can shorten your leg line and make an outfit look less polished.
Ankle-length leggings streamline your silhouette for a long, lean look.
They also ensure no skin is exposed if your top creeps up a bit.
However, cropped leggings hitting just below the knee can work for business casual, especially when worn with taller shoes like booties.
Just make sure your rear stays covered when bending over or sitting!
7. Add Light Accessories
Accessorizing your outfit is one more way to make leggings office-appropriate.
Statement jewelry and scarves dress up leggings instantly.
Long necklaces, hoop earrings, and bangle bracelets complement the slim fit of leggings.
Patterned scarves or an eye-catching watch act as accent pieces.
Stick to minimal, professional-looking accessories only.
Now is not the time to wear your entire jewelry collection or pile on the bangle bracelets.
Pick one or two focal accessories so your look doesn't appear overdone.
Care for Your Leggings
To keep your leggings looking crisp enough for work, care for them properly between wears.
Always wash in cold water and tumble dry on low to prevent shrinkage.
To limit pilling on the inner thighs, avoid rubbing legs together and turn leggings inside out before washing.
If leggings lose their shape during the day, lightly steam them to restore the fit.
And toss any ratty leggings with holes, rips, or thinning fabric—those are better reserved for weekend lounging only.
With the right pair of opaque leggings and complementary tops and shoes, you can comfortably incorporate this wardrobe staple into your professional attire.
Follow these tips to effortlessly nail business casual style with leggings.