Last Updated on 6th February 2009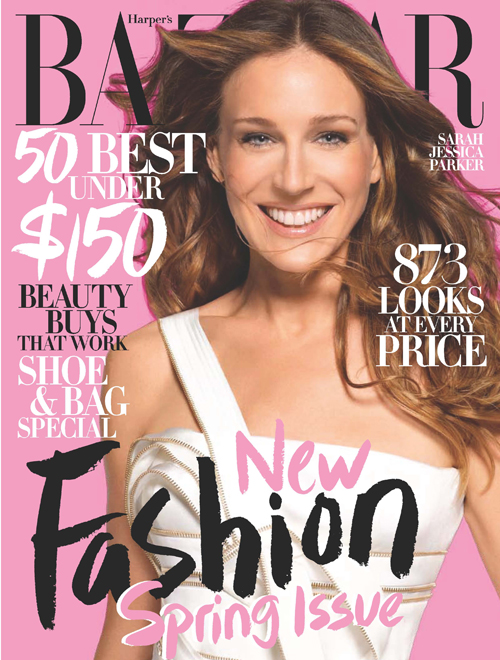 Sarah Jessica Parker is a true woman's woman. Men don't get her, women can't be without her. And in the March issue of Harper's Bazaar she chats about Vreeland, Gossip Girl and of course Carrie Bradshaw.
In a shoot inspired by the late, great editor of Harper's Bazaar Diana Vreeland, SJP keeps true to her signature style of sleek with a hint of quirky. Shot by Peter Lindbergh, we see SJP in a range of DV poses, wearing at one point an LBD but certainly with no VPL. Ok, enough with the acronyms.
Wearing gorgeous pieces from the likes of Salvatore Ferragamo and Yves Saint Laurent, Sarah-Jessica looks every inch the glamorous editor. It is a surprising shoot when compared with the cover, the shoot has a moody flamboyance whereas the cover is eye-catching with springtime pinks.
The interview reminds us why we love Sarah-Jessica so much, her positivity and fabulous outlook shines through all of her comments.
When asked about how Carrie Bradshaw would handle the recession, she replied:
"She would probably end up in a hospital. Perhaps she would go back to her '80s stuff and start bringing it out again."
Is anyone else thinking that there might be another series in that? 'Carrie Faces The Crunch' wouldn't you just love to see her customizing her Manolo's and rooting for vintage Chanel? But maybe we should just let SJP rest from the limelight of her alter ego for a while.
In response to whether the Sex And The City bus tours affect her everyday life she said:
"Ah, yes, I run into it. There are times when it's totally terrific, and there are times when I'm like, Oh, God, I'd better run in the other direction. Especially when I'm with my son."
Although, probably my favorite part of the interview has to be when conversation turns to SATC's successor Gossip Girl. Sarah-Jessica hasn't actually seen the cult series but is clearly a little concerned about what she's heard:
"Are the characters sexually active? I hear it's pretty sophisticated, the content. Is there any concern over the impression that it's making on young women? I'm not asking in condemnation, but I'm just curious."
Don't worry SJP, SATC will remain the nation's favorite sex/fashion-fuelled television programme for women. I don't know about you, but I do at times get a little freaked out by twentysomething actors playing teenage characters that have more sex and money than most people do in their whole adult lives.
Sarah-Jessica also gives some great tips for chic and gracious living, my personal favourite is to keep a bucket filled with candy for when you fancy a snack, cheap and low calorie apparently.
If rumours are to be believed then we may be seeing SJP reprise her role of Carrie Bradshaw for a sequel, but for the time being I'm off to the sweet shop for a night in with Gossip Girl.
Check out Harper's Bazaar to see the shoot and interview.