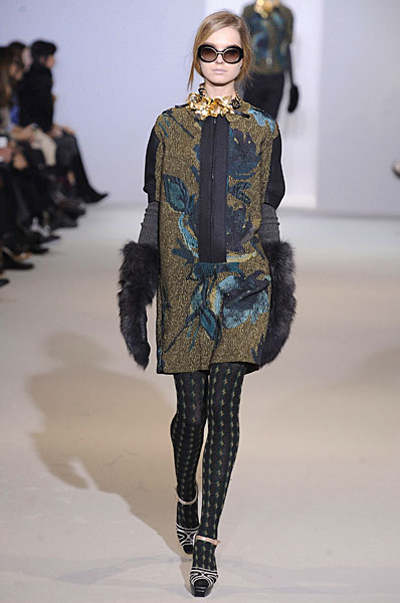 What can you not live without? Well it has to be a pair of yeti gloves. And thanks to Consuelo Castiglioni for Marni you will be lusting over a pair of these bizarre creations. Who would have ever thought yeti accessories; heavy gold necklaces and bug eye sunglasses could work so well?!
This was a full on, action packed show. Every style, fabric and cut you could ever want strolled down the catwalk. The palette was gorgeous, taking black and charcoal greys then blending these with muted mustards, hints of teal, turquoise, and purple and finishing off with duck egg blue and rose gold.



Floral, check, panelling and brocade were the patterns. Silks, wools, fur and tweed were just a few of the fabrics. As for the cuts, well there were peg leg trousers, Jodhpur style trousers, skirts, shift dresses, capes, knits and oversized coats.
It was a chocolate box of creations, each layer just gets better and better. The oriental silk prints stole the show but the checked dresses came pretty close. This is a really dramatic collection, from those fantastic necklaces to the kooky fur accessories, right down to the cuts and colours themselves, not forgetting the elbow high gloves and those amazing shoes. In fact it is so hard to write a concise review because there is so much going on. With Marni it's all in the detail, every time you look at an outfit you spot something else, the knitted patterned tights under trousers and skirts create a geek chic feel, but with other outfits they look ladylike. Then there are those giant bibs, that add a kooky touch to the elegant outfits.



This is a phenomenal collection, not only for its size but also its wearability and sheer beauty. These outfits would see you through autumn to spring and you would never tire of them. The verdict? A very strong show that will no doubt shape our AW09 wardrobes.