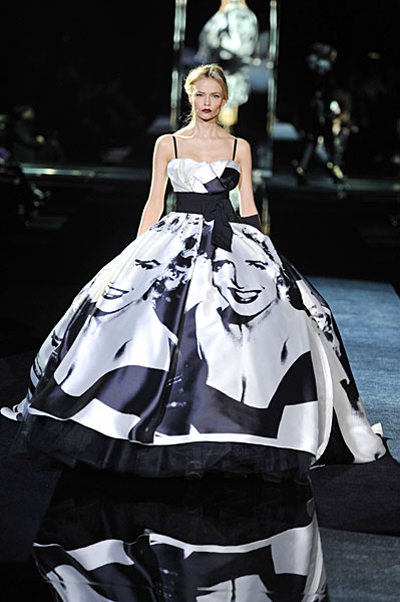 What a star studded event, you can always rely on the Dolce & Gabbana boys for drama and they delivered both on and off the runway.
It was the most starry of front rows, there was the face of the new Dolce & Gabbana make up line; Scarlett Johansson, actress Freida Pinto, actress Kate Hudson not forgetting Naomi Watts, Eva Mendez, Lauren Hutton, Elsa Pataki, Claudia Schiffer, Eva Herzigova and Nadja Auermann. Now that's a front row. Peaches Geldof also made an appearance.



As for the clothes, they are clearly having a surrealism moment, gloves as scarves, giant ruffles and bulbous fur sleeves. It was quite a strange collection, a mix of 50s glamour and 80s bad taste. Oversized shoulders, pencil skirts and hoop skirts were central silhouettes. But these were adorned with black and white leopard and snake prints. Linking back round to the make up line that was photographed in a homage to Marilyn Monroe, skirts and dresses were adorned with photographic images of the Hollywood siren.
Hints of burgundy were seen but it was Elsa Schiaparelli's famous shocking pink that brought colour to the otherwise monochrome collection. One dress was reminiscent of Marilyn's gown in Gentleman Prefer Blondes.



The more simple outfits were in fact the most beautiful but can be easily overlooked thanks to the dramatic show stealing ones. The silver and black chequerboard and polka dot suiting and dresses looked sexy and wearable. Whilst the brocade and simple blacks really tied in with the 50s style. The more sheer styles didn't work quite so well and I'm not sure how many people want a giant picture of Marilyn covering them.
It was a mixed collection, the lines were beautiful, the enormous shoulders worked well and the mix of skirt styles was a refreshing change. But the overuse of fur, lace and satin just missed the mark.