Last Updated on 19th October 2013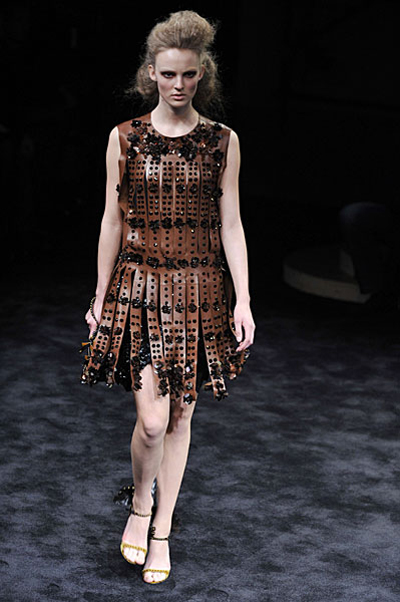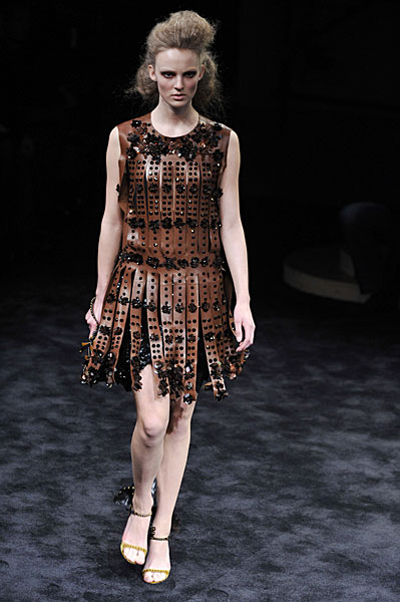 Miuccia Prada is the designer everyone looks to each Fashion Week because you know what she sends down the catwalk will be reproduced a million times the following season. She is a trendsetter, a revolutionary and a damn good designer.
This season was no exception. Imagine that a character from Gosford Park ran off with a fisherman and you'll understand the feel to this collection. This is ultra glamorous, super feminine and yet tough.



This was a practical collection from Prada. If you discount the fur dresses, there were the perfect blend of easy to wear coats, glamorous eveningwear that was gorgeously and surprisingly dressed down with fisherman's waders. Suiting and shifts made up the majority of this line, but shapes are played with thanks to skinny belts. The shorts tied high on the waist with tucked in, pulled down cardigans look sexy yet quirky.
The sombre palette of blacks, chocolates and browns are highlighted with olive, rust and red. The footwear took on a new level for Prada, they were "walkable!" Pumps, clogs and satin evening shoes sat nicely alongside those waders. This was a collection made to be worn everyday and loved until it falls apart. The embellished body armour dresses added to the sense of toughened femininity.



Velvet which looks set to be a huge trend for AW09, featured heavily in the collection. The velvet patterns added a luxurious feel and along with the sequin embellished suits created drama. This dressed down elegance is a perfect remedy for dark days.
So whether it's the silhouettes, those gorgeous handbags, sensible shoes or fur skirts, you can be sure you will be wearing a Prada inspired outfit this autumn.