Last Updated on 5th March 2009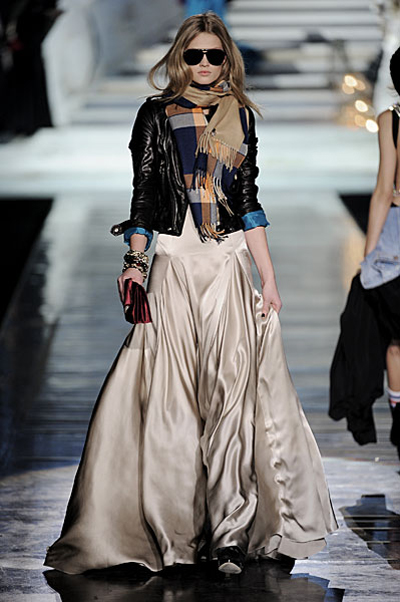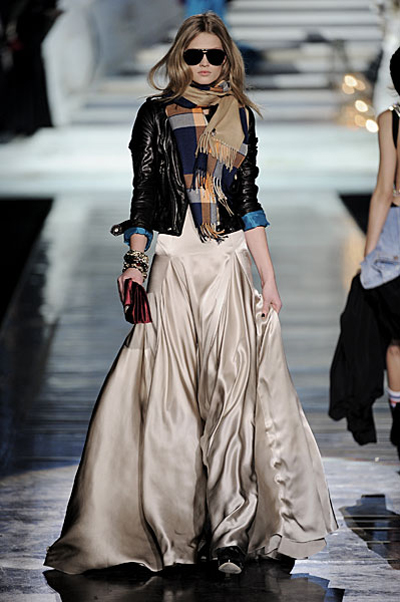 Is this not the best-styled show ever? Would you not love to flaunt down the high street with your caramel macchiato in a full evening gown, cropped leather jacket and scarf? Oh just me then. Well I loved it. Ok, so this show is all in the styling and overall feel. But the boyfriend cuts, and 'out all night' looks were inspired.



We've seen the androgynous look being sported for a while now, but it was the nonchalant feel that really set this show apart. DSquared2 are of course a more casual brand, you don't on the whole turn to them for a couture gown, and there is only so much you can do with denim. So this show is a great step for the design duo. Taking an old recipe and making it suddenly seem fresh. Oversized scarves, plaid and man trousers look casual in that 'I stole it from my boyfriend but don't I look sexy? sort of way.
The oversized cargo pants and jeans look stylish and comfortable. Shrunken jackets are lust worthy and the hints of leopard print create a really rock chick feel. The skimpy t-shirt dresses have an air of defiance about them, whilst the hats and giant scarves show the fun in winter accessorising.



This is a strange show, because none of the items are particularly new or groundbreaking, but the overall style and feel is so right and so now. This is a look people can wear and play with, and one us girls can relate to, an urban girl whose handbag doubles as a house, stuffed full with magazines and 'essentials' – I know you do it too.