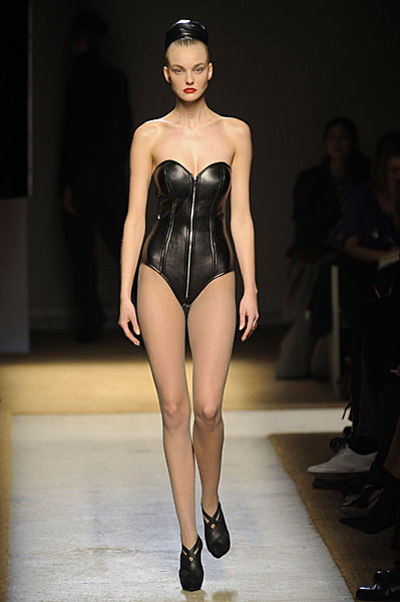 I feel terrible to say this, even thinking it has got me all hot and bothered. But I was really not taken with this show. It is a shame because I adore Yves Saint Laurent and I do believe Stefano Pilati to be a design genius. But I was left feeling a little underwhelmed after this collection.



Perhaps after the incredible Edition Unisex collection and stunner of a Spring/Summer show, I expected a little more from the legendary design house. There were of course beautiful pieces, how could there not be?! The tux jacket style dress was amazing, the suiting as flawless as ever and I really liked the details (note the exaggerated shoulders and circular necks).
The leather leotard and jumpsuit are meant to create a talking point, but I didn't really see how they fitted with the rest of the line. I felt that other pieces were, I can hardly bear to say it, a little dull. Pinstripe skirts with white shirts, simple shifts, and loose fit trousers were staples in this collection, and whilst nice, they were not mind-blowing.



Yves Saint Laurent is a design house based on attitude and style. It is renowned for its minimalism and offers high fashion for serious fashionistas. But AW09 did not feel particularly new or fresh, yes the cuts are perfection and the shoes had my head spinning with glee. But it just lacked a certain spark that has been present at other shows this season.