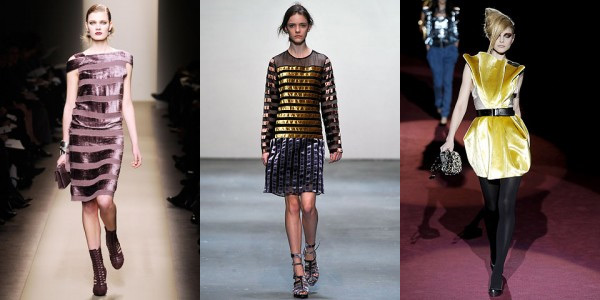 Admittedly, the return of fusty velvet may well fill with you with dread but, this season, it's time for a rethink.
Velvet has thrown of its dowdy image for Autumn to become a catwalk star as it takes on a luxurious feel with generous swathes of fabric in deep jewel colours of grape, berry, teal and saphire.
Modernist designers such as Francisco Costa at Calvin Klein and Christopher Kane revitalised the fabric with glossy colour, clever splicing, and by reviving the age-old devore treatment, whereby acid is poured onto areas of cloth creating a sheer, pretty burnt out pattern to create strong stripes and graphics.
The most arresting looks came courtesy of Christopher Kane, who presented a series of organza shifts appliqued with jewel-coloured velvet ribbons, set in horizontal and vertical stripes. Kane partnered them with bare legs and brogues , consider that your styling cue.
While we may be enjoying an eighties renaissance, for this trend forget the frumpy shapes of the Eighties and instead, embrace fresh jewel colours. This season's velvet is anything but frumpy. Think sleek and sumptuous cocktail dresses as seen at Ralph Lauren and Marc Jacobs.