Last Updated on 25th September 2009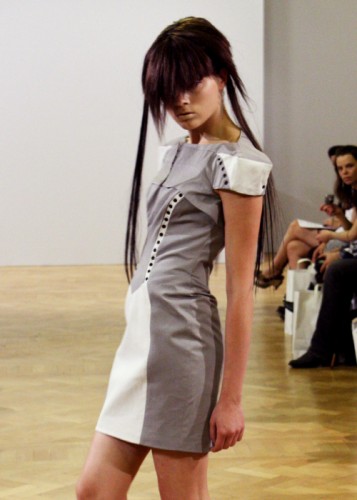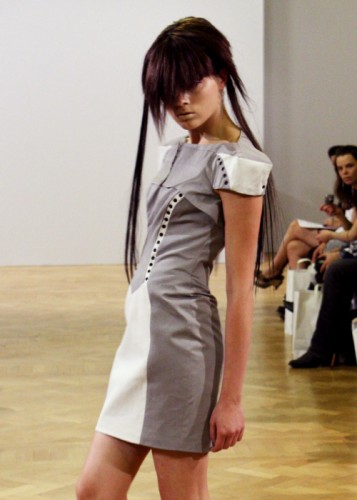 Kicking off Romina Karamanea's third appearance at London Fashion Week was a short film, showing the image of a model snipping off her long, flowing locks into a blunt bob. Think of an eerie version of JPG's MaDame advertisment and you get the the idea. Soon after, models strode down the runway in similarly rigid hairstyles, revealing Karamanea's feminine and sporty dresses.
Inspired by engineering and industrialisation, Karamanea's Spring 2010 collection was a monochromatic show of abstract shapes, giving architectural form to the body in a range of seductive designs. Block panels were broken up in shades of white, black and grey, adorned with eyelet studs and lace up fastenings while scultural heels added to the modern, disjointed theme.
Body con pieces formed the majority of Karamanea's collection, in high-waisted pencil skirts, modest knee-length jersey dresses and revealing minis. Sheer, above-knee leggings made an appearance on the runway however, breaking up the dominant 90s reference with uncomplicated tunics. A simplified offering of her pale colour palette, with focus on print instead of her renowned and  innovative pattern cutting, Karamanea's T-shirt tops brought fluid lines to an otherwise structured silhouette however the unflattering leggings just seemed to achieve the impossible task of shortening the statuesque models.
Sharp shoulders were again key, a trend that is sure to take us right through to Summer 2010, and cropped tops were teamed with high waists for a less revealing outfit, presented in bandeau, long-sleeved, and bolero shapes.
An already popular young designer featured in the likes of WWD, Vogue and Financial Times, Romina Karamanea has created a powerful and wearable collection that is sure to cement the designer as one to watch over the next few seasons.