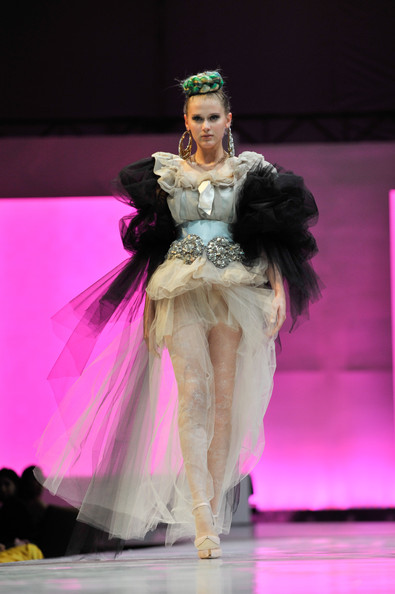 After filing for bankruptcy in May, it's been a fraught few months for Christian Lacroix. We've had the highs of potential backers, and the lows when they pull out again, but now the saga has finally ended as it is announced today that the French fashion house has failed to find a buyer.
A French court ruled yesterday that a new plan proposed by the Falic group , current owners of the luxury label , will go ahead, cutting 120 staff down to a dozen. The brand will now operate solely as a licensing company, meaning Christian Lacroix will be unable to continue its couture fashion field.
Lacroix, famed for his elaborate, regal haute couture puff-ball pieces, founded his namesake label over two decades ago and is devastated at the decision.
"This is the most awful decision possible and I'm speechless with anger. I'll do my best to find a way of battling. But it seems no one is interested in the future of Lacroix in such a cynical world where the word 'fashion' doesn't have the same meaning as mine. My duty has to be struggling against the Falics . . . against this decision and against the state, who did nothing in fact.
Fashion fans had their fingers crossed for Lacroix back in October when it seemed likely that Al Hassam Bin Ali Al-Nuami would come to the rescue, but after facing delays, the Ajman sheikh failed to give a financial guarantee by the deadline imposed by French courts.
The Falic group are still on the lookout for a buyer, and according to Grazia, it plans to relaunch Lacroix's accessories line under license.
What terrible news , fashion has lost yet another one of its greats to the current climate, but here's to hoping there's still some shimmer of strength left in the fashion house to come out fighting.