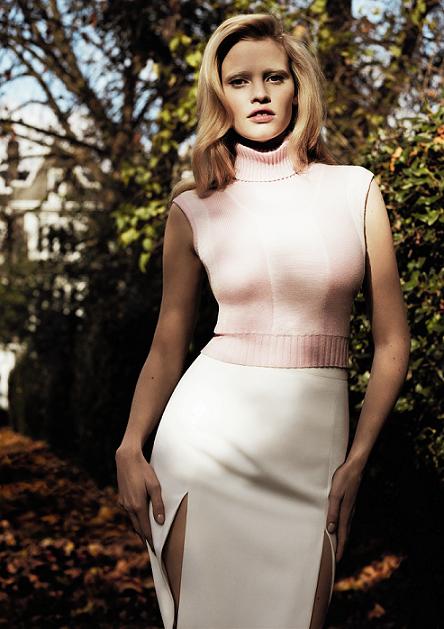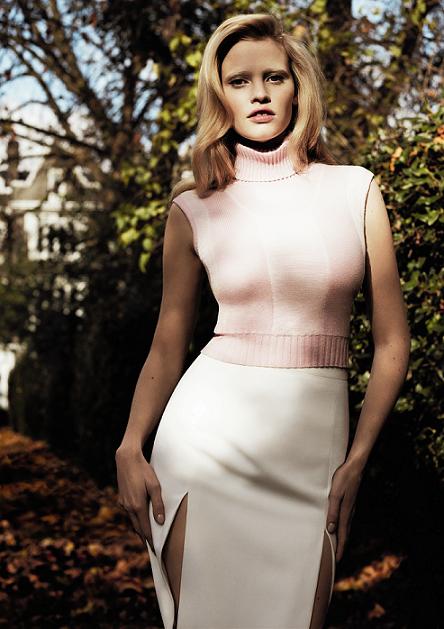 Seriously. We've heard her admit before that she's fed up of being the fat one, so we were relieved to hear at last that Lara Stone's accepted her weight , but it seems not everyone can.
"People still tell me I'm fat, but when I look in the mirror, that's not what I see, says the blonde beauty.
At size 10, she's hardly what anyone in their right mind would call fat , but this is fashion, and when she's lined up against a skinny army of size 0s, she's always going to be the one who stands out.
"It's depressing when the clothes don't fit and you are always the odd one out…I was on a shoot last week and the stylist took out this tight corset dress and said, 'Here, put it on,' and I was like, 'Who are you kidding?' There was no way, so that was very rude of her.  It's like, come on, she's a woman; whether you're buying jeans at the mall, or wearing couture, you know what it's like for clothes not to fit.  It's not an easy kind of rejection, because it's very personal.  It's you, you're body.  You take it to heart.
Like most women , especially those in the industry , she's battled with her size and tried various means of shifting stones, but alcohol was probably the most serious struggle for the supermodel.
Drinking herself through the day, Lara admits, "I was waking up shaking, I couldn't do anything until I had a drink.  I hated it.  I didn't like the person I became. Plus, I was looking like absolute shit, waking up with a swollen red face, pimples everywhere.
Depsite the demons, she's still managed to become one of the most successful supermodels of recent times, most recently landing herself Louis Vuitton's SS10 campaign. Could her unexpected rise mark the return of curvy models on the catwalk?
Read the full feature on Lara Stone over at Vogue.com