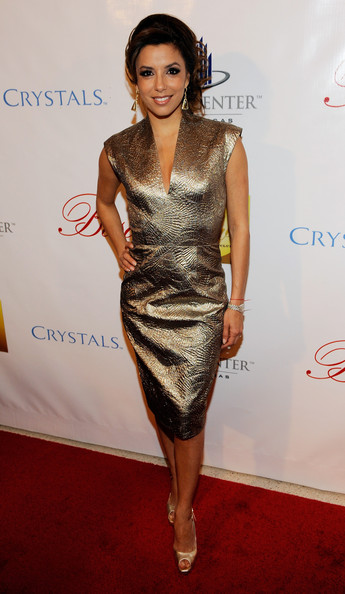 We didn't think it'd be too long before the actress and face of L'Oreal Paris dipped her toe into deeper beauty waters , now we hear that Eva Longoria Parker is launching a signature scent.
Preparing to launch Eva by Eva Longoria next spring under Falic Fashion Group , the company's first celebrity fragrance , the Desperate Housewives star hopes it will be a scent to suit everyone, following her personal struggle in the past to find the perfect perfume.
"I have always been somewhat allergic to all perfumes and really wanted to create something that every woman could wear, Eva told WWD. "So I decided to create my own fragrance that is light, fresh and unique. I think the scent of a woman is extremely sexy and this scent will prove that.
Most prominent in the scent is citrus, neroli, bergamot tea and aldehydes, followed by its core ingredients sheer jasmine, muguet, violet and freesia, finishing off with underlying tones of skin musk, amber and sandalwood. That sounds rather complicated to us.
Actually, it seems it's not all that straightforward for the star, either. "I never knew how complicated it was to create a unique scent that hasn't already been done, said Eva. "But I enjoyed the process.
The scent will begin selling at $45 through to $58 and will be available next spring, with sources estimating it could generate north of $15 million in its first retail year. A rival to Beyonce's 'Heat', we wonder?