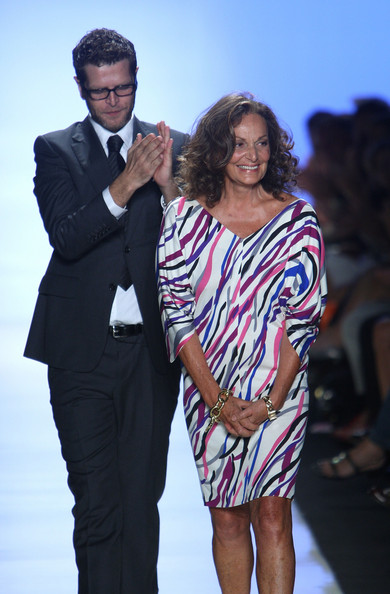 It's been the fashion friendship few could ever imagine, but after their nine year luxury love affair, the relationship between Diane Von Furstenburg ans Nathan Jenden is set to end.
This Valentine's Day the pair will take their last ever bow together at New York Fashion Week because as soon as it's over, Nathan will be leaving his role as creative director to focus on his own collection.
"I have given so much of myself to Diane, and Diane has given so much of herself to me, and I felt I really wanted to concentrate on Nathan Jenden, and that it was important in my commitment to Diane to be honest about that, said Nathan of his decision to leave the label.
Taking Nathan's place will be Yvan Mispeleare who, after working closely with Pheobe Philo at Chloe and Frida Giannini at Gucci, will be embarking on his first role as creative director for DVF, Vogue UK reveals.
"This show is really a celebration of Nathan and I, and of our collaboration," Diane Von Furstenberg said. "It's sad because we are going apart, even though we are staying close, and exciting because he is going to do his thing and focus on it."
"Diane has taught me so many different things," Nathan added. "The most important thing Diane taught me is a talent for life, and how to live your life to the fullest, and how to maximise it…and to do it with a smile."