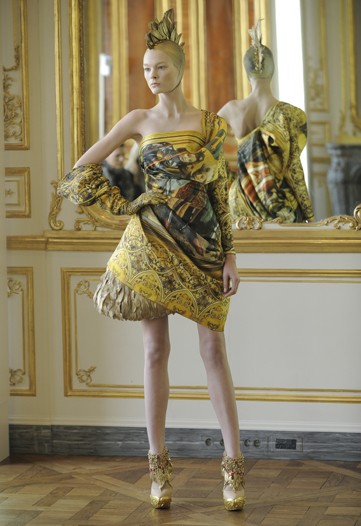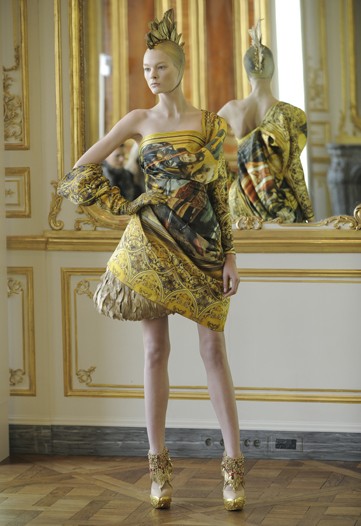 Fashion waited with baited breath yesterday as the final collection from the late legend Alexander McQueen was unveiled at a private presentation in Paris.
Just 16 pieces of the A/W10 line were showcased at the luxury French salon , the headquarters of parent company PPR , all of which were cut on stand by the designer before his death last month.
Sombre and spirited, this final collection will go down in history as one of fashion's finest moments, as models, solemn-faced, paraded his designs to a backdrop of eerily haunting operatic music, referencing angels and religious themes.
Rich, opulent fabrics , brocade and silks , in reds and golds, stiff curtain folds, feathers, digital prints weaved into fabrics, feather and leaf mohicans sprayed in black and gold , this was why fashion loved the British designer, and will continue to miss his work.
"It was all inspired and developed and all patterns were cut by Lee," Jonathan Akeroyd, Chief Executive of Alexander McQueen told Reuters. "It was well under way and the development was very much in final stages, so it was just about carrying on finishing the pieces. We had four weeks to finish his work."
"We decided this was the best way to do it, in a very low profile environment, he added, "the most appropriate way in light of what has happened.
And as the final showpiece entered , a gold coat of feathers finished with a frill of embroidered tuelle , some spectators' eyes filled with tears, none more so than Robert Polet, president of the Gucci group, who rushed backstage after the show to see the design team, WWD report.
"It was a very moving experience to take a deep and serious look at his last collection. It showed Lee's unique talent to create pieces of beauty that touch many of your senses, leaving one enriched, Polet said later. "Although the sense of loss afterwards, I found overwhelming.
[Images]