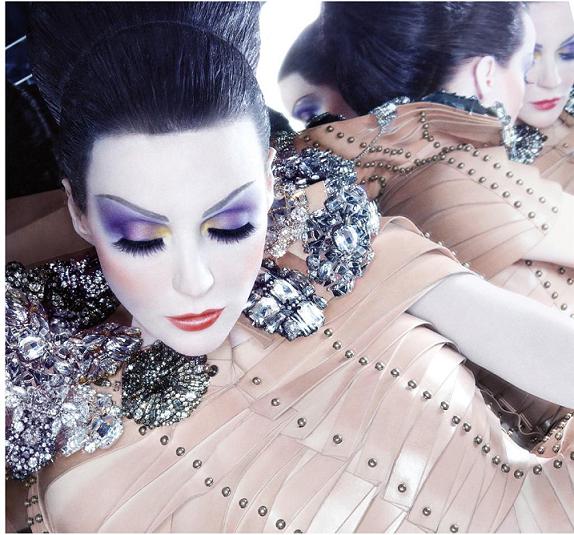 We'd heard that Daphne Guinness may be collaborating with NARS a while back, but, if we're honest, we kind of forgot got lost in all that auction business. That was until we received confirmation from NARS – they have collaborated, it will be available next month, and it is amazing.
Francois Nars is, you see, like many a fashionista, a big fan of Daphne Guinness – his passion for the style icon, as they say, knows no boundaries. She "is the ideal icon to capture Fall
2010's old-Hollywood meets futuristic look," he says. And so he enlisted her to front the AW10 campaign for the beauty brand, to showcase its sophisticated and ethereal underpinnings.
To do that, makeup artist Kabuki was under direction to highlight Daphne's extraordinary beauty using the new products – line-erasing primer, sheer matt foundation and a touch of powder for that porcelain finish, blush to contour her high cheekbones, a wash of brightening eye shadow, lashings of mascara for those dramatic other-worldly lashes, and a lip stain topped with gloss for pout-perfect lips.
Team that with a few blinging crystals and mirrors and you've got the NARS AW10 campaign in a nutshell.
The new collection will be available in the UK from 1st August – and look out for a new eyeshadow, a beautifully bold shade named Daphne after Ms. Guinness herself. We told you Nars loved her.