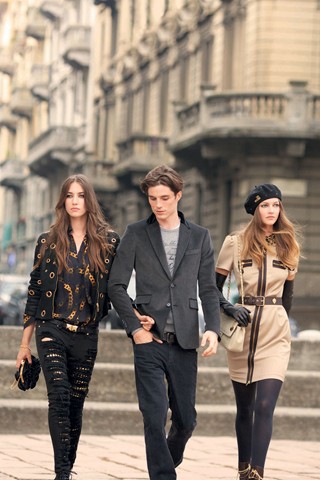 Garance Doré's talents are growing – ever the illustrator-come-blogger-come-photographer, she's moved away from her street style snaps to shoot Love Moschino's AW10 ad campaign, which fuses her unique style with the Italian label's signature style aesthetic.
For Doré's debut campaign, she shot three models in Love Moschino's next season offerings on the streets of Milan – but she continued the collaboration afterwards back at artistic director Rossella Jardini's flat, a personal ambition of hers since they met in Milan a few months back.
"I immediately liked her refined style and her Italian humour," Doré wrote on her blog, where she posted the portraits she took of Rossella in her Milanese flat alongside photos of her home. "I loved the mix of elegance and sense of humour that can only be found in Rossella's universe."
The partnership initially started with vintage jewellery, design objects, books, pictures and websites – an attempt at fusing old and new media, hence getting Garance on board for the campaign – but we have a feeling it'll continue well into the sun.